Recently, I read some industry reports about the China gaming market from GPC, CNG, App Annie, and IDC. I am writing to summarize the findings here with my opinion to provide a big picture of how the China gaming industry is doing in the year of 2015. In 2015, Chinese game market reaches a revenue of 21.71 billion, an increase of 22.9% compared to last year. The growth is slowed down while maintaining a high speed. According to GPC, the high-speed growth will be sustained in the future.
The number of Chinese gamer reaches 534 million in 2015, an increase of 3.3% compared to 2014. After the soar in the past years, the scale of China gaming market has become a massive one, which makes it harder to keep a rapid growth. The higher expectation from gamers also elevated the costs in development and marketing. A good news is that the structure of the Chinese gamer is healthier in 2015. There is a more balanced demography covering different age, occupation, gender, and ACG (Anime, Comic, and Game) fans.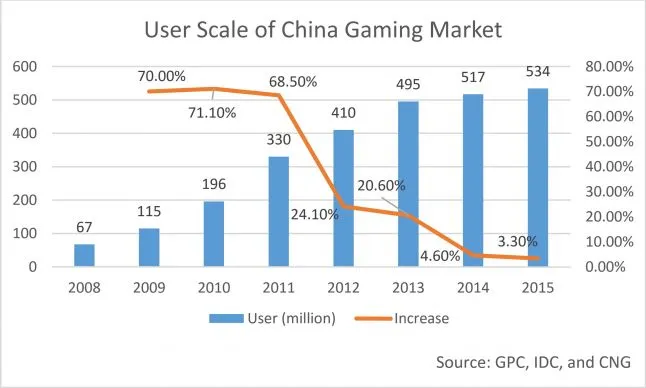 The revenue of 21.71 billion breaks down as following:
Mobile game segment: 7.94 billion, an increase of 87.2% compared to 2014.
Undoubtedly, the hottest mobile gaming segment is the most powerful segment driving the entire China gaming industry. According to IDC, the mobile payment market is expanding, and the mobile gaming market has become more important to the overall gaming market in China. High quality mobile game becomes a key driver of the growth of the mobile game market. However, large enterprises tend to dominate the market, while medium and small companies bearing the struggles to survive even in the growing market. Giants in the industry such as Tencent, NetEase, and Lilith Games shared more than 40% of the market in 2014, and maintain their occupation this year.
Web game segment: 3.39 billion, an increase of 8.3% compared to 2014.
Single-player game segment: 21.6 million, an increase of 180.0% compared to 2014.
Console game segment: 34 million. Still under exploration.
Client MMO game segment: 9.44 billion, an increase of 0.4% compared to 2014.
The client MMO game segment has stepped onto a stage of "stabilization" with only a 0.4% increase from 2014. Even though the growth of client game segment is slowed down, yet it continues keeping its leading position in the China gaming market. Companies in this segment with old client MMO game products have to build their strategy focusing in core users acquisition and branding development in order to stabilized the market share and to find a break point to keep the existing users.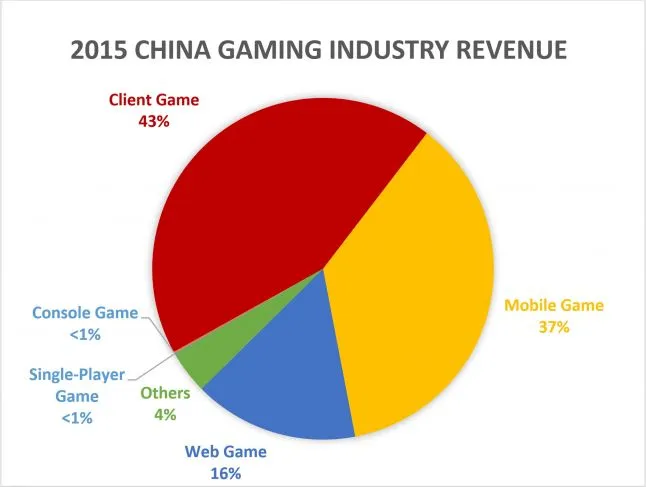 Source: GPC, IDC and CNG
One proven strategy for these old brand games shall take their IP as an advantage to expand into the mobile segment. The success cases are Fantasy Journey to the West and Journey to the West presented by NetEase. The two featured mobile MMORPG made NetEase the global revenue champion in November 2015 (App Annie), overtaking Tencent for the very first time. At the same time, the success of the mobile version might bring in new users to the client version as well.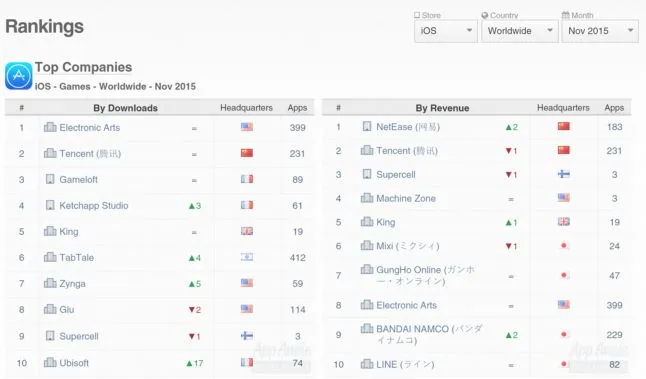 Source: App Annie Intelligence
Companies in client game segment should also consider exporting their game to other market as well with proper localization. According to GPC, self-developed product reaches a revenue of 98.67 billion in 2015, and the exports reach 8.19 billion, an increase of 72.4% compared to 4.75 billion in 2014.
You can download the original GPC report in Chinese here
Other References (In Chinese)
https://www.idc.com/getdoc.jsp?containerId=CH257620
http://www.cs.com.cn/ssgs/gsxl/201512/t20151228_4872502.html
Seasun is a leading Chinese online games publisher focused on creating high quality games/game engines that push the boundaries of player experience in action entertainment. The company is also involved in small-medium sized investments for game studios worldwide. We have recently started up our U.S. studio in Redwood City, CA to create top quality content for the western market.
Seasun has shipped many successful titles, including the popular MMORPG series JX (http://jx3.xoyo.com/), the MMOARPG titles First Myth (http://fs.xoyo.com/index1) and CQ (http://cq.xoyo.com/), along with our FPS MAT (http://xd.xoyo.com/). The "JX" series has grossed more than $250 million and has achieved a daily active user count of 3.3 million. Our first game for the western market is Relics of Gods (http://rog.seasungames.com/). We are currently building a special team of highly talented people to create the technology for our next-generation MMOARPG at this studio.
Kingsoft, Seasun's parent company, is publicly traded in the Hong Kong Stock Exchange (SEHK: 3888) with market value of 3.8 billion USD. Kingsoft has created 3 other subsidiaries alongside Seasun: Cheetah Mobile (NYSE: CMCM), WPS Office, and Kingsoft Cloud Service. Kingsoft has over 4,000 employees worldwide.