Introduction
Social games are at the forefront of both technical and non-technical innovation. As a prime example of a cultural industry, the social game industry is dynamic, inter-disciplinary and rapidly changing. This implies that in order to compete, one has to be successful at innovation management. Successful innovation management leads to more effective market response be it response to environmental issues or competitors.
From an academic perspective, the added value of formal planning for strategic decisions remains ambiguous. Should you as a social game company have an explicit process for determining the firm's long-range objectives? I would say up to certain extent, yes; know where you want to go, but remain contingent in your strategies until you are a dominant force within the social game industry.
This raises the following question: How to create a successful innovative organization?
In this article I argue that the following organizational facets need to be planned for in order to create successful innovative behavior: organization structure, resources, knowledge and capabilities, management style, and legitimacy.
Creating a Network Organization
Organization structure is of great importance to any organization's innovative capacity. Although there is no perfect one-suits-all organization structure for social game companies, they generally have moved away from "vertically integrated monsters" to more disintegrated forms, also known as network organizations. This might not hold for the few but very significant consolidated publishing houses, but this definitely holds for most creative output-producing organizations in the industry. As organizations in the social game industry have to be able to anticipate changes quickly and be contingent with their output (i.e. be innovative), a network structure should be the preferred organization structure for social game companies.
A network organization lies between a hierarchy (an organization that does everything in-house) and a market structure (buying from a "market"). It basically means you keep your core added value creation in-house and create partnerships around all other value creation activities. The Japanese keiretsu is a good example.
Network organization structures facilitate the creation and spread of knowledge, an intangible and difficult to grasp subject matter. This is due to the flatter organization structure, the complementary and interdependent nature of the partnerships and specialization in value creation processes.
A network structure also implies a degree of flexibility to the organizations and its partners. This enables a certain speed within the variety of processes (innovation development, innovation to market, and/or change capacity). Lastly, network organizations lead to trust. Trust within members of the organizations and between the organization and its partners. Trust reduces risk and a low perception of risk facilitates an innovative climate.
Combining Organization Resources with Capabilities
Competitive advantage is created by combining the resources you have with best practice capabilities that, together, lead to contingent value creation processes. Resources can be either physical capital, human capital or organizational capital, and are most useful when they are Valuable, Rare, Imperfectly Imitable, and Non-Substitutable (VRIN). Having these resources by themselves, however, isn't enough for a competitive advantage. They should be combined with organizational routines, or best practices that configure the resources, and subsequently the organization, towards the most competitive position possible.
For social game companies, knowledge can be seen as one of the most important resources, strategically. Knowledge resides in people, and for innovations to be successful they should be developed by teams that are cross-functional (from different backgrounds), have at least one industry heavyweight, and one person with a central position within the industry network. The team, then, should develop a learning capability or an "innovation routine" where tacit knowledge is explicated, and specialized individual knowledge is integrated within the broader team. The aforementioned capability of forming alliances is also relevant in this perspective.
The importance of a cross functional team and market orientation is reflected by investor focus. Investors generally put great emphasis on team composition, team dynamics and market knowledge. Capabilities in dynamic industries can only be dynamic. Managers in social game are expected to build and reconfigure internal competencies to address the rapidly changing environment they face. Routines should be simple, experiential, and even unstable, with a focus on learning from the outcomes. Examining the external environment social game organizations face, one is left to conclude that innovation is a prerequisite for survival. It is only by internal analysis of one's resources and routines, and the reconfiguration of this combination, that one can design for a more competitive market position.
Strategic Management Style
New product development stands and falls with adequate strategic management. Taking the organization as level of analysis teaches us a number of factors that comprise of a management style that contributes to effective innovation development. Research on the organization level (rather than the project level) has been relatively scarce, but empirically tested nevertheless. Three broad factors that belong to the realms of strategic management are known to contribute to effective innovation development; these are (1) the role of senior management, (2) designing for innovation teams, and (3) organizational culture.
Senior management has a pivotal role in the development of innovations. For one, it is up to this organizational layer to formulate a process for new product development from idea creation to launch and beyond. Secondly, there should be an explicit and well communicated strategy for the innovation. All involved in the development of the innovation should be aware of this strategy too. Lastly, but perhaps most important, senior management should be committed and be held accountable to/for the success of the innovation. As mentioned before, development teams should be cross-functional, well embedded in the relevant network and contain at least one dedicated heavyweight innovation-champion.
Social game organizations are often culture-driven and it's no coincidence that having an entrepreneurial culture facilitates innovative organization behavior. Google, for example, give their engineers 20 percent free time to think of new concepts. However, certain boundaries should be set to safeguard strategic focus and synergy across innovations.
Accelerating in new product development, however pivotal in social games, is easier said than done. The research I am referring to in this article actually found no innovation stars, just solid performers. Organizations that have the above strategic management capabilities in place -- all of them -- are known for successful innovative behavior, in the sense that they had a high ratio of innovation sales to total annual sales and relative market performance of innovations. Despite being of importance, having an iTunes feature clearly isn't the only influence on success. Social game organizations should rather be inward looking initially to capture the full potential of their organization at large!
Creating Legitimacy
After having decided on your preferred organization structure, the most valuable resources to have, and the management style to implement, it is all about legitimizing your organization (and industry). Start-up organizations in dynamic industries such as social game might have a hard time to be perceived as trustworthy or legit. This is a bit of a catch-22. In order to be perceived as a trusted organization you need to have a track record of successful innovations; however, in order to create such a track record you need to be perceived as trusted.
Legitimacy exists in two forms and should be created at four succeeding stages. Cognitive legitimacy refers to the spread of knowledge about an innovation and its organization. Sociopolitical legitimacy refers to the degree of how appropriate an innovation and its organization are perceived by all stakeholders. Legitimacy should first be created within the organization, then within the industry the organization is operative, followed by other organizations and, lastly, legitimacy should be created at institutional level. Legitimacy is embodied in trust, reliability and reputation and, as such, the more radical an innovation is, the harder it becomes for an organization to create legitimacy.
An illustrative example of an attempt of creating legitimacy at industry level is Eidos "life president" Ian Livingstone in association with trade body NESTA in the UK. After having conducted research on how the UK social game industry is perceived by the general population versus its actual state, NESTA is on a quest for (1) creating industry best practices by standardizing the curricula of proclaimed gaming educational institutes, and, (2) creating awareness, or legitimizing, the state of the UK social game industry amongst both government bodies and the general public. Such collective effort is bound to further establish and legitimize the UK social game industry and creates a solid foundation from which starting gaming companies can build from.
Conclusion
Creating an innovative organization in the social game industry is by no means an easy task. The organizational facets described above are well researched and often proven concepts. The four facets however are by no means an exhaustive list and as such might guide both established and starting social game organizations, however cannot be seen as a comprehensive 'strategy guide'. As a cultural industry, social game is a volatile and dynamic space where even the most successful organizations can be tipped off their toes from one day to the other. Deploying the organizational facets as described above however, should enable organizations operative in industries such as social game to change swiftly and act contingently. Upon having entered the market, the challenge is to remain innovative in order to both anticipate changes in the competitive landscape as to catalyze them.
Creating an Innovative Organization for iSEN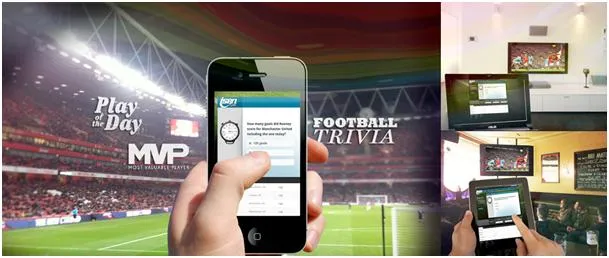 iSEN -- the interactive sports and entertainment network -- is a startup organization in social gaming with a strong focus on blending it with live entertainment. Our mission is to enhance the entertainment value of sports by bringing sports communities closer to their favorite games, up to the point where they can "enter the game". The platform will be multi-discipline, i.e. representing multiple sports communities; however our initial public build will be focused on the largest football community, the Premier League in the UK.
iSEN's Organization Structure
iSEN is the product of a partnership between product development and innovation lab Uluru Beagle, PlayToTV developer ExMachina, and Publishing & Media venture Brightstar. The managing team for the company is located in London with partner organizations in Amsterdam (The Netherlands). All companies have their distinct specialties to bring to the table: Uluru Beagle provides concept development and strategic positioning during start-up phase, ExMachina provides the live-multiplayer technology PlayToTV one of the platform's cornerstones, and Brightstar connects the dots by delivering the executive team that carries the service during its existence. Additionally, Billing Solution experts IM Solution provides necessary monetization enablers.
The network is facilitated by thick relationships; the CEOs all know each other personally and communicate on a daily basis. Furthermore, there is mutual dependency and mutual added value, without all of these organizations involved, the service's chances for success wouldn't be half of what they are now. This reciprocity is facilitated by a long-term perspective of all organizations involved; no one partner is focused on the aim of making a quick buck. The individual organizations all have their weaknesses and by forming the network that we are, we aim to overcome these. iSEN is not only an innovation by itself, working on the platform facilitates organizational innovation for Brightstar, ExMachina, and Uluru Beagle as individual organizations too.
iSEN's Resources and Capabilities
For the startup that iSEN is, organization knowledge, the team and early signs of what might be called an innovation routine are of great importance. Knowledge creation is central to all the individual team members. We are all affiliated to various other organizations and two (including myself) of us are linked to knowledge institutions. We frequently share ideas and this article is nothing if not a way of sharing my tacit knowledge.
The iSEN team's CEO, Jurjen Söhne, has a very central role within our relevant network, and the team is complemented by strategic marketing advisor Raf Keusterman -- former global marketing director of social gaming giant EA Playfish. The business plan is written by the entire team to facilitate the integration of specialized knowledge. The concept of iSEN is refined in an iterative manner based on newly acquired knowledge. In short, iSEN is the accumulation of the individual team members' knowledge, creativity and most importantly, our desire for innovation in digital entertainment for sports communities.
iSEN's Strategic Management
Brightstar, the managing entity for iSEN, aspires to be successful in bringing to market relevant innovations in the form of sports community solutions that bridge the gap between real life events and digital entertainment. Our strategic management is highly devoted and accountable up to the point where the initial stage of our development process is self-funded. The business plan is utilized as a work-in-progress tool for alignment and process formalization purposes.
Having a young and small organization, it is difficult at this point to talk of an organization culture. However it is safe to say that all team members have an entrepreneurial mindset and are acting proactively in the benefit of the service. Strategic focus is provided by having the UK Premier League football community as launch target audience, whereas synergy is achieved by planning for a multi-sports discipline platform as a roadmap feature.
Legitimizing the World of iSEN
Targeted social gaming bridging the gap between real live events and virtual entertainment, although being a logical next step, is ambitious. At this stage, trust relies on the gut feel of those stakeholders involved. Gut feel can be positively influenced by creating a consistent narrative regarding the organization and by building a knowledge base that outsiders accept as valid. We believe we have a strong and consistent narrative about what iSEN is, and our business plan and possibly these articles are there as knowledge base to support that narrative.
Although being innovative, it would be foolish to claim that we are the only organization creating a live social gaming experience. Acknowledging these organizations and cooperating with them is a way to establish legitimacy at industry level. Already we have been evaluating possible partnerships with other organizations in social media and sports that up to certain extent can be considered competitors. This is a delicate process of which most entrepreneurs would be reluctant to engage in. However, as long as your own resources are Valuable Rare Imperfectly Imitable and Non-Substitutable, the co-creation of industry best practices will only further legitimize the industry you are part of, and increase the chances for success.
An open mind towards competitors will make the attendance of conferences much more interesting, anyway!