In the midst of the COVID-19 pandemic, Bethesda veteran Jeff Gardiner began a period of self-reflection about his place in the game industry. After spending 16 years at the Maryland-based studio, during which time he worked as lead producer on Fallout 4 before helping revitalize Fallout 76 as project lead, Gardiner decided to call time on his Bethesda career, take a step back, and eventually start carving his own path by founding Something Wicked Games.
The new studio broke cover at Gamescom 2022, revealing it had netted $13.2 million from NetEase to begin production on its debut project -- an open-world preternatural RPG called Wyrdsong -- and unite veteran talent from the hallowed halls of Obsidian and Bethesda.
Headquartered in Washington D.C., Something Wicked is being pitched as a fully-remote studio with significant growth plans. The company currently employs 12 developers, including The Outer Worlds design director Charles Staples, but hopes to expand to roughly 70 employees over the coming years.
Now, just a few days after Something Wicked was revealed to the world in (searingly hot) Cologne, Germany, we sat down with Gardiner, who'll be overseeing the studio as CEO, to understand what it takes to build a studio in 2022 and address some of the biggest challenges facing the industry.
Playing the long game
There's no shortage of investment opportunities in the world of video games, but finding the right investor remains a challenge. As consumers become increasingly aware of not just how the sausage is made, but also where the metaphorical meat is coming from, it's becoming increasingly important that studios partner with investors who share their core values.
Outlining why Something Wicked ultimately decided to align itself with NetEase, Gardiner explained his thinking was twofold: the Chinese company already has a successful track record of investing in major studios, and (perhaps even more crucially) they were willing to give the nascent company the time it needed to find its feet.
"It's very important to me, personally, to not feel pressure to deliver some kind of return on investment within a limited timeframe," says Gardiner, while also acknowledging that his position in the industry undoubtedly opened some doors that might've remained closed for others. "I wanted an investor that understands development can be a long game, and that studios sometimes need to launch multiple projects in order to create success and realize their growth plans."
Gardiner believes that taking a more measured approach to expanding Something Wicked will also have a positive effect on the company's workplace culture, allowing him to ensure that anybody brought into the fold won't just feel like cogs in the machine.
"I don't want to scale up too quickly because, especially when you're bringing in remote workers, you want people to feel like they're really part of the team. That means making sure that all of our hires are onboarded well and really feel welcomed. I am not in a rush to throw bodies on this project to try and get something out of the door fast."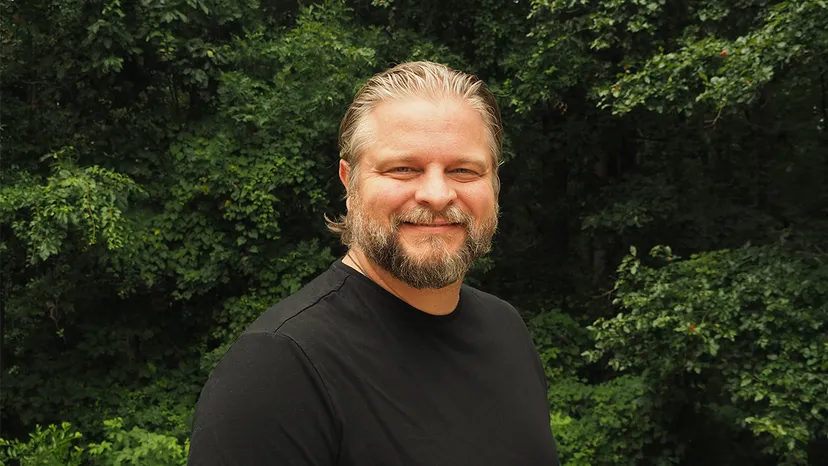 It's a mentality that Gardiner believes will help Something Wicked put its money where its mouth is where diversity and inclusion are concerned. Now that he's at the very top of the food chain, we ask Gardiner how he intends to take practical steps to ensure Something Wicked actively considers diversity and inclusion while it expands, rather than simply espousing values that make good PR soundbites.
"If it means we need to slow down the hiring process in order to find the right candidates for these roles because we're looking for diversity first, then that's absolutely what we're going to do. I'm starting to engage recruiters and explore over avenues as we prepare to expand, and the number one thing I talk to them about is the need for a diverse list of candidates," he says.
"Listen, I have found in my life that cultural diversity in any organization leads to harmony in a number of ways. I don't know how else to put it -- it's more exciting, it's more fun, it's more engaging, and it's more dynamic. There are different ideas being thrown around, rather than it just being 40-something white guys [sat in a studio]. I really try to live that, and you'll see it reflected in Something Wicked."
How do you solve a problem like crunch?
Despite being a prominent issue for decades, crunch remains a sticking point for studios big and small. Plenty have pledged to abolish the practice, and yet as an industry it seems we're still struggling to create and enforce policies that allow developers to establish and maintain a healthy work-life balance from day one of production until launch.
In June this year, a Kotaku report based on the testimonies of 10 anonymous Bethesda QA workers indicated that working on Fallout 76 "destroyed" some people. Once source claimed that a significant number of workers would be directed to the project only to quit after being forced to work 10-hour days for six days a week while it approached launch. During our interview, we ask Gardiner how Something Wicked might succeed in addressing crunch where his former employer allegedly failed.
"I believe in results-oriented creative autonomy. That sounds like a rehearsed word, but that means we let people sort their own goals and timelines, and then for if some reason it doesn't go to plan, we adjust. Schedules are tools, not weapons," he responds.
"This has been a plague in our industry since I started working in it 20 years ago. I remember the old white papers that showed, despite some people thinking that when you work twice as long you get twice as much work done, that's actually not the case."
Carrying that thread, Gardiner suggests that it's now his job as a studio founder to ensure his staff has whatever they need to thrive. He loves that the game industry attracts people who are so passionate about the jobs they hold, but suggests that earnest enthusiasm allows them to be exploited by those with other, perhaps more commercial, interests.
"You want to attract those [passionate] people, but there's an element [within the industry] that will take advantage of that situation. I actually believe that the higher up the ladder you go, the more you need to do to be of service. You have to be there. Your job as a manager is to help the people that work for you. Do whatever you can to make them successful. That should always be your first goal," he says.

Gardiner acknowledges that studios need to succeed as businesses, but believes it's possible to strike a "healthy balance" between creative practices and commercial goals without compromising the health and wellbeing of employees.
"I think there's a value for creative people to understand that there are some rules, boundaries and timelines, but that said, they should never be weaponized against them -- and they absolutely can be," he continues. "But you have to be mindful. So in my experience, it always helps when there's a healthy relationship between the producer and the creative lead in whatever department.
"The producer is there to make the creative lead aware of the scheduling, and allow them to make the decisions that are best for the game. They should go 'hey, we know you want to do these 40 things, but we can only do 20 of them -- so which 20 do you want to do?' or 'How to you want to prioritise this list of stuff, so we can get to the important stuff?'"
Gardiner says that level of transparency and proactive communication is critical to building a positive culture, and states it can result in "amazing products" produced by "culturally great studios."
That, he adds, is what Something Wicked will strive to become. "You have to find solutions to problems that have emerged in every walk of this industry," he continues. "Happy people do great work, and I don't know how you'd ever make a successful game by making your people miserable."