Last month, our team had a unique opportunity to showcase our game, Salad Hunt, at Taipei Game Show. The show consisted of two parts, the Indie Festa, a two-day event for Business to Business (B2B), and the Indie House, a three-day event for Business to Consumer (B2C). We were fortunate enough to qualify for both parts of the show and were very excited to be part of one of the biggest shows in the world with attendance in the hundreds of thousands. It was a special show to me personally as my parents immigrated to the US from Taiwan 40 years ago and I still have extended family residing in Taipei.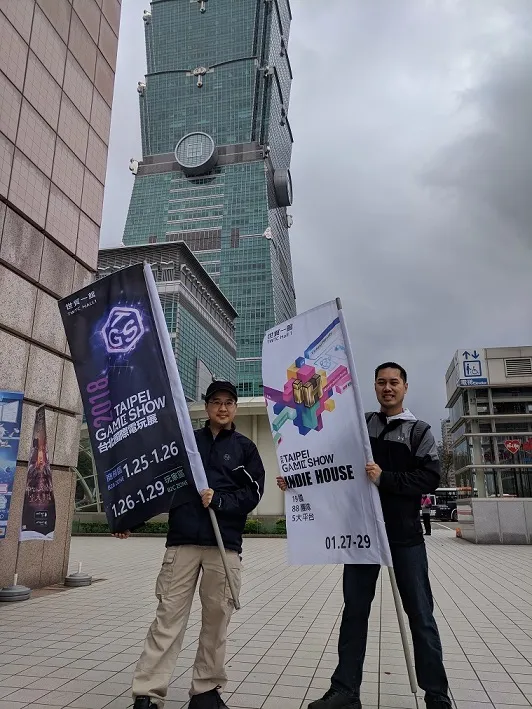 "Business"
We had little expectations for the B2B portion of the show. We weren't particularly interested in any localization or regional publishing services and most of the global firms that focus on mobile games we've already met at other conferences like Pocket Gamer Connects. We set up a few meetings with vendors, but spent most of the time interacting with the other developers around us. Shout out to our fellow US booth neighbors Insane Mind Games, Muse Games, and Yummy Yummy Tummy!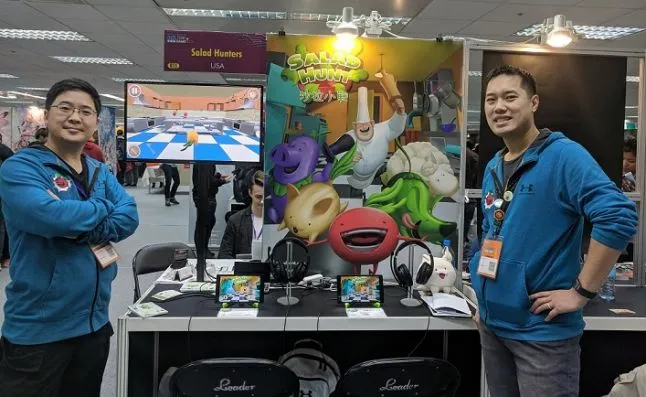 Impressions
The B2C portion is the main reason we went and it certainly did not disappoint when it came to size. I saw roughly 30 people camping out in line for the public portion of the show for over 24 hours and another 200 joined them for overnight camping. By the morning of the show, the crowd wrapped around the entire convention center, clustering around multiple entrances. If you've ever attended a PAX on the first morning, it was roughly 4x crazier than that. Part of the hype was that Capcom released an exclusive PS4 Pro that bundled Monster Hunter: World on the first day of the show. The show floors around the AAA booths would become unbelievably cramped that it reminded me of closing time at Disney World… you no longer had control of where you wanted to go, you just flowed with the crowd.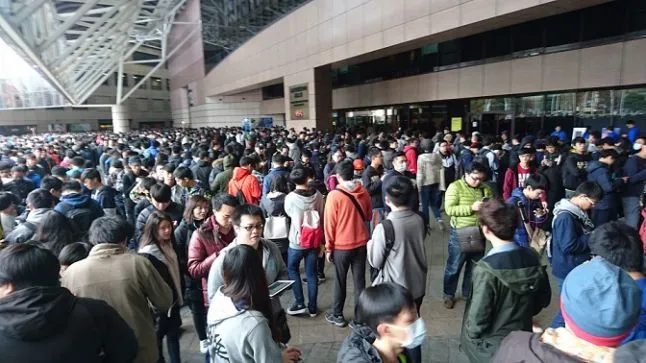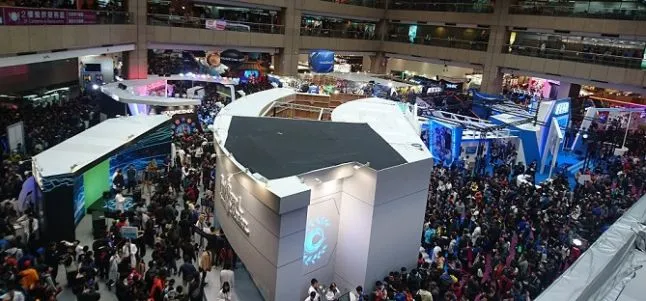 The Booth
Compared to similar large shows, Taipei Game Show is very friendly to mobile games. A significant portion of the games at the Indie House section was designed for mobile and even some of the AAA booths were mobile games as well such as Fate: Grand Order and Kingdom Hearts X. Unfortunately, attendees focused heavily on the AAA booths in an arms race of big speakers, booth babes, and mass swag giveaways that the entire Indie House collectively couldn't compete against.
We thought we got lucky as our own booth was positioned at the edge of the Indie House section, since so many people passing by saw our art and bits of our trailer. This turned out to be a mixed blessing since our AAA neighbor blasted us almost non-stop during our time there. Ironically, our AAA neighbor also happened to be our headphone sponsor, so our saving grace was that it was still possible to enjoy the audio from our game when people wore the headphones. But… when 5:00 pm rolled around, our AAA neighbor would hold a giveaway that was so popular that they crowded into our part of the indie section and nobody could play our games anymore for the next 50 minutes (and the show closes at 6:00pm).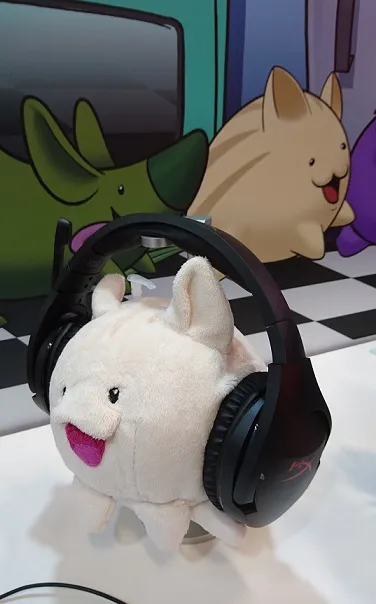 Engagement
Despite the Indie House being run for several years at the show and the prominent marketing they do for the whole group, the appeal of indie games didn't seem to get through to the attendees. The engagement rate at the show was one of the lowest we've experienced even though our game was more polished than ever and the Indie House booths provided were really good. I was concerned that perhaps the theme of our game didn't quite resonate with the crowd, but others struggled to maintain a crowd as well to the point that some left early and some even skipped the last day of the show.
Our game has generally shown well with families and Taipei Game Show was no exception. Parents that brought their kids to the show gravitated towards our cartoony art and both boys and girls had fun throwing forks and smashing kitchens. What was unusual was that the parents themselves did not engage and often pulled their kids away before they got close to completing the demo. The kids were clearly enjoying themselves and even resisted their parents to keep playing (ah, reminds me of my youth…), so this is a signal for us to tell both the kids and parents that the game is coming soon and they can sign up for the announcement email so that they can play later. Our conversion rate for getting an email in this scenario at other shows is roughly 90%, but it was closer to 50% at Taipei Game Show. It wasn't a matter of race or language as we had a native Chinese speaker on the team pitching the announcement email. Engagement with the kids was high, but significantly lower with Taiwanese parents.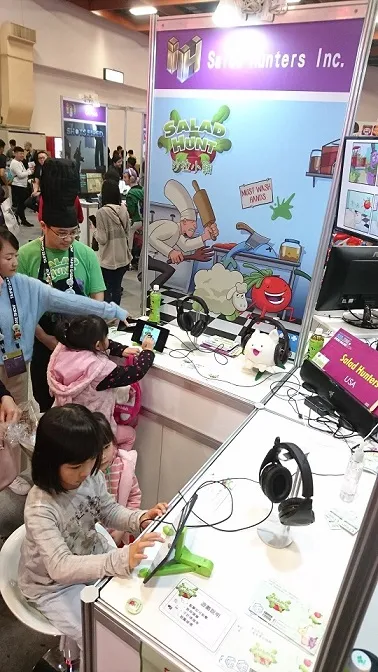 Demographics
Even though our game tests well with kids and families, Taipei Game Show had a demographic that I estimate at 90% male between 15-40. I spoke with one of our indie neighbors and they claimed that Tokyo Game Show had a similar demographic. I was quite surprised by the skew as similar shows in the US have become much more diverse over the years.
Conclusion
Although the show was very different from what we expected, we have no regrets about exhibiting. Being able to show the game outside of the US and watch kids enjoy the game helped prove that our concept had the cross-cultural appeal we planned for during the design phase. It was also an important lesson that even though lots of people have impressions of your game, engagements and calls to action should be the priority for eventual success.
The organizers of the Indie House were very welcoming and Taipei continues to be one of my favorite cities of all time (even though my Chinese language skills have gone downhill since I was 6). Finally, our AAA neighbor offered us a cross promotional photo op for blasting our ears all weekend.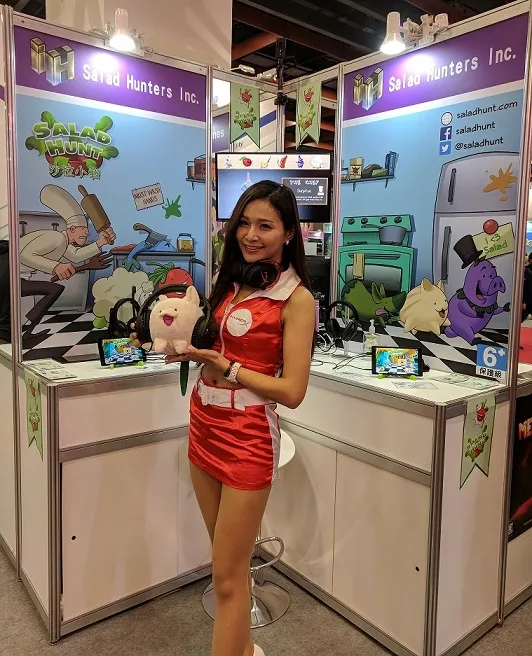 Taiwan #1!