Arcade Gym- Adding fun back to life
Arcade style Gym will make you to indulge into exercise again. It is the latest trend in the fitness market that is gaining popularity on daily basis by adding more and more fun to the gym by electrifying supplements in place of regular gym equipments. To be healthy and fit is the necessary deed in every person life but in fun filled scenario, so the ultimate solution for gaining all is through arcade gym that brings fun into the gym practice by various means like pressure sensitive walls and floors that induce various fluorescent lights by human induced pressure.
It provides new way of getting healthy by following ways:
Circuit based program that engage you to high intensity exercise with arcade game.
PRAMA System is activated in the gym that makes wall and floor light up when you touch it.
Interactive walls and floors that make you enjoy over there.
Arcade style Gym process technology into workout and manage the daily workout into arcade game that inclines more and more interest into the exercise process. This will enhance and strengthen your muscle and body and increase your reaction time. Bringing Balance and increasing speed is done through various exercise example basketball style, dance floor and other.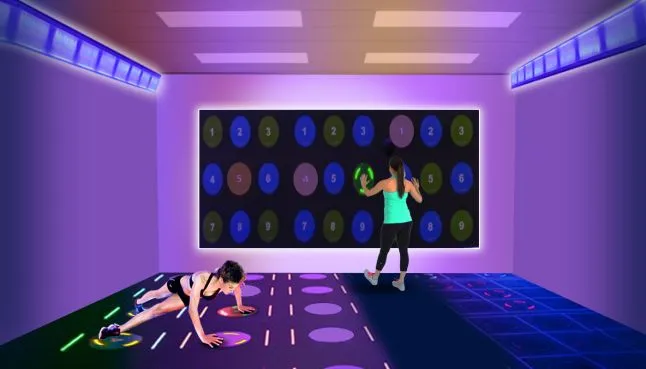 Case Study of Arcade Gym:
About the company:
Asphalt Green: It is a fitness club in the New York City, making people crazy and excited for workout. Build with electrifying supplements in arcade ambience for you to stay over there and enjoy each movement. The AG6 class led people through high intensity circuit of activities integrated with technological details like pressure induced floor and wall that can indicate how hard gym-goers can induce energy that is indicated by LED in the wall or floor.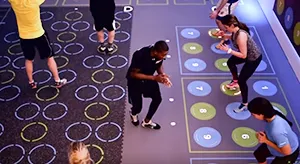 Objective:
Asphalt Gym:The gyming concept will help you to reduce approximately 1000 calories in a 45 minute session in addition to strengthening all muscle. Integrating the PRAMA system with many interactive fun concepts arcade gym is perfect for the people who have least interest to go for regular workout.
Asphalt Gym truly implements around 500 types of arcade games into the gym. So indulge into the world of Arcade games in Asphalt Gym.
Conclusion: Arcade style gym provides agility and endurance to your life and brings back the confidence that is somehow gained by fit and fine body.