If we look at the mobile app economy in the last year, developers and industry analysts have witnessed a monumental shift in power. Traditionally, the West – namely United States app developers – has been recognized as the industry leader. But with this year's sudden emergence of Eastern technology giants and darlings, who've managed to fly under the radar until 2013, China's tech scene is suddenly at the center of attention.
There's a precedent being set by the budding global influence cast by Tencent, Xiaomi, Alibaba, and Baidu. We've recognized that more developers are betting on scaling internationally, despite Chinese tech companies traditionally being known as a risk-averse culture.
Chinese developers have deep pockets
Fueling this trend are Chinese advertisers with deep pockets who have steadily been increasing their mobile advertising budgets in 2013. AppFlood's network metrics between March and September of this year showed that Chinese advertisers spent 151% more on their mobile advertising campaigns.
Amid this willingness to allocate a bigger chunk of their marketing budgets to acquire users, Chinese developers historically haven't been recognized as a global technology powerhouse. And the absence of China from tech discussions until now is partly China's fault. The country's developers until now have exclusively concerned themselves with the domestic market for a number of reasons: China boasts a huge market; anything China-made came with negative stereotypes from abroad; Chinese developers were experts on China but didn't have the know-how to look outside; among other reasons, which TechinAsia poignantly explained back in June of this year.
Some may still argue that China isn't moving outside of its comfort zone, but we'd beg to differ. In fact, we observed this trend closely on AppFlood's network and discovered that the U.S. fell behind China in total ad spend by September; during Q3 2013, China spent 25% more than the U.S. on AppFlood's network to acquire mobile users.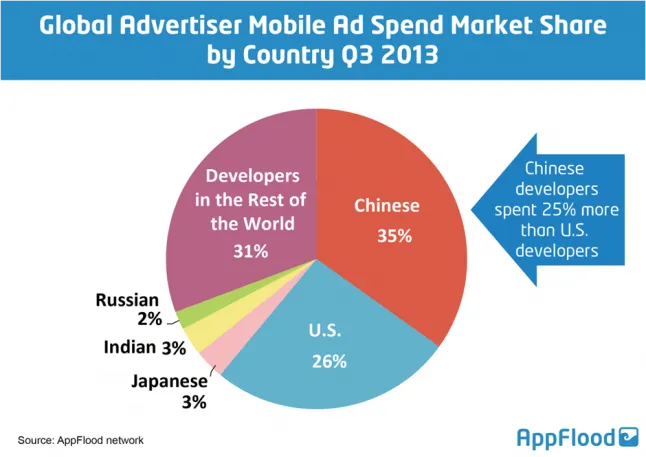 As you can see in the chart below, the U.S. for the better part of 2013 may have managed to keep ahead of China in ad spend, but China's 151% increase in spending during the six months between March and September eventually surpassed the U.S.'s spending, which peaked in July. Ad spend in the country grew just 85% during the same period.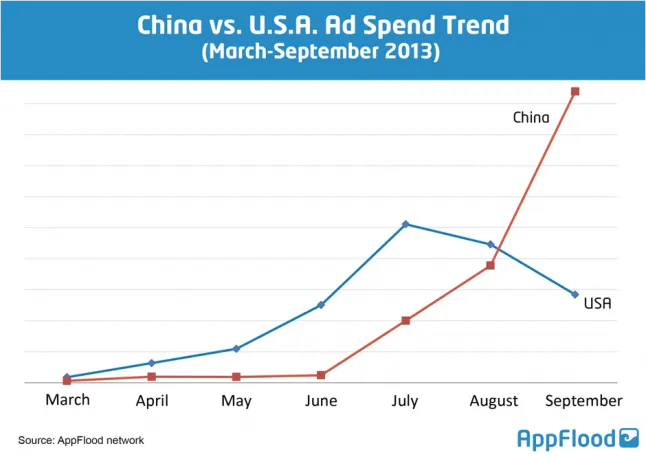 China's purchasing power
To get a better look into the sudden purchasing power of Chinese developers, we picked apart China's ad spend on AppFlood's network and uncovered some surprising insights resulting from their user-acquisition spree.
Chinese advertisers were the leading buyer of traffic in the third quarter, and accounted for 38% of global traffic. As a point of comparison, U.S. developers followed and scooped up 22% of total network traffic on AppFlood.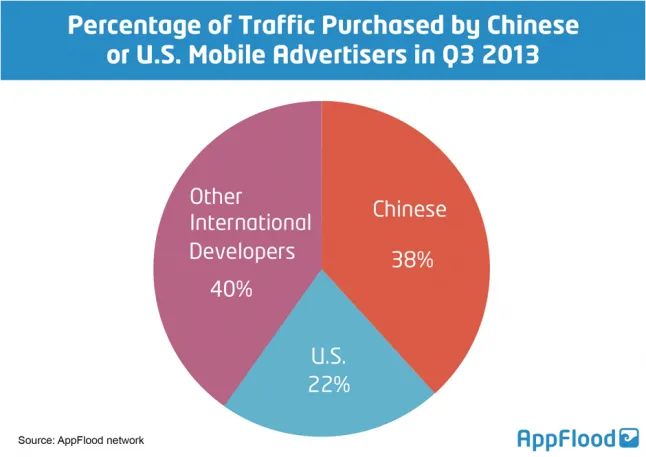 Not to mention, the lion's share of users from AppFlood's network installed a Chinese developer's app during the same period. Specifically, 55% of mobile users on AppFlood's network were acquired by Chinese developers, while the U.S. managed to purchase just 10% of total users.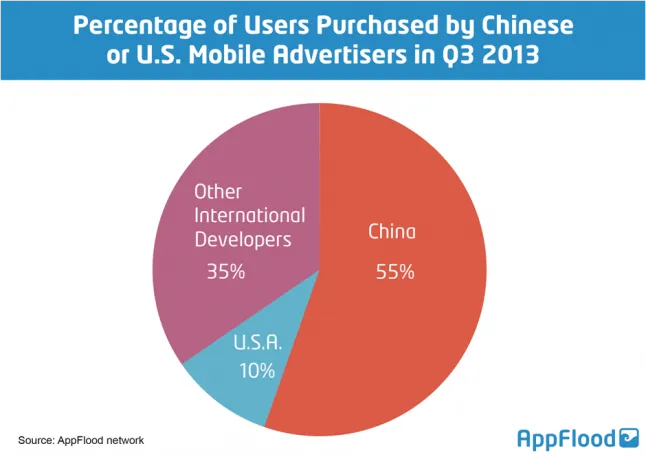 Where is China investing in mobile?
But it's not the domestic users that Chinese developers are chasing after – even if it's comparatively cheap to buy local users at $0.35 eCPM (Q3 2013). In fact, just 0.6% of China's ad budget was spent to acquire Chinese users in Q3.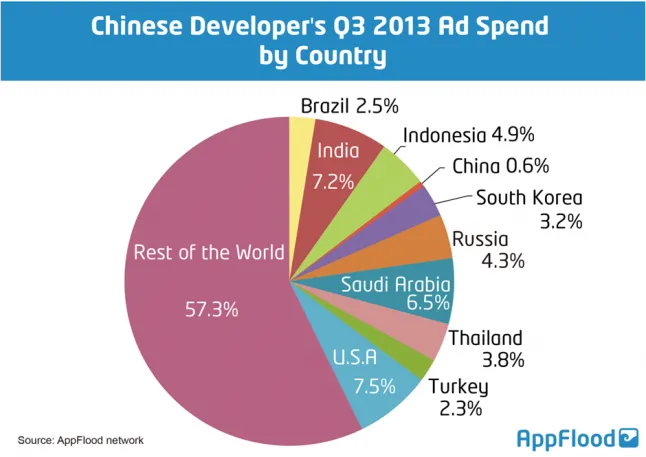 It's evident that with just a tiny percentage of China's ad budget funneled into acquiring Chinese users and the bulk of its budget allocated for countries including the U.S., India, Saudi Arabia, Indonesia, and other nations, China's eye is fixated on the international market.
The bigger picture: What's China's strategy?
But the question remains, "where is all this money going to?" To make light of this uncertainty, we can first look at the global mobile messaging race as a case study for understanding China's expansion strategy. Tencent's messaging app, WeChat – an app with reportedly 600 million users and more than 100 million of these from abroad – sprinted for users in Southeast Asia early shortly after launching, but the Chinese app wasn't the only one with the strategy. Japan's LINE and South Korea's KakaoTalk rushed head-first into the quickly developing emerging market of Southeast Asia (SEA).
Parallel to the strategy that I've outlined above, Chinese tech giants invested the largest chunk of their budget into acquiring Asian users - as much as 33% of the total budget - and note that a minuscule 0.6% of Chinese developers' budgets went into China. Outside of Asia, as much as 22% of China's total spend went into the Middle East (of all regions). Western regions on the other hand including North America and Western Europe accounted for just half of China's total spend on Asia.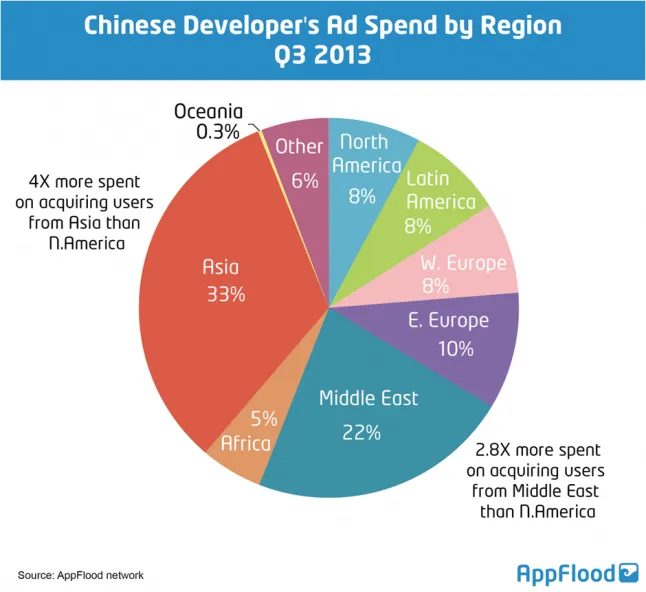 If we look at China's strategy as a whole, we can see that in the last year with competition for Western traffic reaching maturity (and saturation), Chinese developers have begun to recognize and capitalize on the opportunities in tapping the unappreciated emerging markets.
These emerging markets like South Asia, SEA, and even the Middle East are critical stepping stones in China's global expansion strategy. Regions like Southeast Asia present an opportunity for traditionally risk-averse Chinese developers to experiment with their global expansion strategy, while reducing the potential losses of stepping foot into an alien yet important market like the United States too early in their career. At the same time, these "international" (emerging) markets have cultural similarities to China – particularly in nations like Indonesia, Thailand, and Singapore.
The second part of this equation, is the fact that traffic from these emerging markets has been far more affordable than the West, encouraging Chinese developers to spend two times more on acquiring SEA users than North American users, and 2.8 times more on the Middle East than North America.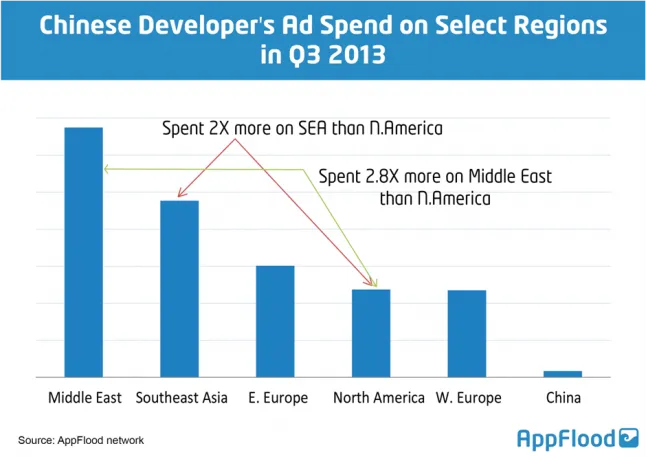 Publishers profiting from Middle East, Asia traffic
Consequently, amid this sudden inventory buying spree by Chinese developers, publishers with traffic from Southeast Asia and even the Middle East are finding that their earnings not surprisingly increasing. If you're a developer, what's left of 2013 and early 2014 will be a great time to monetize the traffic that you might not have considered to be worth much in the first place.
On that note, expect 2014 to be China's year in mobile.