Hello everyone, I am the Founder of www.Gamoloco.com, a data service focusing on gaming live streams.
I wanted to show you an example of the kind of analysis you can make from looking at Gamoloco data. For this I chose to focus on Gamoloco's top 20 games for March 2015, from the numbers provided by Twitch's API.
So what are the top 20 most watched games on Twitch? What else can the numbers tell us?
TOP 20 GAMES ON TWITCH - March 2015:
01 - League of Legends
02 - Counter-Strike: Global Offensive
03 - DOTA 2
04 - HearthStone: Heroes of Warcraft
05 - Minecraft
06 - BloodBorne
07 - World of Warcraft: Warlords of Draenor
08 - Starcraft 2
09 - H1Z1
10 - music
11 - FIFA 15
12 - RuneScape
13 - Grand Theft Auto V
14 - gaming talk shows
15 - Cities: Skylines
16 - Destiny
17 - Reign of Kings
18 - Call of Duty: Advanced Warfare
19 - Diablo III: Reaper of Souls
20 - World of Tanks
Also we want to remind you games are ranked according to the "Hours Watched" metric. Hours Watched stand for the total number of hours watched across all viewers during the period. More info on how we rank games and collect data is to be found in our FAQ page.
RELEVANCE: There were 297M+ Hours Watched for the top 20 games on Twitch in March 2015, which is almost 84% of the total Hours Watched on all of Twitch. Live streaming has an extremely long tail.
- ANALYSIS -
1 - DISTRIBUTION OF HOURS WATCHED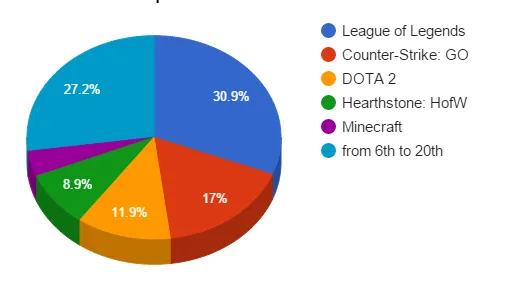 With almost 31% of the total viewership for all of the top 20 games, League of Legends stands as an absolute juggernaut. It weighs more than games ranked from 6th to 20th all put together.
Counter-Strike, DOTA 2 and Hearthstone are fighting hard for the podium, with Minecraft trailing alone behind at a solid 5th position.
These have been the basics of live streaming for almost a year it seems. The biggest sub-plot being CSGO's astonishing return from the dead (see previous blog post).
While some games, such as the entire top 5, are regulars at the top spots, it is too early to say where new releases such as Bloodborne and Cities: Skylines will stand in 6 months from now. The fact that they showed up that high in March is proof that they're great games for streaming, but do they have what it takes to become even more than that? Only time will tell.
H1Z1 ranking 9th 4 month after release is a very interesting case. Runescape, a web-based MMORPG first released in 2001, showing up at the 12th spot is a big surprise. Can you imagine it performs better in streams than the latest Call of Duty and Battlefield games combined?
2 - BUSINESS MODELS
Note: we chose to call "Premium" games that sell for less than 40 euros/usd at launch.
Surprise, surprise... AAA size: AAA games are trailing in the live streaming game, which is largely dominated by Free 2 Play's and, to a lesser extent, Premium games.
And even then, we counted Bloodborne, World of Warcraft and Starcraft 2 as AAA's while some may argue they aren't exactly part of this group. The only pure AAA's in the top 20 are FIFA, GTA V, Destiny and Call of Duty, with the latter 2 ranking behind old school web-based MMORPG RuneScape.
3 - PLATFORMS

Note : multiplatform games were counted several times (ie: FIFA counted for all 4 consoles + PC)
The arch-dominance of PC gaming, is almost scary. Or is it an amazing growth opportunity for the rest of the industry?
Of course one should take into account Twitch is mostly watched on computers and it's still easier to stream from a PC than from a console, which is not exactly helping console numbers.
The tablets score is to be considered with even more care: remove Hearthstone from the count and it gets below 1%.
4 - PUBLISHERS

In the stable of streaming, Riot Games, Valve and Activision Blizzard - thanks mostly to Blizzard - are the 3 Kings, totaling 77% of all Hours Watched across the top 20 games.
The usual gaming industry giants haven't exactly gotten the hang out of streaming yet. Electronic Arts has just one game in the top 20 and Microsoft makes the list thanks only to the Minecraft acquisition last summer. Notably missing are Nintendo and Ubisoft.
5 - ESPORTS OR NOT?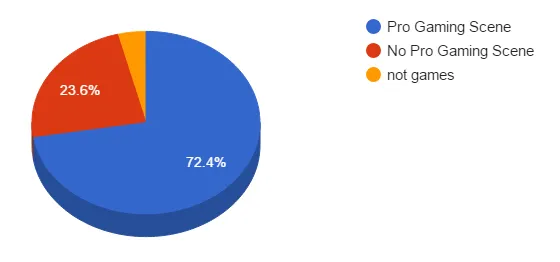 Note : we only counted games with at least a few dozens pro gamers and super high-profile tournaments (USD 1M cash prize distributed / year at least) as having a pro gaming scene. Here are those that made our list: LoL, CSGO, DotA2, HearthStone, SC2, COD
Not only a hot buzzword, Esports are tied to success when it comes to live streaming viewership. The top 4 games in the ranking arguably entertain the most vibrant Esports scenes in the world with many pro gamers, fans and events getting bigger and bigger by the day.
A few games, such as Minecraft, World of Warcraft, FIFA, RuneScape and GTA come as exceptions as they enjoy long term success in live streaming without a pro gaming scene to generate activity and interest.
6 - GENRES

46% for MOBA's is insanely high and may say a lot about what gamers want vs what they get. Come to think about it: the MOBA genre was purely created by gamers in the early 2000's (using the Warcraft 3 engine) and ignored by the industry for several years before Riot Games was founded off the vision that MOBA's would rule online gaming on the one hand, and Valve started working on DOTA 2 themselves on the other hand.
The 3rd genre comes as a suprise too: 18 months ago, who would have predicted that one game, Hearthstone, would propel the trading card genre to live streaming heights?
These 2 genres alone show how much online gaming and live streaming have been disrupting the traditional industry. It's not only about business models, it's also about creativity and what gamers are given to play and watch.
Feel free to let us know your questions and own analysis!