(I initially posted this article in my blog LEAP TO THE FUTURE. )
Japan has one of the biggest mobile gaming market in the world. The revenue has highly grown year after year. In fact, Japan's revenue in the mobile gaming market is larger than America's that. (As far as iOS, America's revenue is larger than Japan's that.)
As the foreign console games and PC games are, the almost foreign mobile games don't have a success in Japan. According to the AppAnnie's recent report, more than 90% of mobile gaming revenue in Japan goes to Japanese companies. Foreign mobile games have to jump over many hurdles in the Japanese market environment.
Left: Top10 in Japan , Right: Top10 in the U.S. (@App Annie)
How will you make your game successful in Japan?
Here are 6 unique natures of the Japanese mobile gaming market that I hope will give you valuable insights to localize or culturize your games into the Japanese market.
1. Smartphone is a main game platform
According to CESA's report, the market scale of Japanese console games has been declining annually after 2007. On the other hand, the market scale of mobile games has been growing annually. Japanese gamers play smartphone games mainly, not console games, not PC games.
Japanese mobile gamers play longer time and spend more money on mobile games than American mobile gamers. The ARPPU(Average Revenue Per Paid User) and the conversion rate of Japanese gamers are higher than those of Americans.
Why did mobile gaming platform become main game-platform in Japan? There are two reasons.
First, Japan's most popular mobile internet service in the past, i-mode, has provided simple and useful means of settlement since 1999. Many apps and many services had grown on i-mode cell phones and therefore Japanese mobile users got used to pay for mobile games early.
Second, as Japanese gamers had transferred from console to handheld since the mid-2000, many Japanese gamers are transferring from handheld to mobile. Japanese gamers don't need to buy a extra game-hardware because almost everyone have a own smartphone, which is a necessity in modern society. Also, the mobile games are easier and free to start playing.
Third, the performance of smartphones already overwhelms that of handheld like nintendo3DS and PlayStation Vita! Japanese mobile gamers can get experience of the same quality as handheld games.
2. RPG is King of mobile games!!
As is well known, RPG has been the most popular genre in Japan since 1980s. In the same way, mobile RPG is the most popular genre in Japan. Many popular RPG titles like, Puzzle&Dragons, Monster Strike, Colopl Rune Story, Fate/Grand Order, GRANBLUE FANTASY, and so on, occupy higher rankings on AppStore and GooglePlay. RPG has the largest number of active users in all genre and therefore the chance for success is the largest.
On the other hand, RPG is the most competitive genre. First, many competitors scramble for RPG gamers tightly. Second, RPG gamers have a critical eye and a subtle different preference. Due to the diversification in mobile gamer preference, there are some sub-genre like, traditional RPG, puzzle RPG, action RPG, simulation RPG, MO/MMO RPG, and so on.
Japanese mobile RPG has a great monetization cycle that motivates players to raise the status and collect characters, weapons, armors and magic items through adventuring in-game quest-and-battle and rolling a GACHA.
Japanese mobile RPG mechanism resembles Pokemon at the point of collecting and raising. Japanese RPG gamers eager to collect characters, weapons and others, and raise the status hardly. This mechanism motivates users to pay money for rolling a gacha to collect characters and others.
3. Gacha! Gacha! Gachaaaaaaa!
Gacha is an avaricious general monetization in Japan. Most of Japan's F2P mobile games have a gacha monetization. You pay money, and so you can roll a gacha to get a character(or a weapon and a magic item,.. due to each title). Which character you can get is dependent on the probability of each character setting.
All characters are classified as rarity like Normal(N), Rare(R), Super Rare(SR), Ultra Rare(UR). The higher rarity character has higher status and strong skill useful in the battle.
What matters most is creating fascinating characters like beautiful sexy warrior Scáthach, sturdy conqueror Iskandar (Fate/Grand Order), cute knight Charlotte (Colopl Rune Story), and so on.
Left: Scathach, Center:Iskandar, Right:Charlotte
It is crucial that a character has not only higher status and strong skill, but also fascinating appearance. It motivates many users to roll a gacha! Apparently, the revenue of gacha increase many times larger. Also, Stirring a popular voice actor as a game character is important next to appearance.
Japanese creators have made many fascinating characters in games, animes and comics and so Japanese people love these characters. Most of higher-rank games sell attractive characters through gacha monetization system.
If it will be added, Japanese gacha gamers feel excited both the result and the process of rolling a gacha, in contrast to foreign gacha gamers. Especially, the presage makes gamers expect to get a featured character is very important. It is the strongest, easiest means that sway gachar gamers emotionally. That's a gambling game? Yes, It looks like a gambling game.
4.event after event, event, event, ...
Japanese social game developers usually say the importance of the in-game event held in mobile game because the stronger means of both user retention and sales promotion is holding the event frequently.
Most mobile games hold the event within a period of several days or about 2 weeks. A few days or immediately after an event ends, Next event starts. Therefore, both users and developers are always busy! Remember one of the purpose of holding the event is retention.
The in-game event presents the goal and the reward to users. Both of them motivate many users. Designing carefully the balance between the goal and the reward is very important. The wrong balance causes many users to feel frustration.
Also, the period of the event should be not too short, not too long. If you hold the event within a short period, many users would accomplish the goal of the event. If within a long period, many users would reach the goal but most of them might feel bored.
The policy of making much of holding in-game events frequently is rooted in Japanese mobile game industry. If we look back on the history, the cause is during the time i-mode freature phone was thriving around 2010. At that time, social games were quivalent to web-browser game that one page size including all image sizes is restricted to 100KB under i-mode specifications. Japanese mobile game developers tried to make it fun for users as possible under poor expression due to the restriction.
5. IP & collaboration
In general, the game titles utilize popular IP are able to attract many users easily.
About 10% of the Top100 in America's iOS market consist of titles using popular IP like MARVEL Contest of Champions, Star Wars: Galaxy of Heroes and Jurassic World: The Game. In Japan, about 15% of the Top100 consist of titles using popular IP like LINE: Disney Tsum Tsum, DRAGON BALL Z DOKKAN BATTLE and Love Live! School idol festival.
Moreover, about 10 console game franchises are in the Top100: FINAL FANTASY Record Keeper, Hoshi-no Dragon Quest, Monster Hunter Explore, and so on.The number of them is the difference between Japan and America. As stated above as the second narture, smartphone is a main game platform in Japan.
Many mobile games hold the collaboration-event that some characters from other works appear in. Representatively, Puzzle&Dragons make a success in the acquisition of many users by many times collaborations with other works. The great success of Puzzle&Dragons affects other competitors.
The method of collaboration event & gacha brings two advantages of both user acquisition and gacha-sales promotion. The title holds the collaboration event leaps up store ranking.
Hunter x Hunter Collaboration (Colopl Rune Story)
6. many games targeted at female gamers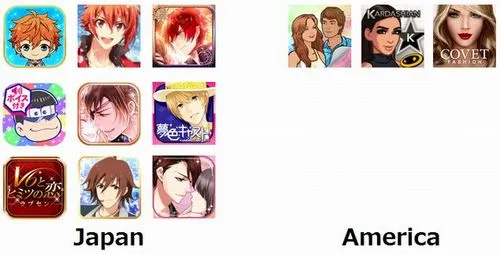 It goes without saying, 50% of mobile gamers consist of female gamers. Then, are there a various kinds of games for female gamers other than casual games like puzzle? If we look at the Top100 of America's iOS market, we find only 3 titles -- Episode, Kim Kardashian: Hollywood and Covet Fashion.
In contrast to that, there are many mobile games for female gamers in the Top100 of Japanese market, like Ensemble Stars!, IDOOLiSH7, THE [email protected] SideM, Yume100, Yumeiro Cast, Ikemen Sengoku, Osomatsu-san, and so on.
You might recognize that most of them are idol raising simulations. This genre is very hot in recent years among female gamers. You scout new talents for your show biz production company and raise them toward brilliant superstars. So, you can enjoy the communications with them.
As the market targeted at male gamers is excessively competitive, many publishers are interested in the market targeted at female gamers.
Acknowledgment
Thank you for reading this to the end. I hope this article gives you valuable insights. Ask me in the comments If you have questions about the Japanese mobile gaming market.
(C) TYPE-MOON / FGO PROJECT
(C) COLOPL, Inc.
(C) POT(Togashi Yoshihiro)
(C) VAP, Nippon Television Network Corporation, MADHOUSE Inc.