"Rainbow Game Jam '16", a 2 week game jam organised by myself in order to celebrate and promote diversity within the game industry.
The original idea for a game jam is a product of some planning and feedback through the "Rainbow Game Dev. Group"(facebook.com/groups/ScottishRainbowDev/). The group was created to create a community around the LGBT+ identifying and allied community in Scotland, to allow for a safe space for communication, meet new people, and to be able to host regular meetups in the various Scottish cities.
In this post I'm going to discuss several key points in the development of Rainbow Game Jam, and I hope this can give some guidance and ideas to anyone else who wishes to plan a game jam in a relatively short period of time.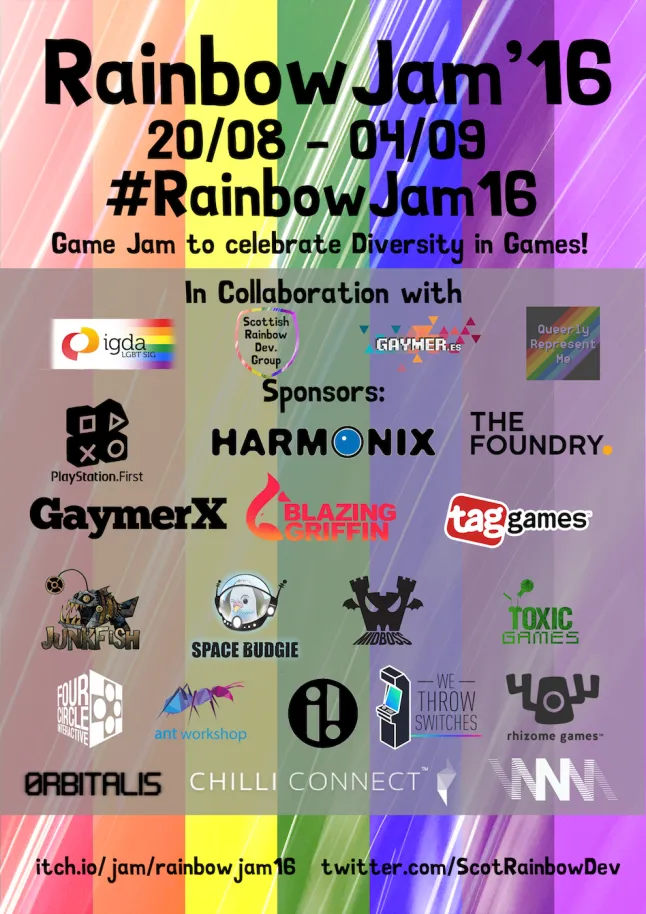 1. Setting a date!
I started Planning Rainbow Jam on the 20th July, just over 5 weeks ago at the time of writing. I had a few discussions with friends and colleagues about organizing a game jam for Scottish Rainbow Dev. Group, so I picked a few dates suitable for the general group (the group contains a large number of students from local Scottish universities, so the intention was to have the jam end before the new academic year began).
Having set the date for the jam gave me a goal to actually kick things into gear. I'm not sure about other people, but having a definitive date that i have to meet really allows me to work towards that a goal, whether that be for project development, or in this instance planning an event, having a date set and announced that in a public forum meant I HAD to have an end product. A great motivator!


2. Finding supportive collaborators and sponsors!
One of the initial things i wanted for Rainbow Jam was prizes: this was to help in the promotion of the event by enticing people into wanting to participate. When you have events such as Global Game Jam and Ludum Dare running successfully and with a large number of participants, i really wanted to get people interested in Rainbow Jam.
The first few sponsors I managed to get on board, Blazing Griffin, Tag Games, and Ant Workshop, were all hugely supportive of the jam, and really helped drive the initial promotion of the event. This isn't to say that other sponsors haven't been: all the sponsors for Rainbow jam have been immensely supportive of the jam and myself during the planning, and I couldn't than them enough. If it wasn't for the huge support of the sponsors the jam wouldn't be the same.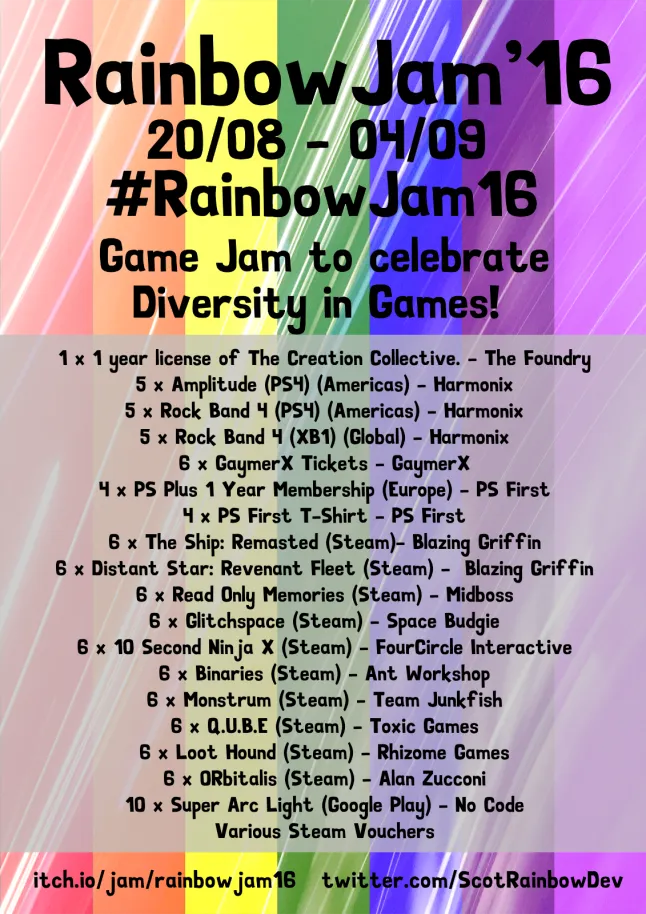 3. Deciding on an audience
The initial idea for the game jam was to to make a jam for members of Scottish Rainbow Dev group, to support and celebrate game development for LGBTQ+ developers and allies in Scotland. After the first sponsors were announced I started speaking with IGDA LGBTQ+ Sig about their plans to run a game jam, I realized there was a potential for a bigger event just by opening up the event to a wider audience. Although the event now is open to anyone regardless of location, sexuality, gender, language, religion, etc, the main "message" of the jam is still to celebrate LGBTQ+ diversity within the games industry.
4. Picking a theme
Themes seem to be a cornerstone of game jams now. Having participated in a few game jams with decidedly "bad" themes it was important for me that the theme for Rainbow Jam:
Didn't dictate mechanics or style of the games
Wasn't too abstract or vague that there was no common coherence between the games
Was part of the main message of the jam: to celebrate LGBTQ+ diversity
I also didn't want to limit creativity with a theme, so entrants for Rainbow Jam don't have to follow the theme if they don't want to!
A had a few informal chats with friends and colleagues to shortlist a few ideas, and ran these past a small group of people to get an idea for preference from them. In the end we came up with a theme that met all of the above criteria.
I hope this can be of some help to someone! Rainbow Jam 2016 kicks off on the 20th August 2016. If you would like to see more about the jam you can check out the links below.
https://itch.io/jam/rainbowjam16
www.facebook.com/events/1747902232145017/