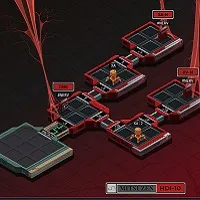 [Video Game Deep Cuts is a weekly newsletter from video game industry 'watcher' Simon Carless (GDC, Gamasutra co-runner), rounding up the best longread & standout articles & videos about games, every weekend.
This week's highlights include analyses or interviews on Donut County, Exapunks, Prey: Mooncrash & many more.

Until next time...
- Simon, curator.]

------------------

A new notice from China's Ministry Of Education, and its impact on games (Lisa Hanson / Niko Partners - ARTICLE)
"On August 30th 2018 the Ministry of Education issued a new notice aimed at preventing myopia, or near-sightedness, among children and adolescents. The notice also listed recommendations for regulatory bodies to carry out. The notice was issued because the increase in gaming and internet use among minors may be leading to higher rates of myopia. [SIMON'S NOTE: whether it's really fear of 'myopia' or more of a cultural control issue, this may have notable effects even for Western devs, if they're selling a lot of copies in China 'unofficially' through Steam & that loophole is closed! Watch this space..]"

The Indie Post-apocalypse (Jeremiah / Golden Krone Hotel - ARTICLE)
"Well, we're 3 years on. The indiepocalypse isn't happening. It happened. It's over and what happens after an apocalypse is of course the post-apocalypse. There is a persistent belief that nothing much has changed and all you have to do is make a good game, market it, and stay persistent. I'm not quite convinced."

Donut County is a game about swallowing Los Angeles and realizing you're an asshole(Laura Hudson / The Verge - ARTICLE)
"Donut County is a game about how ignorance and avarice swallow everything in their path. Specifically, it is about a hole that opens up in the middle of a charmingly stylized pastel Los Angeles, its circumference growing larger with each person, palm tree, and building that falls into its gaping maw. [SIMON'S NOTE: also see Ars Technica's more conventional review of the game, yay.]"

The Ripper: The disturbing Visceral Games project that never was (Alex Riviello / Polygon - ARTICLE)
"A decade ago, at a community day for Dead Space, I stumbled upon an accidental scoop. I was checking in at the front desk of Electronic Arts' Redwood Shores headquarters with a few marketing folks guiding me along. "Oh," said the receptionist offhandedly, "are you here for The Ripper?""

The Ballad of Yo! Noid (Ernie Smith / Tedium - ARTICLE)
"In the '80s and '90s, advertisers got the idea to market products to kids through video games. The games aren't half-bad (mostly), but they're still ads. [SIMON'S NOTE: check out Tedium & sign up, if you haven't - lots of great 'history of the Internet' & weird ephemera in newsletter/article form!]"

The Twenty-Five-Year Journey of Magic: The Gathering (Neima Jahroni / The New Yorker - ARTICLE)
"In his youth, Richard Garfield, the mathematician who created Magic: The Gathering, liked to play and invent games. Before his family settled in Oregon, in the mid-seventies, he spent many of his early years in Bangladesh and Nepal, places where his father worked as an architect."

The Videogame Industry Reaches for the Cloud (Jack Hough / Barron's - ARTICLE)
"The cloud is the future of videogaming, and it could arrive sooner than many players expect, with important implications for investors. Once pricey hardware is no longer necessary and top-tier games can run on two year-old smartphones, even casual gamers will become candidates for the latest releases from EA and its peers. [SIMON'S NOTE: a business magazine cover story, & it FEELS natural to biz mags, but I'm not sure I buy it. We'll see!]"

Two Bit Circus and the Challenges of Next Generation Arcades (Adrian Hon / MSSV.net - ARTICLE)
"The scope – and expense – of Two Bit Circus is extraordinary. It's hard enough to make a single VR game, let alone several. And to link them with an ARG? It hasn't been done before. That's not to say it can't be done, it just costs far more money than anyone is usually willing to spend."

How World of Warcraft Was Made: The Definitive Inside Story of Nearly 20 Years of Development (Mike Williams / USGamer - ARTICLE)
"From the beginning, World of Warcraft was designed as a response to other games, with players of successful MMOs wondering if the experience could be made better. On the backs of games like Ultima Online and Everquest, the team at Blizzard Entertainment transported players to the Azeroth established in Warcraft 3."

Streaming Could Change the Video Game Business Forever (Chris Morris / Fortune - ARTICLE)
"In the beginning, there were video game stores. There were bricks, and there was mortar, and hours before the stroke of midnight of a highly anticipated release, there were snaking lines of customers outside GameStop or Toys "R" Us or Best Buy, waiting with excitement for the sale to begin. This was the first age of video games, and it was good. [SIMON'S NOTE: again, not sure where we are on the streaming, but publishers taking back control of their users away from third-party digital stores is one VERY big trend right now.]"

The Zachtronics devs discuss the essence of cyberpunk in Exapunks (Bryant Francis / Gamasutra - ARTICLE)
"For those curious about how Exapunks was constructed, and why its creators did a lot of research into '90s hacking culture and the original essence of cyberpunk, you can now watch our full conversation with Barth & Burns in the video linked up above."

Games companies continue to neglect issue of employee harassment (Colin Campbell / Polygon - ARTICLE)
"In the wake of yet more examples of toxic harassment, we recently contacted a selection of large games companies once again, to ask if they've addressed this problem. Unfortunately, we found the majority of game companies remain neglectful about protecting their employees from social media harassment... [but] CCP Games responded to our information request with unusual enthusiasm."

Understanding OpenAI Five (Evan Pu / Medium - ARTICLE)
"In this blog... I will explain the challenges in making a Dota bot, appreciate how OpenAI addressed these challenges, and lay out its fundamental flaws. I hope that by explaining how it works in layman terms, we can watch its upcoming matches with the right mindset."

Dance w/ the Devil: Proximity to Nihilism in Minit (Nathan Pasko / Medium - ARTICLE)
"A productive day in Minit might consist entirely of exploration, or it might mean finding a coin or a tool like the Gardening Gloves. The player builds their inventory over the course of many days, though each day their physical progress is continuously reset, and felled enemies continuously return."

The Oral History of Treyarch's Spider-Man 2: One of the Best Superhero Games Ever (Alex Kane / USGamer - ARTICLE)
"Inspired by the vast urban sandbox of Rockstar's Grand Theft Auto 3, the team hit on an idea that would change licensed games forever: Give players an entire open-world New York. Let them choose whether to swing around and explore, take off the costume and deliver pizzas for Mr. Aziz, or even rescue the city from Doc Ock and that fleet of UFOs. Make them feel like a superhero."

How Ubisoft plans an E3 conference (People Make Games / YouTube - VIDEO)
"It's the biggest show in the video games calendar each year, but how does it actually come together? We speak to the team behind Ubisoft's E3 conference."

Skipping Steam: Why Jason Rohrer independently distributes One Hour, One Life (Richard Moss / Gamasutra - ARTICLE)
"And now he's selling and distributing his latest work, the civilization-building (and parenting) MMO game One Hour, One Life, entirely independently — without Steam, GOG, Humble, Itch, or any other digital distribution platforms. I spoke to Rohrer recently to find out why, and how, he's done it."

17 Years Ago, Gorillaz Released A Legendary Web Game — But Who Actually Made It? (Matthew Olson / Digg - ARTICLE)
"I have a flashbulb memory of the first time I saw the game: I was in the computer lab of the Boys and Girls Club, standing on my tiptoes with a hand perched on the back of the office chair the other kid was sitting in, trying to get a good look at his screen. There, running in a web browser was "Gorillaz Final Drive," featuring the cartoon band in their GEEP buggy doing flips and loop de loops in full 3D glory."

Scam Key Requests on Steam: Who Hides Behind Fake Emails (Vladimir Slav - ARTICLE)
"When I've started publishing games two years ago, I quickly figured out that people will try to scam you out of the keys. I simply ignored them or asked for verification and they never replied. But since about a year ago, I've actually started asking them to share their reasons and insights. I've learned a few things that I think could benefit you too if you are publishing games on Steam. [SIMON'S NOTE: Some fascinating cultural anthropology here.]"

Errant Signal: Prey - Mooncrash (Campster / Errant Signal / YouTube - VIDEO)
"Prey: Mooncrash is a pretty cool game that takes a genre known for encouraging creative solutions to problems by giving you All Of The Powers, and turns it on its head by more or less forcing you to come up with creative solutions through throwing roadblocks in your way. It's kinda neat! And it's DLC for Prey! And stuff!"

Tuning Dead Cells to appeal to players both fast and slow (Carli Velocci / Gamasutra - ARTICLE)
"When most games hit Early Access -- if they decide to, anyway -- there's usually a lot of the game already there. It's rough and incomplete, of course, but it's usually a version of the final product. With Dead Cells, however, Early Access and early testing essentially created 1.0. Before that, it was a completely different game."

------------------

[REMINDER: you can sign up to receive this newsletter every weekend at tinyletter.com/vgdeepcuts - we crosspost to Gamasutra later on Sunday, but get it first via newsletter! Story tips and comments can be emailed to [email protected] MINI-DISCLOSURE: Simon is one of the organizers of GDC and Gamasutra & an advisor to indie publisher No More Robots, so you may sometimes see links from those entities in his picks. Or not!]