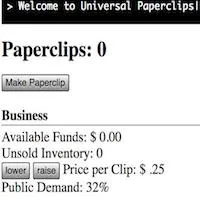 [Video Game Deep Cuts is a weekly newsletter from curator/video game industry veteran Simon Carless, rounding up the best longread & standout articles & videos about games, every weekend.
Some of the highlights include the death - or not - of single-player AAA games, the clicker game paperclip-pocalypse, and some crazy specific fighting game terms.

This week, besides helping boot up registration for GDC 2018, I've mainly been listening to'372 Pages We'll Never Get Back', a new podcast from Rifftrax's Conor Lastowka and (former Mystery Science Theater host) Michael J. Nelson.
It reads along with - and deconstructs - Ernie Cline's Ready Player One, one of the most popular novels of the past few years, soon a Spielberg-directed movie, and an enraptured paean to video games and '80s pop culture.

The podcast is largely an entertaining takedown of Cline's obsessions and prose. Cline's wording is hilariously functional, in the same way that Dan Brown (The Da Vinci Code)'s words largely exist as ornamentation around an insanely propulsive plot. And yes, I admit, I enjoyed Ready Player One when it came out - in a tremendously guilty way.

But it's fascinating to see the massive backlash over the book/movie trailer storming the Internet. The (chiefly male) nerd power fantasy is overpowering here - what else would you expect from an author who wrote the movie Fanboys? And in the podcast, Nelson/Lastowka correctly point out that the protagonist doesn't remotely try to improve himself in the 'real world', and spends the entire book trying to get a 'high score' in VR in order to become insanely rich. Is that... good?

Still, the book-length Spielberg catfish clearly worked, and I'm genuinely confused to see how the movie works out. In these dark real-world times, it's a lot of fun to be somewhere else, being someone else, and doing incredibly well at it. But why you gotta drag The Iron Giant into this, huh?

Head-scratchingly, until next time...
- Simon, curator.]

------------------

Cuphead, & the problem with difficulty in video games (Mike Mahardy / GameSpot)
"Certain studios come to mind when we talk about difficult video games: From Software, Firaxis Games, and now Studio MDHR, the creative minds behind the recently released Cuphead. Their title is a gorgeous, brutal platformer, with run n' gun aspects that challenge even the most skilled players, demanding precise timing and vigilant patience."

Gaming's greatest shotgun, and the FPS that made Monolith what it is today (Rick Lane / Eurogamer)
"F.E.A.R has the best goddamn shotgun in the history of gaming. This is a hotly competed category, including strong entrants from the likes of Doom and Half-Life - and I'm sure you'll all point to a dozen more once my words run dry."

The Organizations That Could Do Something About Loot Boxes Don't Care (Patrick Klepek / Waypoint)
"The heated conversation around loot boxes is unlikely to die down anytime soon, and one question raised is whether loot boxes represent a form of gambling. If so, loot boxes could potentially be subject to regulation. [SIMON'S NOTE: A good point, but let's not forget that a number of the top-grossing smartphone games are _literally slot machines_, and not regulated, which seems like a far more blatant angle.]"

Studying Dustforce's Animation (Dan Root / YouTube)
"This new series of videos studies the animation of video games. Here we look at the really cute platformer Dustforce for PC and Xbox Live Arcade."

Developer interview: The one-man studio behind Jettomero (Gamasutra staff / Gamasutra)
"Gamasutra had the pleasure of talking to Koenig about making the game in a recent Twitch stream. Unlike many of the other indie developers we've talked to, it's less a story less about self-imposed crunch, racing to meet a launch date, and more about one man figuring out what his game was while holding down a day job."

An Interview With Bachelorsoft (Stephen Keating / Et Tu Gamer)
"Recently we did an interview with BachelorSoft, an indie game developer exploring the open road and the fraught realities of bath towels. [SIMON'S NOTE: love the 'nu skool Hypercard' aesthetic of this visual novel developer - great example of people stumbling onto easy-to-create game dev tools and making great stuff.]"

There's No Such Thing as a Hard Game (Or an Easy One) (Rami Ismail / Glixel)
"I was seven years old when I first cheated in 1993's classic DOOM. The game came on a floppy drive, and the label said "DOOM - IDDQDIDKFA". It took me a while to realise the string of letters was actually two separate cheat codes."

From the Game Informer Archives: Lost NES Games! (Frank Cifaldi / Game Informer)
"It is an almost perfectly-preserved tomb of video game public relations throughout the 1990s – in fact, one of the four cabinets had to be drilled open for me, its caregivers having lost the key ages ago. For a video game "archaeologist" like myself, it is a goldmine."

Today's Star Wars News Makes the Future of Single-Player Look Very Messy(Patrick Klepek / Waypoint)
"The first response that many, including yours truly, had to EA's announcement was "Oh, they want their own Destiny." Granted, the EA-owned BioWare announced its ownDestiny-like game at E3 this year, Anthem, but Anthem remains a risk. [SIMON'S NOTE: Also see 'EA's Star Wars 'pivot' is a vote of no confidence in single-player games'. Hotter - but still v.smart - takes on Visceral's closing, followed by...]"

Does Visceral's closure prove AAA single-player games are dying? (Gamasutra staff / Gamasutra)
"Gamasutra staffers were engaging in similar conversations, and we decided to hash it all out in an email thread. Is the Visceral announcement a death knell for AAA single-player games? Or is it simply a terrible tragedy for the talented Visceral staffers who don't end up finding positions elsewhere within EA? Here are our impressions. [SIMON'S NOTE: A medium-hot take from my Gamasutra colleagues - the truth is complex, as per usual.]"

Interview: Streets Of Rage composer Motohiro Kawashima (Nick Dwyer / Red Bull Music Academy)
"Motohiro Kawashima began composing video game music as employee number one at Yuzo Koshiro's company, Ancient, back in 1992. The two of them became great friends, bonding over a shared love for all the incredible new club music exploding in Tokyo at the time."

The Way The World Ends: Not With A Bang But A Paperclip (Adam Rogers / Wired)
"Paperclips, a new game from designer Frank Lantz, starts simply. The top left of the screen gets a bit of text, probably in Times New Roman, and a couple of clickable buttons: Make a paperclip. You click, and a counter turns over. One."

Clark Tank: Declining genres, Tooth and Tail, and Cuphead! (Ryan Clark / YouTube)
"I'm veteran indie game developer Ryan Clark, and this is the Clark Tank! Every second Friday at 1pm Pacific time we stay on top of the latest game industry trends by examining the Steam top 50, scrutinizing the latest Kickstarted games, and by playing the most prominent recent releases. [SIMON: these is still super useful analysis, folks!]"

Only You (Midboss Em / Medium)
"Is there an alternative where small developers can call back to the idea of the single, authentic object to resist both the tyranny of DRM and actually, rightfully, get paid for their effort? [SIMON'S NOTE: games that are only sold once? Actually an interesting idea...]"

Sex Kick, Chicken-Blocking And Other Weird Fighting Game Terms Defined (Ian Walker / Kotaku Compete)
"Like any subculture, the one that's sprung up around competitive games like Street Fighter and Guilty Gear has slowly developed its own special language, which can be hard to understand if you haven't been a part of the scene for years."

Middle-Earth: Shadow of War Is the Bleakest Lord of the Rings Fan Fic I've Ever Seen (James Whitbrook / io9)
"Lord of the Rings—not even in its cinematic, action-heavy form—doesn't really lend itself to the power fantasy of video games. That's not stopped people from trying for years, including the latest game, the hack-n'-slash-meets-orc-dating-sim Middle-Earth: Shadow of War. But Shadow of War fails to understand Lord of the Rings in some pretty fundamental ways."

Remastering Day of the Tentacle and Grim Fandango (Oliver Franzke & Mark Cooke / GDC / YouTube)
"In this 2017 GDC talk, Double Fine's Oliver Franzke and Shiny Shoe's Mark Cooke cover the history and process of remastering the classic adventure games Day of the Tentacle and Grim Fandango."

The story behind Arika's mysterious fighting game (Matt Leone / Polygon)
"In the mid-'90s, Akira Nishitani recorded some footage on a tape, dropped it in the mail and hoped for the best. The young game designer had just left Capcom to start his own studio, and he was shopping around his team's first project: an early prototype of a 3D fighting game."

Video Games Are Influencing A Generation Of Electronic Music Innovators (Patrick Hinton / Mixmag)
"The one and only tweet posted on Burial's now-deleted Twitter feed on November 8, 2008 read: "Settling down to some MGS4." And the Hyperdub artist, one of electronic music's most acclaimed figures, has sampled sounds from Metal Gear Solid games in tracks such as 'Archangel' and 'Distant Lights'."

'Raw Data': An Oral History (Luke Winkie / Glixel)
"The history of Survios mirrors the history of virtual reality gaming. A group of friends met in college and discovered their shared, audacious passion for a brand new way to play video games. After years of dreaming and prototyping, they emerged with a mind-blowing tech demo, and suddenly found themselves rich with venture capitalist money."

A Game Designer's Overview of the Neuroscience of VR (Noah Falstein / GDC / YouTube)
"In this 2017 VRDC talk, The Inspiracy's Noah Falstein covers three areas of neuroscience that present huge opportunities and challenges to VR developers: immersion, motion, and emotion. Each is discussed in terms of the basic neuroscience behind it, advance techniques to take it to new levels, and near-future opportunities."

Down With Grinding (Kat Bailey / USGamer)
"My commute used to be dedicated to grinding. Riding the train from Kanagawa to Tokyo, I would listen to 1UP Yours and run through the Elite 4 over and over again, or bike back and forth hatching eggs. I did this for hours at a time. Days even."

------------------

[REMINDER: you can sign up to receive this newsletter every weekend at tinyletter.com/vgdeepcuts - we crosspost to Gamasutra later on Sunday, but get it first via newsletter! Story tips and comments can be emailed to [email protected] MINI-DISCLOSURE: Simon is one of the organizers of GDC and Gamasutra & an advisor to indie publisher No More Robots, so you may sometimes see links from those entities in his picks. Or not!]