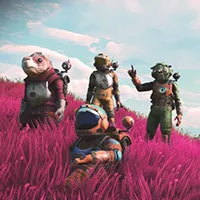 [Video Game Deep Cuts is a weekly newsletter from video game industry 'watcher' Simon Carless, rounding up the best longread & standout articles & videos about games, every weekend.
This week's highlights include a report on the latest Pokemon Go Fest, the return of Sean Murray & No Man's Sky, and lots more besides.

As we get to the height of summer, there's still floods of games launching, and on my Twitter account this week, I gave some kudos to idle RPG Clicker Heroes 2 for launching at $29.99 in the U.S. - 'gutsy, but let's reverse the 'race to the bottom' pricing if not doing F2P, eh?', I said.

More people should have this kind of belief in their titles, in my view - if done right, early adopters are happy to pay, and later adopters will pick it up in sales anyhow! But you have to have the quality/value right, obviously...

Until next time,
- Simon, curator.]

------------------

Women Creating A Brighter Future For Games (Kimberly Wallace / Game Informer - ARTICLE)
"To learn more about these positive stories alongside the place of women in games, where it's been and where it's going, we reached out to influential developers, streamers, and leaders to share their experiences and goals."

Sea of Thieves: how Rare silenced the cannons and brought peace to the seas (Keith Stuart / The Guardian - ARTICLE)
"Although the game's light-hearted, highly sociable approach to the open-world adventure format had been largely praised in the run-up to its release, when it came out, many reviewers and players found that the world lacked detail, variety and, crucially, a sense of progression."

The Makers Of Nintendo's Latest Hidden Gem Worry People Missed It (Stephen Totilo / Kotaku - ARTICLE)
""I really only know about what people are saying online," Nintendo producer Kensuke Tanabe recently told me over e-mail while discussing how people were responding to his newest game. "What I see personally is that many people are not aware that this game has been released, and I want more people to play this game.""

Intensely Practical Tips for Growing an Indie Studio (Alexis Kennedy / YouTube - VIDEO)
"In this 2018 GDC session, Weather Factory's Alexis Kennedy presents a talk about the lessons learned building Failbetter Games (Sunless Sea), and the lessons taken into a second studio founding, focusing on war stories and practical advice."

The big Sean Murray interview (Martin Robinson / Eurogamer - ARTICLE)
"No Man's Sky captured the world's attention like few other games have before it. And for three years No Man's Sky was given the world's stage, making headline appearances at E3 conferences and with creator Sean Murray guesting on big-name US talk shows... [SIMON'S NOTE: there are also Murray interviews at Waypoint and at The Guardian, & they're all typically personal/honest.]

The Anatomy Of A Stealth Encounter (Travis Hoffstetter / Gamasutra Blogs - ARTICLE)
"Seven years ago, at Crystal Dynamics, I was given the opportunity to lead the stealth gameplay effort in the Tomb Raider 2013 reboot. Stealth was an area I had light level design experience in from The Bourne Conspiracy but Tomb Raider was a much more complex game."

From Fortnite to Love Island: how the 'fight to the death' defines our times (Steven Poole / The Guardian - ARTICLE)
"The technology to enable anyone to safely experience such an id-satisfying orgy of imposing one's will is new, but the idea of a "battle royal" – one fit for a king – is much older. It used to be a term in cockfighting, for an all-against-all melee of combative poultry."

The Twitch Streamers Who Spend Years Broadcasting To No One (Patricia Hernandez / The Verge - ARTICLE)
"While there are tools to find lesser-known streamers, most people starting out without built-in audiences from other platforms or supportive friends and family end up staring at a big, fat zero on their viewership counter. This lonely live stream purgatory can last anywhere from a few days, weeks, months, sometimes even years, depending on your luck."

Devs weigh in on the best ways to write and design characters (Alan Bradley / Gamasutra - ARTICLE)
"According to Chris Avellone, a veteran designer and writer who's contributed to a huge number of heavily narrative- and character-driven RPGs, from Planescape: Torment and Fallout: New Vegas to Divinity: Original Sin 2, building characters is often a democratic process with a lot of input from multiple sources."

The best augmented reality I saw this year was live theater funded by a liquor company(Scott Stein / CNet - ARTICLE)
"Welcome to the world of immersive theater. There is no HoloLens or Magic Leap-style digital headset technology here -- this version of "augmented reality" is much more literal: You enter into a voluntary illusion, an experience where you're both a viewer and a participant."

10 Years of Evolution of the Assassin's Creed Brand (Jean Guesdon / GDC / YouTube - VIDEO)
"In this 2018 GDC presentation, Ubisoft's Jean Guesdon shares a thoughtful deconstruction of how the Assassin's Creed brand has evolved from AC1 to AC2 to annualized entries across different hardware generations."

Screen Sculpture | Doki Doki Literature Club (Eron Rauch / Heterotopias - ARTICLE)
"Even the venerable BBC, fueled by another perennial moral panic about video games, aired a similarly sensationalist broadcast about Doki Doki Literature Club, grimly quoting an unnamed coroner that it has suicide "as a main feature." Beyond the churn of social media and news cycles, other passionate op-eds and essays have tugged and clawed at the gnarled knot of this video game's artistic tactics."

'I punched him so hard he cried': inside the Street Fighter movie (Keith Stuart / The Guardian - ARTICLE)
""Ed and another producer came to me and said: 'Capcom is going around – can you come up with a take for a movie? They'll be here the day after tomorrow,'" recalls De Souza of the pitch. "I said: 'Yeah, I'm very familiar with it – my son had just put his first year of college into that machine.' I said I'd come up with a treatment, but I wanted to direct.""

A quick look at the nominees for 2018's "Board Game of the Year" (Nate Anderson / Ars Technica - ARTICLE)
"On Monday, board gaming's biggest international prize will be announced. The Spiel des Jahres (Game of the Year) is awarded by a jury of German game critics, and it traditionally goes to a lighter, family-style game. The more recent Kennerspiel des Jahres goes to a more complex and strategic game. (See our take on the shortlists from 2017 and 2016.)"

Digital Laundry: how credit card thieves use free-to-play apps to launder their ill-gotten gains (Kromtech - ARTICLE)
"The resources even maintain value after purchase, because in many cases, once bought, they can be traded, adding to the game play... It is the selling of these on third party markets that holds the door open to the illicit activity that we found taking place."

Unbottling Sonic's secret sauce: the making of Sonic Mania (Martin Robinson / Eurogamer - ARTICLE)
"Some acts of fandom are a little more productive, though. Like those of Christian Whitehead and his cohorts, the Melbourne-based developer who's been behind a string of spectacular Sonic remakes, all climaxing in last year's outstanding Sonic Mania - a slice of pure concentrate fan service, ushered into life gracefully by Sega and offering an undoubtable high point for the series in some years."

Are pro athletes playing too much Fortnite? Some teams are worried. (Sam Fortier / Washington Post - ARTICLE)
"The men across the table were worried. Riley Sutter knew that now. It was early June, and Sutter was in Buffalo for the NHL scouting combine. At first, the question surprised him. Maybe it was a joke? But as the Washington Capitals' eventual third-round draft pick shuttled from room to room, from interview to interview, teams repeated an inquiry that seemed to intrigue and unnerve them. Are you addicted to Fortnite?"

The Game Developers of Color Expo Was a Respite From the Hostile Gaming Scene (Chris Kindred / Motherboard - ARTICLE)
"The Game Developers of Color Expo welcomed fans, creators, influencers—everyone who makes time in their lives for games—to the Schomburg Center for the Research of Black Culture in the heart of Harlem. This part-research-part-gallery space has become something of a hub for indie scenes in black pop culture."

How jams become levels in the co-op bullet hell musical Just Shapes & Beats (Joel Couture / Gamasutra - ARTICLE)
"Just Shapes & Beats drops the player into deadly obstacle courses born from chiptunes and EDM tracks, creating traps out of the beat and flow of the music. The process of turning these songs into stages where players avoid visual effects involved a search for a theme within the music, or an emotion evoked by the song."

Pokémon Go Fest 2018 excised the ghost of Chicago past (Tom Phillips / Eurogamer - ARTICLE)
"I [previously] questioned whether enormous meetups (50,000 in one city park) were technologically practical, whether gameplay across an entire city radius was a better fit for the hordes of fans wanting to play. This weekend's Chicago event was another held in a city park - but, as it turned out, Niantic had something very different in store."

------------------

[REMINDER: you can sign up to receive this newsletter every weekend at tinyletter.com/vgdeepcuts - we crosspost to Gamasutra later on Sunday, but get it first via newsletter! Story tips and comments can be emailed to [email protected] MINI-DISCLOSURE: Simon is one of the organizers of GDC and Gamasutra & an advisor to indie publisher No More Robots, so you may sometimes see links from those entities in his picks. Or not!]