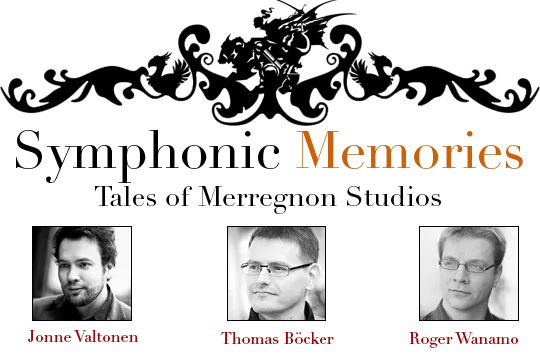 Audun: Eventually though, other productions began to tour and put on video game music concerts in venues around the world, how did you approach standing out amongst the competition?

Thomas: You know we try to use the traditional means of music to enhance the score. We explore the emotion and original intent of the source and create an authentic and evolved atmosphere using the music with sophisticated arrangements alone to create that story, no lights, no videos, a focus on the orchestra and the music. At first, the concept of video game music in concert was just so new that people had a tendency to not realize these differences, but now fans are more aware that we all offer very different products.
But Jonne always says, and I fully agree, that this is a good thing. Competition drives us all to create better shows, and also gives fans as many experiences as we can give them.
Jonne: Yeah, the biggest difference between us and others is that we try to do these larger form pieces, as opposed to shorter 3 minute pieces or standard medley structures. I like doing these larger form arrangements, it's like a book you know in that you can really dive into a book and imagine and create the livid deep world from your senses. Music does the same for me.
Audun: You create the world through sound.

Jonne: Yes exactly. But I never think from competition though, I think of what brings the most out of the music and how I hope it will resonate the most with the fans.

Roger: When I arrange, I really just arrange the way I would want to hear music from an orchestra. With video game music, I focus on the themes associated with the music. I try to create character development within the piece and have the listener travel somewhere, not just remember the original.
Audun: But after 5 years in Leipzig, it was time to redefine your concept of video game symphonies.

Thomas: Oh yes and Winfried Fechner, then director of the WDR Radio Orchestra, was in attendance at our last Leipzig show, and really loved Jonne's arrangements and wanted to work with us on our next project.
Symphonic Shades (2008)
Audun: Actually I would like to ask you Thomas. You mentioned earlier that you have fond memories of your family coming together and playing games when you first got your C64. Do you think this experience influenced your interest in having people come together at these concerts?

Thomas: That's a good question… Yeah you are probably right when I think about it. You know one of the main aspects to our concerts is that we are bringing together fans of all ages and collecting them in one room, with a shared interest. I always keep this in mind, the fact that we have an audience from all over the world, yet we are all there for the very same reason, we love game music.
Audun: In 2008, you announced Symphonic Shades, a concert based on the works of Chris Hülsbeck. When this concert was announced, I lived in Brazil, but I left for home so I could attend this concert.

Thomas: No way! (Laughs)
Audun: Yes indeed, and I been alone ever since, so thank you… Was it a risk to do a concert based specifically on a single German composer?
Thomas: Well for us in Germany, not really. Chris is so loved here, and his CDs had sold over 10,000 copies and his name was still very valuable, so I had no doubts we could sell out this concert. It was a very important concert for me as a fan, but also to showcase the legendary career Chris has had to a new audience who might not be familiar with him.
Audun: So you had the idea pretty much laid out from the get go?

Thomas: I knew 2 things right of the bat, I wanted a concert with Hülsbeck music, and I wanted my friend Yuzo Koshiro involved, as I see them as sort of equals in their respective careers in terms of their fame and style. I had met Winfried Fechner and discussed with him the approach I wanted to take with the concerts, and he was sold immediately. It was great because it relieved a lot of financial burdens as WDR funded the concerts and allowed us to fully focus on producing incredible shows.
So even if just me and Jonne would be in attendance that day, we wouldn't lose any money (laughs). And Chris owns the copyright to all his music so even better.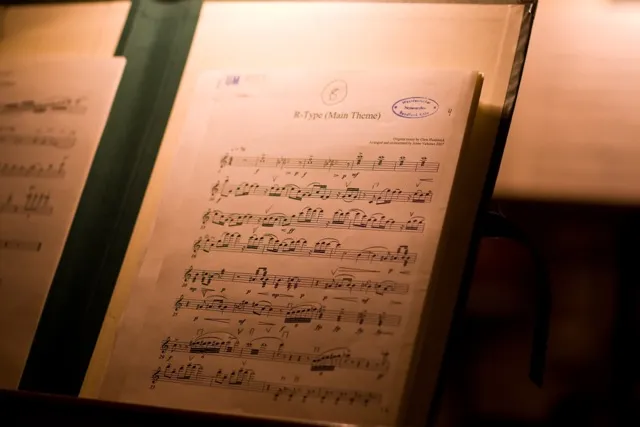 Audun: What about Chris, how was his reaction to this project?

Thomas: He was really open to everything we showed him, and gave Jonne complete freedom really to do what he felt suited the arrangement best. The only thing I can remember we had some discussions about was the idea of a piano concerto for Turrican II, but the end result was incredible so he had nothing but trust in us.
Audun: This was also the first concert to have 100% all new arrangements from Jonne, wasn't it?

Thomas: With the exception of the Turrican III piano piece. Though he actually made some adjustments to it… so…
Audun: So 98% (laughs). Do you remember there being any restrictions or requirements put on you, Jonne?
Jonne: No actually, I think I was completely free to do what I felt was best. Though I can't even recall Chris ever commenting on anything or making suggestions
Thomas: He checked everything and gave it the OK.

Jonne: He did? So he saw it before the concert?

Thomas: Yeah absolutely. Chris is actually quite strict and a perfectionist. If he doesn't like something, he gives quite a lot of feedback and doesn't let anything slip past him. But he was always satisfied with Symphonic Shades. Once it was over, he went to the press and said it was the biggest moment of his life in fact.
Audun: I've had the privilege of working with him quite recently, and he says that still to this day. He gets quite emotional speaking about it.

Thomas: I don't think you can ask for more, really. Exactly what we wanted.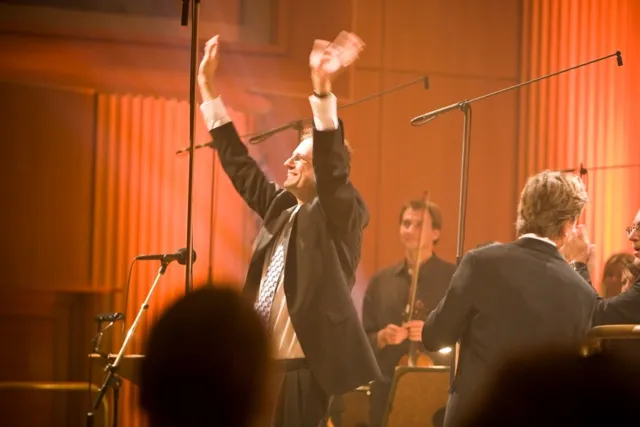 Jonne: But I really wanted the concert to sound big, Hollywood style you know. A bombastic mix of sounds, majestic, heroic, classical movie motifs. I wanted to channel John Williams because Chris has such strong themes in his music just like movies do.
Audun: This was also the first video game concert to ever be radio broadcasted and livestreamed worldwide.
Thomas: Yes, thanks to Winfried Fechner. He really believed in us, and with the WDR station we could broadcast the concert on the radio live, and we made use of that to live stream the audio online also to allow everyone to listen worldwide. I really loved this aspect of the show, and I did this for all the following shows.
Audun: And you did a CD release.
Thomas: I always dreamed of doing an album! With Leipzig, it was always one show and that's it you know. With Symphonic Shades I could finally record a concert and release it.
Audun: You made use of Hitoshi Ariga* to do the artwork for that one.
Thomas: Yeah! He did such an amazing job, so many details. I think it was Yuzo who suggested him to us…
Audun: I believe Yuzo's sister** works with Ariga.
Thomas: Yes that is right. I really love the work he did. My wonderful wife, who is Japanese, helped with the correspondence. She has actually been incredible in helping the productions and building our relationships with Japanese publishers.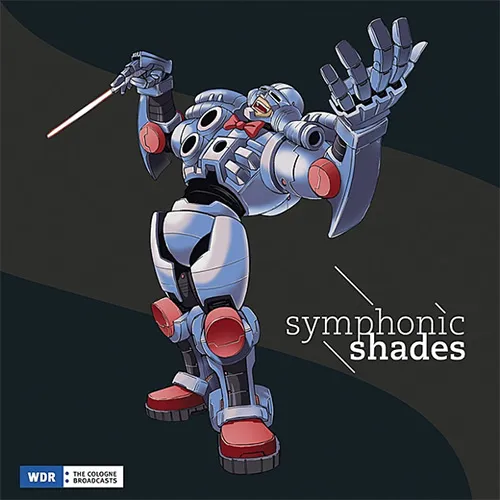 Symphonic Fantasies (2009)
Audun: How did you go about getting the idea for Symphonic Fantasies green lit by Square Enix?
Thomas: I have to think… Well it started first with me and Mr. Fechner having an agreement that we would produce 3-4 shows together, one each year. So I knew I wanted to build up a series focusing on different themes and different approaches. I emailed my contacts at Square Enix. We already had established a connection with them due to us performing Secret of Mana and Final Fantasy in Leipzig, and also we recorded Yoko Shimomura's album drammatica***, so getting their support wasn't hard.
Audun: This was the beginning of the longer suites rather than shorter single pieces. Were they at all worried about this approach?

Thomas: They didn't know about that. (Laughs). I'm actually a bit protective about these things during the production to ensure that both we and the fans are able to experience something brand new. Basically our approach at first was to ask the original composers what their favorite pieces are, and then discuss our favorites within the team, and mix all these mentions together. I did alert SQEX that we would focus on "creative arrangements" eventually as we got further along though.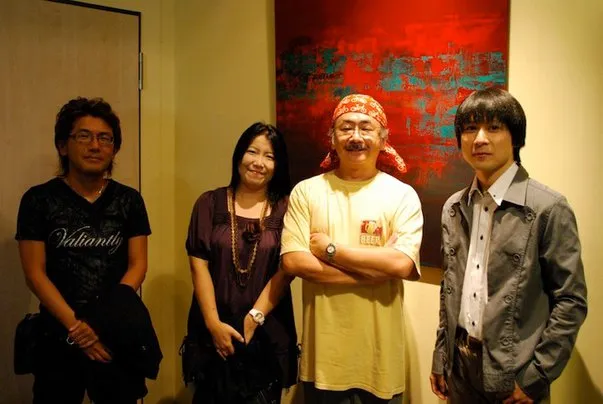 Audun: The program was kept quite secret up until the very end, I recall…
Thomas: Yeah and the reason for that really is that while many tracks are great, legendary and you think "oh yeah this one will work so well", eventually you might find that the piece didn't really work or add to the overall arrangement structure. So all we really announced were which games we would feature, but not which tracks.
Audun: Jonne, you said earlier that you wanted to tell stories, almost like a book, and you had the chance to finally do that with Symphonic Fantasies. But how do you go about doing that by arranging video game music?

Jonne: It's sort of hard to explain but I'll try my best. Like, I'll use Secret of Mana as an example, that game is about nature, preserving our world, very green, very alive. So I knew then that I wanted to use a lot of sound effects by using the choir and orchestra in creative ways. So we made it rain through their voices, you heard the trees in the wind through the instruments, you know, creating an organic world based on Mana that the listener can transport themselves into.
I remember walking down the hallway before the concert with notes of ideas I had just gotten then and there, and I passed by Uematsu and the others who asked me where I was going, and they were absolutely shocked that I was still working on the piece just hours until showtime (laughs). We also try to capture the personalities of the composers into the arrangement, because it's already there in the music.
The important thing is to have an angle, a vision I guess, not just have the melodies and chords there instantly so people just remember the original, but to explore it a little bit deeper. These games have an overlaying theme that is important to recognize, and the more simple it is, the harder it is to actually bring out because it's all about emotion. I also sat down and watched long plays of each game actually.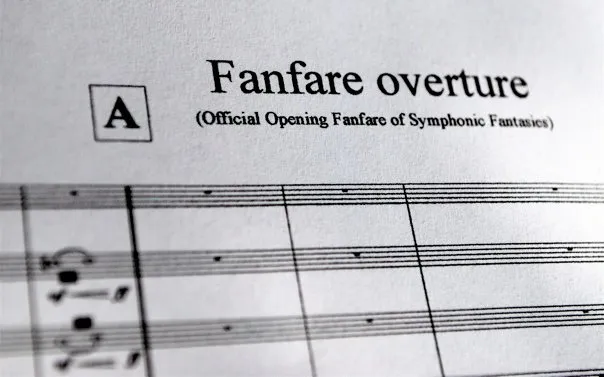 Audun: Do you think that is important? To watch the entire game start to finish?

Jonne: Yeah, because then you understand the world you are working in. Even small details like falling leaves in a scene or a certain character watching in the corner, you get a better sense of the emotions and situations, not just the recognizable melodies.

Roger: I have to echo that and say that for me, it's incredibly important to understand what made these songs so important to the listener and what sort of images and memories it will bring back, so that I can better bring this to life within the arrangements.
Audun: What are your impressions of Symphonic Fantasies as you were brought onboard, Roger?
Roger: I worked a little bit on the last Leipzig show in 2007 and had an idea how the team worked, but I noticed that musically the whole production certainly had matured.
Audun: You were brought in to help out with the arrangement for Chrono Trigger/Cross.

Roger: Man, the pressure! Yeah that was really exciting because people are crazy about those games. I went to Jonne every day for feedback and advice because he had the experience with writing video game music and also at that time he had more experience writing for the orchestra.
Audun: What about Thomas, did he give you any guidelines?
Roger: Did he? I am trying to remember… I don't think there were any demands.

Thomas: Yes there was! I wanted it to be a bit closer to chamber style piece. Like, I asked you to have a few instrument solos.

Roger: Oh yeah! To be honest I don't really remember much from this time (laughs)
Audun: Do you remember if there was anything personal you wanted to bring out in your arrangement though? Like something you saw in the source that you just knew had to be in there?
Roger: I got this list from Mitsuda with his favorite tracks that he would like to see in the arrangement, but the one song I felt had to be in there wasn't on his list, which is "Prisoners of Fate". So I remember telling myself "This has to be in there".
Audun: You became famous for your layering, putting 2 themes on top of each other and played at the same time after this concert.
Roger: Sort of my trademark now, eh? I just always had the idea that it would be cool to cross two themes together where it works, and for Trigger and Cross, it worked.
Audun: I remember the audiences were shocked at the ending when the themes crossed paths at the same time like that. Probably the strongest moment of that concert.

Roger: Hah! I'm really happy about that!
Audun: This was also the first concert to feature Benyamin Nuss****.

Jonne: Yeah, and he was so young back then. Just go back and look at the pictures.
Audun: He was around 19 at this time wasn't he? How did you discover Nuss and his extraordinary piano talents, Thomas?

Thomas: Actually he was discovered by Fechner, who brought him onboard to do the piano recording on the Symphonic Shades album. Fechner was also interested in maybe having Nuss featured on Fantasies, so once I heard what he could do, I immediately agreed. Benyamin is such a wonderful kid, I saw him at first as just this strange guy who seemed a bit shy, but then he started playing piano flawlessly, and he also knew everything about these games!
Jonne: He's a really interesting guy. He's great. He also comes from this jazz background, but he always identifies what style each piece needs and recognizes that on his own. And his playing is so touching, no pun intended, but that is really something you cannot rehearse, the ability to make the listener feel every note you play. He has that talent. And he's a wonderful kid also.
Audun: Thomas, what was the reaction from the composers in attendance after the concert?

Thomas: Blown away. Uematsu was in particular overwhelmed by the Secret of Mana piece; he really leaned in close to hear everything and wanted to continue with us doing this sort of arrangements. Mitsuda still to this day says that the arrangements from Fantasies are his personal favorite. Everyone from fans to composers still talk about Fantasies as the turning point and I think the Symphonic series is always highlighted by this show in their minds. They actually told me that even in Japan, they never really get together as a group, so it's really great we could made this possible in Germany.
Audun: And you also broadcasted this on radio and online, this time with a video stream. This was the first worldwide broadcast of a video game concert online.
Thomas: Yeah this was an idea of Fechner, and he had only done this once before with another concert before this one. The camera work was a little rough around the edges because it was still a slightly new thing for us, but it was a great experience and we could do something really unique and groundbreaking with the WDR, and the fans got to attend the show from their home anywhere in the world. It was really cool that we had people all over the world, places like NeoGAF and other forums talk in real time while watching it together, and this opened up a whole new way for me in getting feedback.
Audun: And of course, you did the award winning CD release of this show and actually produced the album at Abbey Road Studios.
Thomas: Yes and one thing I always try to do is to preserve these shows and make sure as many people can hear them, and always be able to go back for another listen. Symphonic Fantasies was a huge project and demanded a great production, so for us to not only be able to work with Abbey Road Studios in the UK, but also release it through DECCA in Europe and Square Enix's own label in Japan made it all worth it. The CD entered the charts in Germany, which was also a first for a video game music album.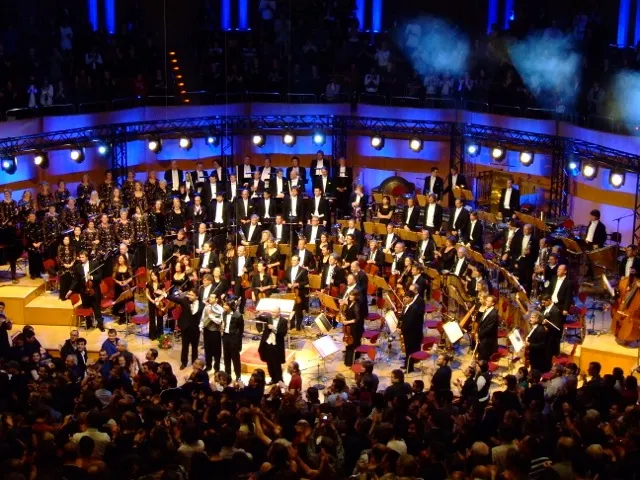 ------------
Continued in part 3 (Symphonic Legends, Symphonic Odysseys).
* Hitoshi Ariga is a Japanese manga artist most famous for his work on the official Mega Man manga.
** Ayano Koshiro is the sister of video game composer Yuzo Koshiro, and a colorist and illustrationist for various manga in Japan. She is married to Hitoshi Ariga.
*** drammatica -The Very Best of Yoko Shimomura- is an album featuring orchestrated music from Shimomura's career. The production was coordinated by Thomas Böcker and recorded with the WDR Radio Orchestra.
**** Benyamin Nuss is a German pianist and award winning album artist. He released an album titled Benyamin Nuss plays Uematsu in 2010.