The Path was released on March 18, 2009, from Tale of Tales, Steam and Direct2Drive simultaneously. Since then, our Little Red Riding Hood-inspired horror video game has met with both mean-spirited criticism and over-the-top adoration, and not much in between -- a divisive title if there ever was one. And most definitely a breathtaking journey and a deeply personal experience for Auriea Harvey & Michaël Samyn, yours truly, designers of The Path.
This is the story of how The Path came to be.
Through the dark forest
History of the project
1999, San Francisco, Triton Hotel: we meet in person for the first time. We had found each other via our medium, the networked computer, and had a brief but passionate virtual love affair. We got to know each other doing what we loved doing most: making websites and interactive artwork online. We begin living and working together soon after.
2003: Leaving behind careers of net.art and web design, the two of us radically redirect all our creative attention towards the medium of video games. February 2005: After two years of designing and prototyping, our first project, 8, is rejected by games publishers, then the only source of funding. We are devastated but determined to continue and to keep our independence.
Reboot. September 2005: Launch of The Endless Forest. October 2006: presentation of the Realtime Art Manifesto at the Mediaterra festival in Athens. January 2007: Drama Princess engine complete. March 2008: Launch of The Graveyard. March 2009, San Francisco, Triton Hotel: launch of The Path.
Preparation
The idea for The Path is almost as old as Tale of Tales itself. In a June 2002 business plan, we presented our first project -- 8, a dreamy adventure game based on Sleeping Beauty -- as part of a series of games, each based on a classic fairy tale and with a number as its title. In another description of the 8 project, from October 2004, we express that we have "plans for a survival-horror game based on Little Red Riding Hood". This game would be called 144.
In 2005, we started looking around for a production budget for 144. Some early requests with local Belgian arts funding bodies were rejected. But at the end of the year, the USA-based arts organization Creative Capital came through with an initial grant of 10,000 U.S. dollars.
We were still working on the Drama Princess project at the time, but started directing it away from its original goal of driving the autonomous behavior of the main character in 8, towards the more general character behavior manager required by the new project. Not that The Path was a very clear idea at that time. But motivated by the support of Creative Capital, the design gradually became more concrete.
Prototyping
In July 2006, a first prototype was committed to our 144 repository.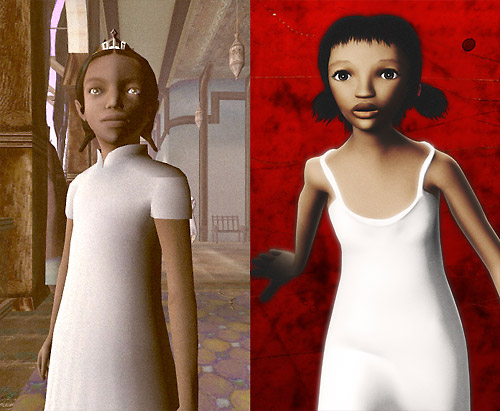 The Deaf Mute Girl in the Pretty White Dress from the 8 project grew up a bit and became the Girl in White in 144.
We decided not only to re-use the Girl in White character from 8 and the Drama Princess engine for autonomous characters, but also the environment rendering system of The Endless Forest. This re-use was one of our ways to reduce the development budget. After not being able to secure the -- for us -- gargantuan sum of 1.5 million dollars required for 8, we were determined to make a game for a budget that was so small that we didn't need the support of the games industry.
For this reason, The Path was going to be a short game that was mostly non-linear (no plot-based narrative, emergent behavior, few cut scenes). And we were going to focus on digital distribution exclusively, not only because it makes sense in terms of technology, but also because it reduces production and marketing costs while drastically increasing the revenue share for the developer (meaning a much smaller volume of sales is required to break even).
At the very start of the project, we weren't really sure if The Path was going to be a commercial title or more of an artistic experiment. As we continued to refine the design, we realized that the concept had several things that spoke in favor of commercial exploitation: it was going to be a horror game, thus easy to categorize by the market (unlike 8, for which the main problem with publishers was that its genre was undefinable.)
In The Path, we knew we were going to have stylish, dark, girl characters at a time where Gothic Lolita style and Pop Surrealism were very trendy. Cult rock star Jarboe had agreed to do the sound track. But most of all, we felt a sort of obligation, to at least try and make this step towards a market, instead of safely playing in the margins. Up until the day of launch, we had no idea how well this was going to work. But we decided to take the risk.
By the end of 2006, we had secured another 26,000 euro from the Flemish Audiovisual Fund and Design Flanders for a first phase of the production. The support of Creative Capital continued throughout the project until the day of launch (which they funded). Ultimately, they have contributed almost 50,000 US Dollars to the budget (sadly, at a time when the dollar was at an all time low).
Production
In January 2007, we implemented the Drama Princess engine in the 144 prototype, which signified to us the start of the actual pre-production.
Making a commercial game and deciding to publish it ourselves immediately meant that we were going to have to work on our marketing. In February 2007 we stopped resisting Web 2.0 and started the Tale of Tales blog.
In March of that year, Michael gave up on his five year old ban against traveling to the USA to attend the Game Developers Conference (GDC) in San Francisco. We were offered the opportunity of sharing a booth with other Belgian developers, cheaply. So we took it. It was then that we decided that we needed a more descriptive title for the game. However dear the cryptic 144 was to us, we felt we had to give up on being obscure and do as much as we can to make it easier for the audience to connect to our work.
In May 2007, a first prototype of The Path was sent to our collaborators, animator Laura Raines Smith, and musicians Jarboe and Kris Force, after which they joined the project in earnest. With their help, we created one of the six chapters of the game, featuring Ruby as its main character. This demo was entered in the Independent Games Festival in October 2007. You can watch the first teaser.
In November 2007, we showed this demo to Valve and to Sony in Liverpool, but neither was ready to sign us up for their platform (Steam and PlayStation Network) at the time. They seemed a little bit worried about where we were going to take the rest of the project, afraid that it might turn out to be too much art, and too little entertainment (which was considered a liability back then).
That same month, November 2007, things got really serious when we signed a contract with CultuurInvest for a 90,000 euro loan. As of then, working on a commercial project turned from being an exciting experiment into dealing with a scary Sword of Damocles that would play a part in each and every decision we were going to make. We realized all too well that paying back 100,000 euro (the loan plus interest) is a serious commitment for even the most commercial independent company, let alone an artistically-motivated two-person collective.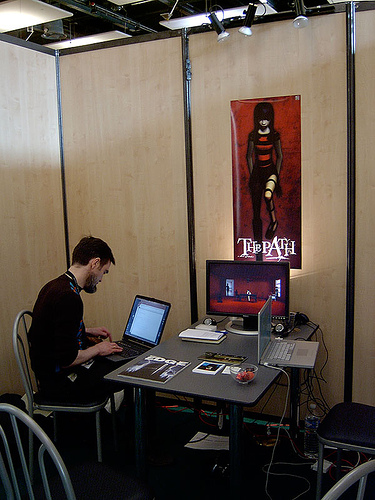 Michael in our booth at Game Connection, Lyon 2007
---
December 2007 was an encouraging month. We had decided to pay the 3,000 euro participation fee for Game Connection in Lyon. Game Connection is an event where developers can present their projects to publishers through very short back-to-back meetings over the course of three days.
Thanks to the loan, we didn't really need publisher investment -- but we wanted to see how commercially-minded people would respond to our idea. Because we still weren't sure if we were completely crazy or not. The response was remarkably positive. So much so that we even followed up on a few of the contacts made. But as usual, all of it fell in the water sooner or later. Publishers seem so disorganized and unreliable sometimes.
In that same December 2007, Edge magazine featured a double spread about Tale of Tales that focused on our new production. And our demo of The Path was selected for "Excellence in Visual Art" in the Independent Games Festival.
We personally had no doubt about the quality of our project. But we also had no illusions about the bias of the IGF jury towards more "game-like" video games. They had rejected The Endless Forest the year before, so we weren't expecting much better for The Path.
And we still think that our game was not just selected on its own merit, but partially because of our big mouth. We had triggered a lot of discussions with several blog posts that were very critical of the current state of game design, without which it would have been a lot easier to ignore us. In short: the marketing plan was working!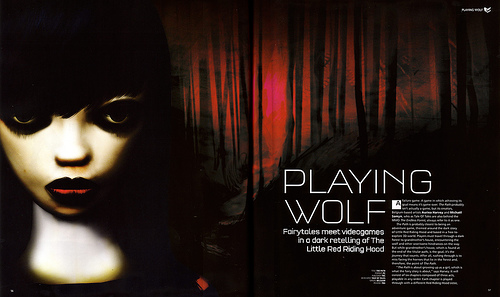 The four-page article in Edge Magazine, December 2007 was very exciting and encouraging!
So, in February 2008, we were presenting The Path in the Game Developers Conference again. This time with a proper playable demo in the Independent Games Festival pavilion, among dozens of indie colleagues in the year when indie games really made their big push towards public recognition. It was quite an exhilarating experience -- an intense three-day long playtest session from which we gathered heaps of information.
Partially to force ourselves to take a break, and partially because of marketing benefits, we decided to interrupt the production of The Path briefly to develop a small game that we had acquired some arts funding for. In March 2008, we released The Graveyard. Since we had applied some of the ideas in The Path about minimalist interaction design to it, The Graveyard became an interesting test to find out how the audience would respond to our ideas.
It was also a way to figure out the whole e-commerce thing. The Graveyard was not designed as a commercial title but selling a "full version" of the game with only one difference (the possibility of the death of the protagonist) was part of the artistic concept. And it makes no difference to PayPal what your intentions behind charging are. This experience helped us prepare for the commercial launch of The Path a year later.
Launch
On 17 March, the day before leaving for the Game Developers Conference, we "pre-launched" The Path with co-producer Villanella in the Muhka Media Film Museum in Antwerp. The evening consisted of an interview with Flemish culture diva Chantal Pattyn, a short playthrough of the game on a big screen, the opportunity for the audience to play The Path before its official launch date in the company of a Robin cosplayer, our first!
On 18 March 2009, at 9 o'clock in the evening, The Path was launched from a room in the hotel in San Francisco where we had first met 10 years ago. We released our seven daughters from our hotel bed and checked email on our laptops over and over again to see the messages flow in. It was a joyous moment.
On 24 March, we had our public launch event in the Yerba Buena Center for the Arts, right around the corner of the Moscone Center where the Game Developers Conference was taking place. It was an intimate gathering, about 80 invited guests, with wine and bread and a play session projected on the big screen, accompanied by live music performed on the stage of the small cinema by Jarboe and Kris Force.
---
Girls at play
Designing for exploration
Uncertain design in the beginning.
The Path was an idea born with the title 144. It could have turned out very differently.
The name 144 encompassed the spirit of the project. Somehow that number came to symbolize a girl's restlessness, the sound of footsteps on dry leaves, the smell of pine trees, dim sunlight through filtering clouds.
There were thoughts of graphite scribblings and white gouache on paper, of tricky betrayals of lovers, and of parents and children. Fearless naivete, anxiousness to meet your adulthood head-on, in the face and body of a wolf. He-wolf. She-wolf.
The conception of the 144 idea was heady, painful and soul-searching, in both art direction and interaction design, as we tried to discover the core of "what it all meant" in order to communicate even a fraction of these sensations, emotions, and inner stories to the player of a computer game.
In the beginning there were in fact moments when we thought it would be best not to make the project at all.


"Waldeinsamkeit" is a German word which means the feeling of being alone in the woods.
We once had the notion that there would be 144 Red Riding Hoods and the player would play each one. Each time, the story would lead to her death. We came down from that illusion and narrowed the cast down to six girls, each representing a different aspect of a girl's life. The number six was decided upon somewhat arbitrarily by dividing the number 144 and considering the aesthetics the number six provided, and how six girls could fit into a chronology of growing up, from age nine to age 19.
We decided each girl needed her wolf, an alter-ego. And that she should meet this nemesis in a specific place in the Forest. We called these locations "Attractions." There were also to be "Distractions" which are the objects one encounters, that keep you dallying in the Forest instead of continuing on to Grandmother's like a good girl. We thought perhaps each girl should meet each wolf and the player could mix Girl/Wolf/Attraction and match the experience and place.
This also seemed like too much to do technically for us -- too many possibilities to plan for. So, early on the idea was simplified to each girl having a set scenario. A representative area to meet her wolf in and a division of objects and environments some shared and some unique.
Character Design and Environment Design: Artistic impression vs. accessible game: a personal meaning
Regarding the design of the girls, we kept a fairly detailed diary of the making of each girl. We didn't give them names until the game was almost done. All along we'd referred to them by the archetype they represented for us.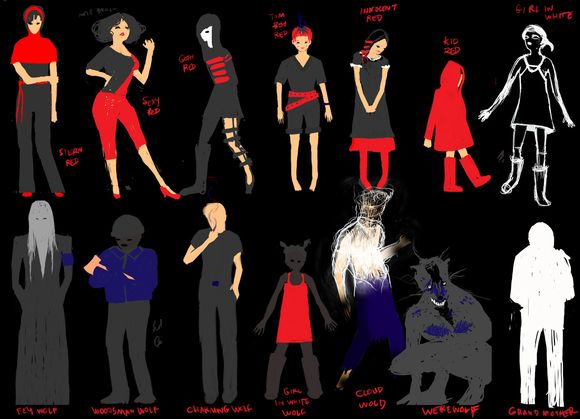 The girls got names: Kid Red (Robin), Innocent Red (Rose), Tomboy Red (Ginger), Goth Red (Ruby), Sexy Red (Carmen), and Stern Red (Scarlet). The wolves and other characters remain nameless.
When designing The Red Girls, in addition to too many outside references to name, I (Auriea) did a lot of looking inward. I was not meant to be the sole designer or modeler of all protagonists. I didn't want to do it out of a lack of self-confidence, and also I was worried that I'd put a bit too much of myself into them. In the end that is what happened. And in some ways I think this is what leads to many misunderstandings of the narrative of the game.
Some say blindly that the game is "about rape." And while that could be one of the interpretations -- and I understand it -- for me, those black-out moments after meeting her wolf are the moments of realization. Those are the times when a girl grows. And what happens in Grandmother's House is not a murder but a shedding of childhood and an initiation to womanhood. Each girl one step closer to her fate.
Due to our method of control you do not really control the girl at all. There is a moment where you realize that all outcomes are the result of her choices. And she could have prevented it by not acting for that one moment, by not seeking the "good time" of her nemesis. By staying on the path.
We force the player into that compromising situation much like a film director does. You don't have much choice in the matter. Every time it is a choice of letting her go, or doing nothing, or wandering endlessly in the forest, or shutting down the game entirely. If you play on, we hope that you will draw your own conclusions. Maybe there are things in there that relate to your own life. For many girls and women there were, in fact, and they have told us so.
It is beyond amazing to learn of the many ways these scenes impacted and reflected what people felt about their lives and the choices they have made. The game becomes a tool for this reflection.
And I think if at first I had not also gone through that process, of letting each girl come out of me, no one would have felt anything at all. It is a question of the characters feeling real in an ethereal way. They are mere expressions of what you are already thinking. So, whatever your interpretation, it says more about you than about whatever the situation has meant to me. In that vagary of the blackout lies infinite possibility.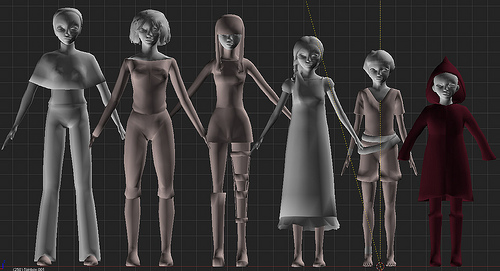 We've never really spoken much about the Wolves. Inspirations for Wolf characters... I couldn't even explain it. Every girl has her wolf, no? I tried categorizing every boyfriend I ever had into one of these archetypes. Not that I believed "all men" are one way; more, it's about the way I had experienced them, and the relationship I'd had, or that I'd wished had been.
Woodsmen Wolves were silent and no matter what, always chopping endlessly at the same tree. They need to be provoked to get any reaction from them at all. Cloud Wolves are silent beautiful spirits. And though they seem skinless and vulnerable, perhaps it is just a lure into a thunderstorm. We wanted our Werewolf to be at once comical and scary -- "cuddly", for lack of a better word. And you have to want to walk up to him and climb on his back for a ride.
The inclusion of one female wolf, one which the Tomboy, Ginger, meets is more a reflection of her femininity. The Girl in Red Wolf disappears as you try to approach her -- bursting into a hundred butterflies. Only when you turn your back and let her come to you do you get a chance to meet her face to face.
In all cases we did not want to make typical male game characters that looked like they would overpower the girls. No, the wolves need to be ordinary -- thus to raise a question in the player's mind about who is exactly in control of the encounters in the forest. We made up stories about each one of these characters, how and why they need each other, and what that meeting does to the endgame.
---
Very early on we worked with concept artists. I was anxious to prove that it would be possible to bring in some amazing artists who could take our vague ideas and surprise us with a new interpretation. We got three great people working on The Forest, the Red characters and Grandmother's House to prepare for making our first real demo of the game.
The demo would contain Ruby, her wolf, "Charming", and the Girl In White. There were things we knew about them. I tried to distill this into reference sheets and vivid descriptions. And we loved the character drawings coming from Ted Pendergraft. But he was super busy at the time and we really couldn't afford him. He left the project, continuing on for awhile as a consultant to us; it was nice that he gave us a bit of his time.
Stacey Diana Clark seemed to get what we were going for right away and we ended up using her gorgeous artwork of the forest all the way through the design process. The only pity was that we couldn't afford to have her make more!
We had long conversations with Pedro Murteira and he had exactly to right kind of imagination for our rambling ideas of Grandmother's House. We put him though such phrases as "it is a memory of a house. A girl child enters the place of a woman whose life is done, what does she really know about her?"
Grandmother's House is based, at least in part, on a recurring nightmare I had about my grandmother's old house in the '80s. We needed a way to express in "reality" all these dreams.
In many ways these talks and quick sketches very early on totally helped us organize our thoughts, as for the first time we had to express into words what we were hoping other people could understand.


The work of Ted Pendergraft, Stacey Diana Clark and Pedro Muteira was great, and our time with them too short.
It was a big question who would actually do the modeling of the characters and environments. For the first demo we had help from Dragon-Fly for objects. The rest were modified from objects we downloaded from Turbosquid or made from scratch. Back then, I didn't have a whole lot of confidence in my modeling skills. I had no problem with the Forest parts because I have become a tree modeling, forest making expert due to The Endless Forest work. But I thought, surely, we would contract out the building of Grandmother's house, at least.
We ended up searching for people and wasting a lot of money in the process. We had tested several modelers to work with us and had high hopes of finding someone that we could work with permanently. But it didn't work out. The problem was that we knew far too well what we wanted by that time. Model design style: dolls but not cartoons, a kind of creepy-cute look.
But we felt that a 3D style is something where you have to trust the individual modeler to give. We wanted to find something outside of our preconceived ideas about these characters. We didn't have detailed character concept drawings and must have been a nightmare to make a test for. We learned how to work with other people, and how not to work with them. Our experience reinforced the feeling that we should not, under any circumstances, be managers of other people.
This is why we work the way we do now. In Fatale, the project we made immediately after The Path, we put it to the test by working in a purely collaborative method with modeler Takayoshi Sato. We work in this loose way with musicians all the time.
And when Laura Raines Smith animates, we have a relationship of artistic trust. We know she understands what we want and we don't have to edit her. This is the relationship we want to have with all our collaborators from now on. Everyone invested in the work, everyone with their specific part, and in the end we maintain the vision but mix all of these parts into the whole.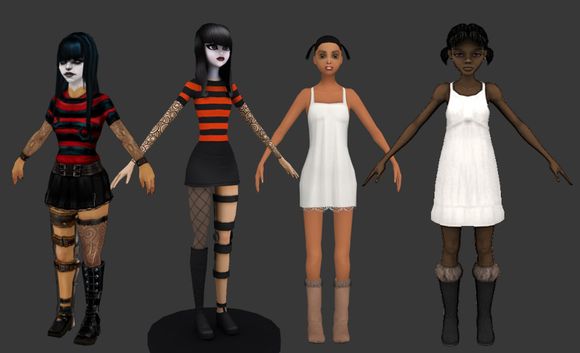 Test models by Ben Regimbal, Vykarian, Billy Miller, and Greg Savoia. Guys, we're sorry we didn't know what we were asking of you.
After the GDC 2008 demo, due to time and money, a deep connection to the game's themes, and riding the wave of adrenaline after presenting the demo for days at the Independent Games Festival -- and this incredible feeling of "LETS JUST GET THIS THING DONE!" -- I decided the only way forward was to make everything myself.
In the end I am overjoyed that I took the job and literally forced myself to grow up to the tremendous challenge of making all 14 character models, and the three environments. But it was a difficult development period and it was literally insane of me to do this all by myself in the short development time we had.
And so, there is not a lot of beautiful concept art from the project. It is not that I didn't want it, but I must admit I doubted its practical usefulness, anyway, in bringing out what I wanted this fully 3D world to be. 2D is not 3D. I needed to feel this world with my hands.
Michaël had programmed up all these cool tools for us to use in Quest3D, like a viewer with all the characters standing in a line and it let us cycle through all their animations. And a sort of dollhouse view of Grandmother's House to see all the possible configurations, add and remove objects, and follow each girl's path through the house.
I don't know if we will use Quest3D again for a project, but it was truly beautiful at times to be able to make changes, paint flora in the forest, walk with the girl in realtime without having to stop and compile. What I saw was what I got. "Concept art" for me became things like the glitches which would sometimes spring up in Quest3D's realtime window.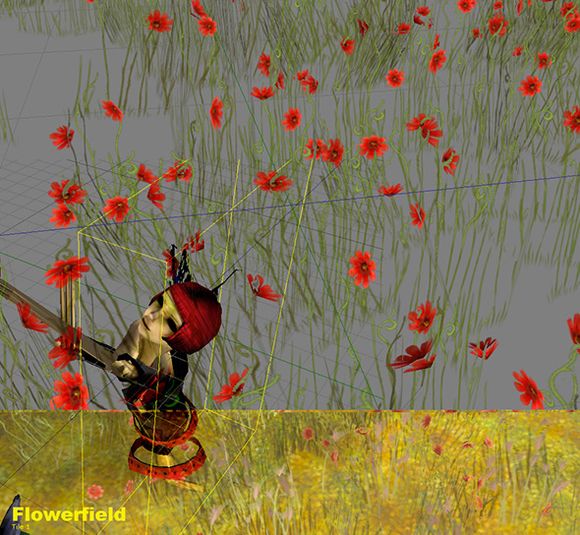 We kept an archive of beautiful glitches.
Or serendipitous interactions between bad programming and the sound in my headphones: glitch-filled journeys through Grandmother's House while working listening to music in my headphones (above), influenced the design of the teaser videos released once the musical score was finalized.
That was the experience I wanted the players to ultimately have: moments where my heart was moved but I don't quite know why. Moments of pure beauty, and pure joy, and pure pain.
---
Looking for an aesthetic style
It was our desire all along to experiment with the forest, to stylize trees, foliage and flowers. We followed our motto that it is more important that the place feel real than look real. I chose abstract baroque ornaments and patterns for things like leaves and flowers. The trees give the impression of ha