Back in 2013, the development of King Lucas was already gestating. Even though I was still no part of the team of DevilishGames, we were good friends. Until then, the music and sound for their games had been done with trackers (software that lets you create electronic music quite easily with the use of loops) and, sometimes, stock sounds and music. I had been making music in my spare time for many years, playing in bands, producing in my home studio and, since King Lucas was a bigger project, they agreed to let me propose something without obligation. I had never composed music for games and was completely excited and motivated so I started working immediately, only with some early graphics as reference of what the game was going to be. This meant that, in my head, the only context I had was "a child-oriented game full of bobbleheads". This was the first attempt:
Obviously, it didn't work, today nobody could imagine King Lucas with this soundtrack. Shortly after I was officialy recruited as Marketing and PR Manager and, once in the team, because of my past experience as musician and my academic background in Cinematography, I also took control of the sound design, music and narrative of the games to come. Because of other projects, the development of King Lucas extended time enough for me to better understand the market, as well as to immerse myself into the referents and the style of King Lucas. No doubt it was a more serious game than I had thought months before. One must understand that it's a game for children, of course, but it's also for adults who enjoyed the games from the 80's which King Lucas pay homage to, so we had to satisfy their expectations, their likes, and they are not children anymore. This game had to be balanced between the childish and the serious, the comical and the epical, and the music had to follow the decision of making something retro styled without depending on 8/16 bits. Then, electronic music was discarded, we wanted something more cinematic, more orchestral.
It was time to compose, the problem was that I had no previous experience in this kind of music, I use to write music with a guitar, but… I love challenges! At that time I was also involved in a rock music project and, writing for it I found a phrase, not much more than a simple riff of a few notes, that I felt it had something that could become interesting if I were able to drive it into other places. Here you can listen to the main leit motif of the soundtrack of King Lucas, played with an electric guitar as it was originally born (fine tune your ears, it sounds below of the solo voice):
This phrase was later played by a violin and backed by orchestral strings, all of them played with midi. Then the next step was to write a good set of arrangements in order to get a complete theme that could be later varied and extended to compose the in-game, incidental, menus music, etc… in a coherent way. You can see, for example, that the music of several menus is based in the main phrase, but played with a clavichord instead of strings.
Finally, this was the result from where each and every little clip of music in the game come. You'll hear the main phrase coming in at 49″:
For the in-game there was another challenge: we couldn't afford to record hours and hours of music for all the hours a gameplay can last and we didn't wanted it to sound repetitive neither. The solution was on-the-fly sequencing. We recorded a finite number of harmonic clips, and the programming team developed a system which, each time a new room is configured, chooses several of them and mixes them live and randomly for that specific room. It's like having a virtual disc jockey on the background. This system made the music procedural, what gave us virtually infinite tracks with a very limited number of clips. Of course this is the short explanation because, in fact, the mixdown is not absolutly random; there are some rules such as the probability of triggering music is not the same as the probability of leaving just an ambience sound, avoiding this way the saturation of the user's ears. Furthermore, there are some clips that can't be mixed down together, those with percussion, for example.
Sound design
In order to put sound to every action in King Lucas, the easiest way would have been to buy sounds from stock libraries. We considered this option because they're high quality clips and not very expensive nowadays. However, these sounds didn't fit in the style a game which is half way between the cartoon and a more serious style because they have, in fact, too much quality, they are too much realistic. We then decided to use foley to get what we exactly wanted. As you probably may know, foley is the technique of reproducing real sounds in a recording studio; for example, punches you can hear in movies are not real punches but, usually, a steak hitting a solid wood table. In real world punches don't sound as you hear them in the movies… nor the gunshots, nor most of the things you hear. In the real world your ears work together with your brain to filter the sounds so you hear louder the most relevant ones, you don't hear everything at the same level, otherwise it would be unbearable, but in an audiovisual the actions must be perceived, they don't have to be realistic, they must seem it, they have to be plausible. This decision let us keep all the sounds in King Lucas under control.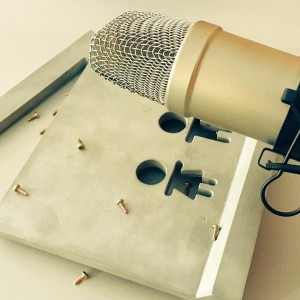 It was a really funny adventure, besides an incredibly creative process. We had to imagine how an slime that doesn't exist sounds when it is cut in two, imagine how could we make a similar sound and process it until we reached the optimal result. We could make the sound of coins we wanted with some bolts over a trophy we received some time ago (we didn't like how real coins sounded), the sound of swords we were looking for with forks and some reverb, viscous sounds for some creatures fulfilling our mouth with custard and gasping (we stained the mic and our clothing)… and the same for voices and moans. I would like to know what people of the offices next door thought the day we recorded voices and screams!
Problems? Yes, of course, our office is not a recording studio so it is not acoustically isolated, there's AC noise, fans inside every computer and… traffic outside. We had to wait for the traffic light down the street to give us a break to start each recording. The microphone we used was a condenser microphone, very sensitive to low level noise, but if you are careful enough you can find the adequate conditions and jump into this technique to record your own sound effects.
---
Remember King Lucas is available in Steam!