Last week at
GameSoundCon
I had the pleasure of speaking alongside Andy Forsberg & Richard Ludlow of
Hexany Audio
about some of the essential things an audio designer in the game industry needs to know. We only had around an hour to lecture, so naturally you can't fit everything you'd like to say within that amount of time, but we were able to share quite a bit on the 3 different sections we chose to discuss:
People, Pitches, & Paperwork.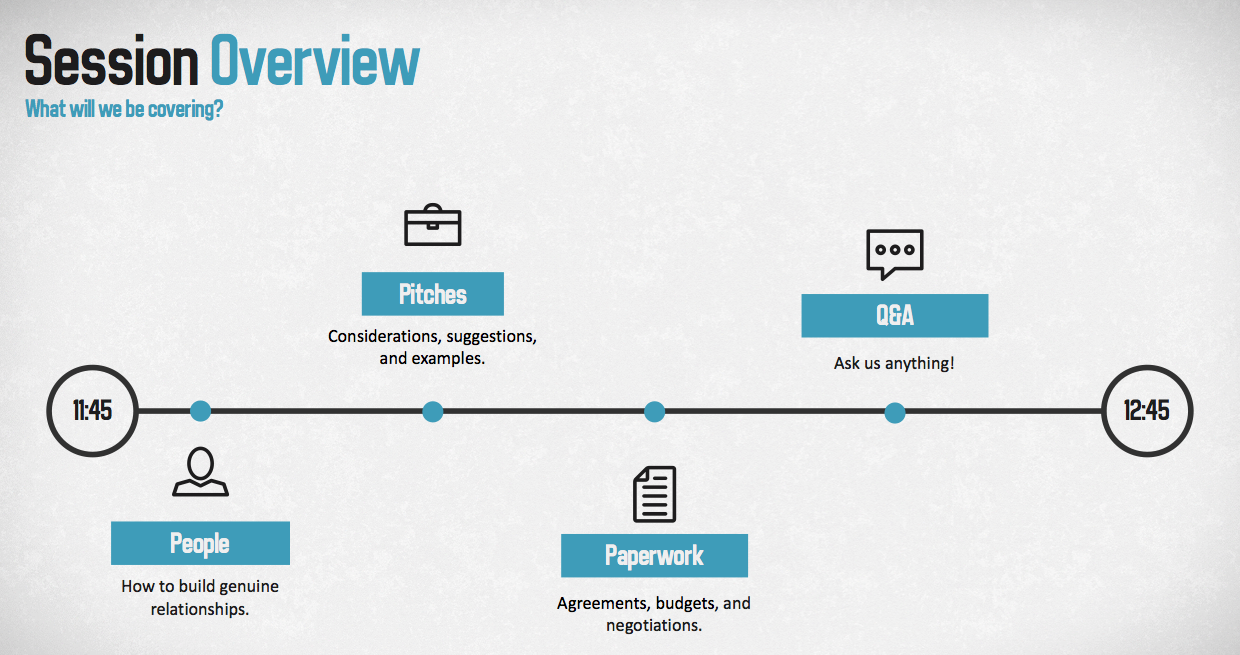 PEOPLE
In the first section Andy Forsberg expressed his thoughts on how to build genuine relationships with the people you meet in the game industry. He mentioned how important your first impression is & that it's not only necessary to learn how to read a room, but how to be confident, smile, & match the energy of the event. Unsurprisingly, but in constant need of reiterating, Andy also shared some great ways of staying in touch with people who you may want to work with. Mentioning that brevity is a gift in an e-mail & it's important to be persistent, but patient and not annoying. Sending an e-mail every week or two to the same person will certainly start to get a little irritating & potentially ruin your chances of developing a genuine working relationship.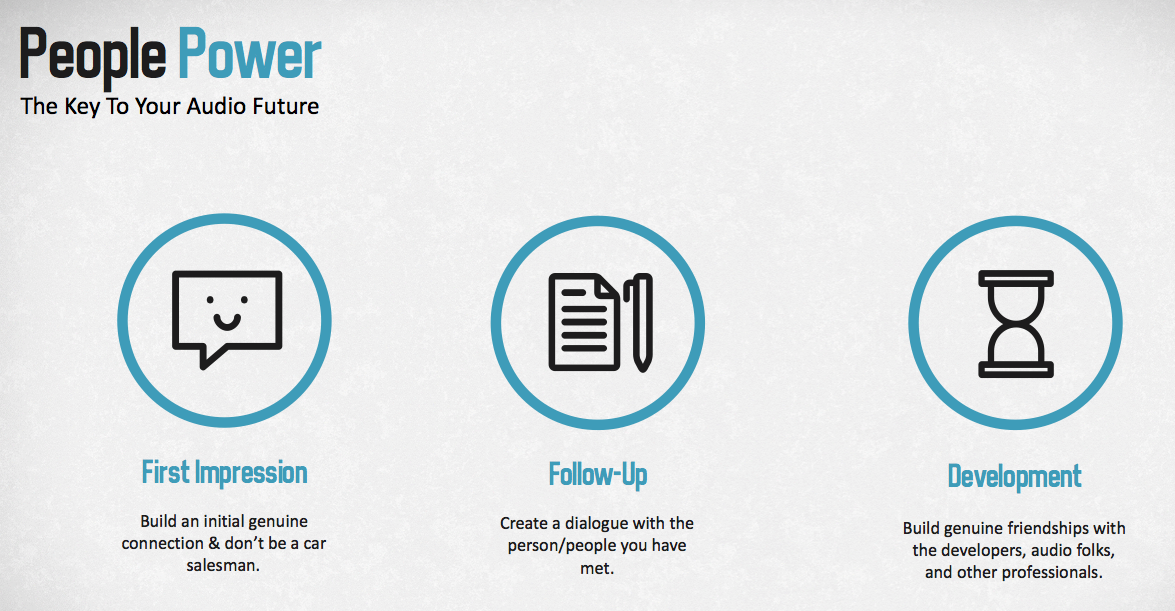 PITCHES
After Andy's talk I discussed some of the things an audio designer should consider before pitching on a project and, although there's no universal standard, my preferred method of designing a custom bid. In this section I mentioned that it's important to understand your experience with the entire process (beyond creating/implementing audio) could be more heavily relied upon by an indie dev than AAA. Furthermore, we were all in agreement that some kind of Face-to-Face or voice meeting is critical to helping you not only understand a developer's needs better, but it also begins to develop trust. Lastly, I mentioned that from personal experience I've found that the more I tended to invest in a bid/demo (both time & financially) the higher the percentage that I'd be offered the job. This may mean hiring a session musician or mixing engineer out of your own pocket, but ultimately it can pay off; especially if it's for a project you'd really like to work on. Worse case scenario is that you have a great sounding demo you can then license elsewhere or use for future pitches.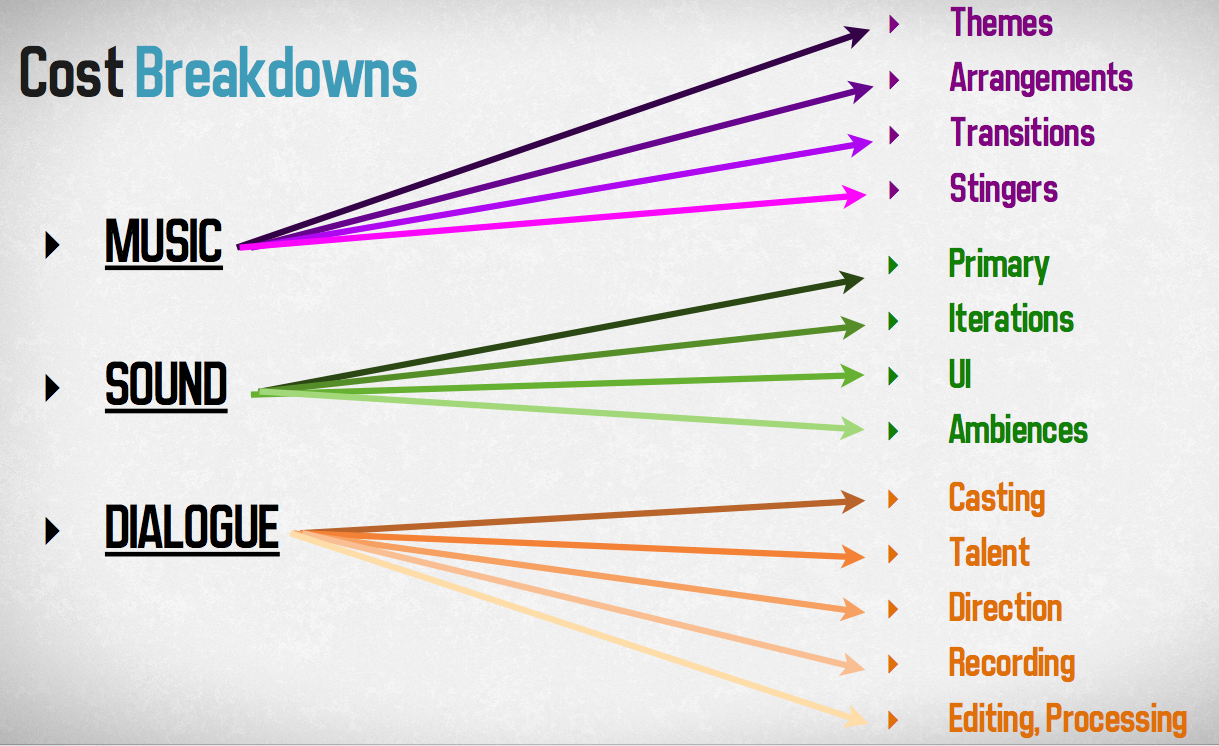 PAPERWORK
Lastly, but certainly not least & perhaps most importantly, Richard explained all of the paperwork one should consider before signing onto a project. He mentioned the three most common Agreement types: Work For Hire (AAA Primarily) and an Exclusive or Non-Exclusive License (Primarily Indie). The developer's budget tends to dictate which Agreement type is most appropriate, but it's essential that if the money isn't there upfront, then it's compensated on the backend in some unique way through additional terms in the Agreement. Furthermore, to get a clearer picture of what kind of Agreement should be used, Richard suggested asking developers some of the following questions: What's the Budget? Style? Deadline? Release Platform(s)?
Thank you for reading this recap article & we sincerely hope it was informative. However, if you're still interested in more information, then you can view our entire presentation
HERE.
Kole Hicks
is a LA based Composer/Sound Designer who's work can primarily be heard in Indie Titles like Pixel Piracy, Kenshi, & Bag it! Beyond creating audio for games, Kole provides session guitar work, has performed as guitarist for multiple bands
(Critical Hit & Olivia Somerlyn)
, and is an accomplished writer of music articles having been nominated for a GANG award in 2012. Furthermore, Kole is an active member & proponent of the Game Audio community with experience speaking at UCLA, The Art Institute, GDC 2015, and GameSoundCon.
Richard Ludlow
is the Audio Director at Hexany Audio, a Los Angeles-based sound and music studio developing audio for the next generation of games. Richard oversees both the creative and business aspects at Hexany, and has worked on projects for Disney, Activision, Ubisoft, Coca Cola, Ford, Chevrolet, and many more. His credits include games in the AAA console, indie, social, and mobile spaces as an audio director, sound designer, and composer. Richard is also a graduate of Berklee College of Music where he studied sound design and composition for games.
Andy Forsberg
is a composer and audio producer for film, games, television, and records.
Forsberg has credits on numerous films, TV series, advertisements, and games, and formerly served as marketing director and studio assistant for renowned composers William Ross (Harry Potter and The Chamber of Secrets, Barbara Streisand, The 2014 Oscars) and Ryan Shore (Penn Zero: Part Time Hero, Prime, The Millionaires' Unit).
Currently, Andy serves as Lead Composer at post-production audio house Hexany Audio. A company which he co-founded with three Berklee College of Music alumnus, and which is now home to 5 full-time employees. Forsberg also has a prodigious passion for education, and is an active clinician and lecturer in film/game audio and self-improvement around the world.