On the morning of March 6th I had the pleasure of moderating a panel of very talented freelance Game Composers. Between them they have decades of experience and have worked on dozens of very successful titles like: God of War, League of Legends, & Rayman Origins. It came to my attention that during conferences and at various events the same handful of questions seem to pop up. Topping the list, especially amongst aspiring game audio professionals, was; "How did you land your first game?"
After about the dozenth time answering this question, which I'm of course very happy to do, it struck me that perhaps this would be a good opportunity to assemble a variety of professionals at various stages in their career and ask them this very question. It was then that I assembled a panel of four distinct talents with unique stories of how they entered the industry. Adam Gubman, Gerard Marino, Billy Martin, and Duncan Watt. My name is Kole Hicks and beyond being a freelance Composer/Sound Designer for games, I was the moderator of this panel.
The primary purpose of this recap is to informally summarize the points made during the panel. I'll be leaving out the details of each panelist's story on how they landed their first game (video of that'll eventually be on GDC Vault); however I'll provide their thoughts, solutions, and answers to the questions asked.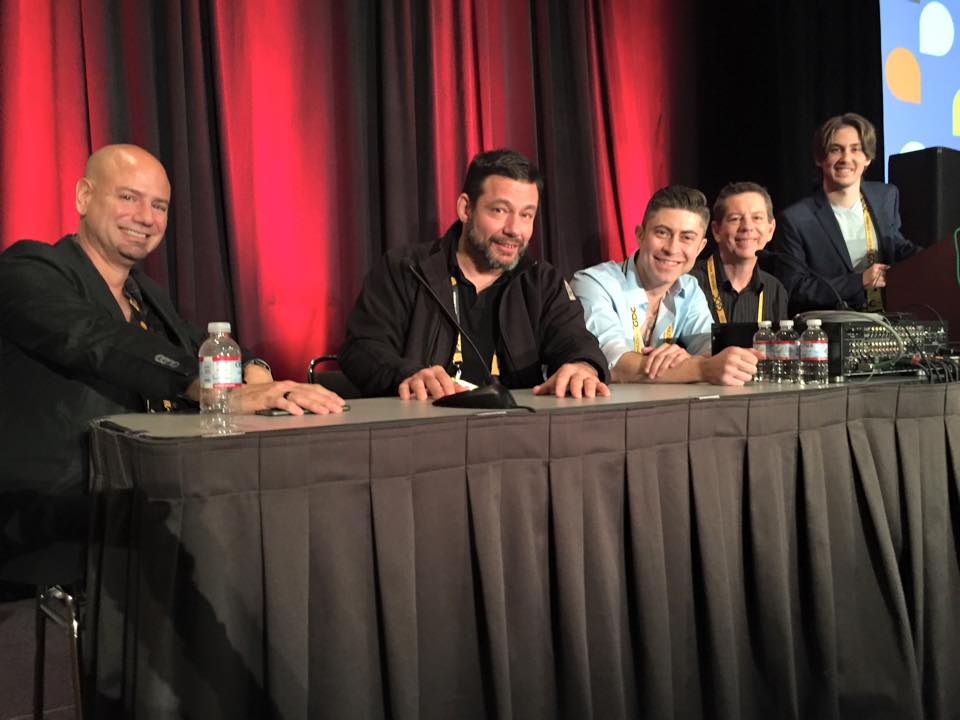 Trust
Although I'm not going to go into detail on each panelist's story, I thought it was worth mentioning that each panelist strongly emphasized the importance of trust. It was a consistent thread that ran through each of their first experiences in the game industry. Beyond being professional and fantastic at what they do, each panelist developed sincere relationships with other people that directly led to them landing their first game. For example, it may be that the Composer you befriended a few years ago is now a little too busy this month and she needs to pass off the overflow to someone she trusts.
Q: How do you stay current with industry trends?
A: It was unanimous that playing games and doing so frequently is an important way of staying current with our industry. Beyond that, attending various conventions (like the GDC), GameSoundCon, and joining G.A.N.G. can be beneficial. They also mentioned that they liked following various online resources like Gamasutra, IGN, & other gaming news outlets. I personally also like keeping up to date on the indie scene via IndieDB.
Q: How did you find & secure your most "career defining" project?
A: I directed this question to Billy Martin who told us a story of both being in the right place at the right time and overcoming our fears so that we willingly expose our music to the world. Billy had mentioned that he created a piece of music and entered a Composer Contest at the GDC many years ago (he ended up winning). Through this contest he met an influential person over at Ubisoft who attended the contest and loved his piece. A few years went by and one day he unexpectedly received an e-mail from this influential person asking if he could send over the track he did for the Composer contest. He did and that led to Billy's most career defining project(s), the Rayman series.
Q: Working in-house, what did you look for when recommending a new hire?
A: Duncan Watt used to work in-house at 38 studios and among many other responsibilities he was in a position to recommend new audio hires. I directed this question to him and he again reiterated the importance of building a sincere relationship founded on professionalism and trust. Beyond this, he emphasized doing your research about the company you're applying to and submitting a custom reel that features only a few of your very best pieces that are stylistically cohesive with the game that studio is developing. Duncan also mentioned a contentious issue in the game audio community about replacing audio in Cinematics for demo purposes. While there are many reasons for and against doing this, a good rule of thumb is this: Your work will always be compared with the original, so if you can do it better or with a unique spin then it may be a good idea. Otherwise, it may be wise to submit an audio only reel.
Q: How do you add value to a Project beyond the assets you create?
A: This is a question I asked each panelist. Everyone had great points, but rather than mentioning exactly what each Composer said, I'll list off a few of their great ideas.
1) Make the Developers life a bit easier. Be very easy to work with, open to communication, & quick with revisions.
2) Over deliver; go above and beyond. It shows that you're truly passionate about the project, enjoyed working with them, and truly inspired by the game.
3) Create articles or videos about the creation of the game's score. Use these for promotional purposes and as a way to keep the game's community engaged.
Bonus (This was asked after the Panel)
Q: What should my demo reel contain?
A: This differs a bit depending on a few different factors (Studio size, Game Genre, etc.), but the general consensus is that your reel should contain the following. 3 to 5 of your best pieces, edit them so that it's the best 60 seconds of each piece, customize it to the developer/project (Ex: Don't send Jazz/Casino music for an Epic Fantasy game), and make it easy to navigate/load. Although we'd prefer our demo be listened to in a fantastic studio, it may be blasting out of a little iPhone speaker. Your site and demo reel should be responsive; also make sure it's easy for them to contact you.
I hope you enjoyed this recap of our GDC panel, "Landing Your First Game and Building a Career," and if you were able to attend it in early March then thank you for being there!