GameSoundCon recently conducted its annual survey of audio professionals in the game industry, asking questions about compensation, use of live musicians, contract terms and other issues affecting the game audio industry. The results are compiled in the Game Audio Industry Survey, the most comprehensive survey of its kind in the game industry.
Our goal was to:
Create a simple survey to cover both salaried employees and per-project freelancers
Promote the survey to increase response rate
Factor in the wide range of games developed: indy to AAA
Cover additional business and production issues unique to video game music and sound design
We ran our 21-question survey from July 29 to Aug 13, 2015 and promoted the survey heavily via social media and other game and music industry web sites and received 622 responses. Because of the stratified nature of the game industry itself, we broke out the data across large budget games, professionally produced casual/small scale games, and indy games.
Of course it is impossible to draw a sharp line between the three categories outlined above. Nevertheless, we believe it serves as a useful distinction so that we're not comparing the compensation from Activision or Microsoft with that of a 3-person dev company making an iPhone game in their basement.
The Survey covered 6 main topics, covering:
1/ Compensation
2/ Work and Environment/Getting Gigs
3/ Additional Compensation (Bonuses/Royalties)
4/ Use of Live Musicians & Middleware
5/ Contract Terms & PROs
6/ Education
Of the over 600 responses, 591 were deemed usable; we have compiled and analyzed the results. Note that "project fees" or "Salaries" are excluding any optional payments such as bonuses, royalties, profit sharing, etc or any other benefits such as 401(k) matching, health care, etc.
Some of the highlights:
Freelancers account for half of game music composing and sound design jobs
Average Salary (employee): $80,564, up almost $10,000 from 2014
Average "AAA" per project fee: $73,493
Average "professionally developed casual game project fee: $18,177
Average Indy per project fee: $8,399
The Game Audio industry is overwhelmingly male (93%)
Most game composers also deliver SFX
Game Music is overwhelmingly "Work for Hire (95%)
Game Soundtrack clauses are rare
Use of live musicians is up from 2014
> 70% of game audio professionals have completed a bachelor's degree or higher
One thing that caught our attention: Compensation had two definite peaks, one at around $50,000 and one significantly higher in the $150,000 range. There is a correlation between those higher salaries and management or creative direction, i.e. "Audio Director," and reflects the very competitive salaries for those with the requisite skills and experience, and also shows great career growth potential in the field. This also explains why surveys like the Gamasutra annual salary survey tends to show pretty high numbers for audio professionals, since the senior-level audio directors and top-shelf composers are more likely to have attended gdc, and therefor participated in the Gamasutra survey.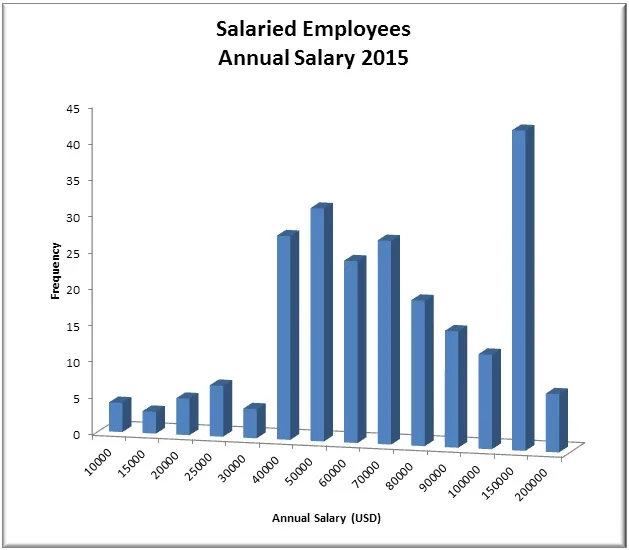 The other thing that caught our attention was the continued underrepresentation of those identifying as female in game audio, a trait sadly in line with the rest of our industry. Although female representation did double from 2014, it still hovers at an unacceptably low 7%
Conclusions:
It is difficult to draw generalization from such a broad and diverse industry. It's clear, however, that top video game composers and sound designers with the right skills and experience can command top dollar for both large-scale projects(Xbox, Playstation, large PC titles, etc.) and smaller-scale games, despite the highly competitive nature of the industry. Experience in games and knowledge of how they work is highly valued regardless of whether it's a huge AAA blockbuster or a small mobile game.
Read the Full Report
The complete GameSoundCon Audio Industry Survey 2015, complete with charts and graphs can be viewed here: http://www.gamesoundcon.com/#!survey/c1hp9
Brian Schmidt is a 28-year game audio veteran and an independent Game Audio Consultant, Composer and Sound Designer at Brian Schmidt Studios, LLC and is founder and Executive Director of GameSoundCon (held this year on November 3-4 in Los Angeles, CA) and creator of of the audio game company,Eargames. Brian sits on the GDC Advisory Board and is President of the Game Audio Network Guild