Deathloop's aesthetic can't be summed up in a tidy buzzword. Even 'retro-future' doesn't quite hack it. Yet, despite its lack of conciseness, the 1960s- and '70s-inspired sandbox shooter sets the stage for a time-travel murder-revenge mystery and has a vibe that simply works. Arkane's new immersive sim Deathloop has immaculate vibes, many of which are thanks to audio director Michel Trémouiller and the sound design team at Arkane Lyon.
"The first art concepts were showing so many different things," said Trémouiller. "On the one hand, very bright colors and crazy NPCs [with] eccentric costumes. On the other, the coldness of an isolated island and its military warehouses, its snow, its Northern port village… All of this [is] mixed with a paranormal background. I thought that they were crazy and that we would have so many different identities that the game would end up with none of them."
Instead, Deathloop embraces the chaos and attempts to use an onslaught of inspirations to create something unique. "Deathloop's universe being atypical, we needed singular music that fits perfectly," he added. The result is a jazz-infused rock n' roll soundtrack featuring modern synths and plenty of in-universe songs used to flesh out the world.
Trémouiller worked with a team of veteran composers and sound engineers to bring to life something as evocative as those early images. He cites '50s and '60s sci-fi and horror TV shows like Not of This Earth (Ronald Stein) and My Favorite Martian (George Greeley) as some of the early influences in crafting his vision of what the game would sound like. Adding elements of more contemporary scores was crucial to giving Deathloop that "singular" sound. Trémouiller lists the "old keyboards from Kubrik's A Clockwork Orange' [and] Ennio Morricone's vaporous ambiances from Carpenter's The Thing'' as specific sci-fi classics the game is referencing.
The scope expanded as Trémouiller collected input from the sound design, creative, and narrative teams. Eventually he met with lead composer Tom Salta — who he was subsequently working with on Wolfenstein: Cyberpilot — a collaboration that led both of them to embrace an early '70s garage rock sound. Trémouiller felt like the genre matched the chaotic energy of the aesthetic.
"Obviously, the artistic direction is largely influenced by the '70s," he said, "but anyway, which music would have reflected the madness and the freedom better than the one of this time period? Naturally I led myself to '70s rock (The Doors, The Who, Can, etc.) and experimental '70s music (Kraftwerk, Pierre Henry, Faust IV, Popol Vuh)."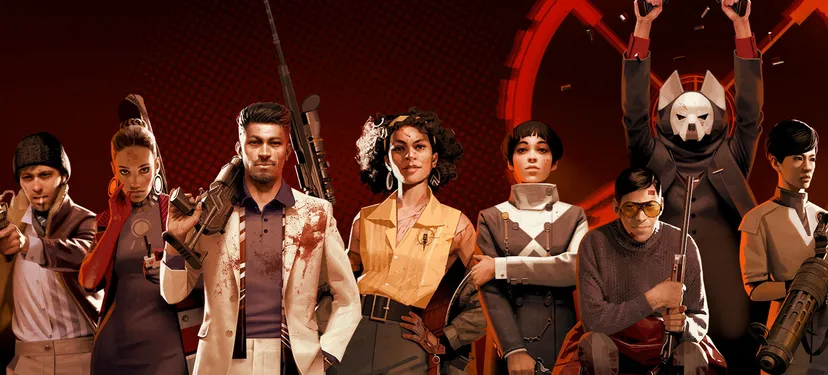 The influences listed are already numerous and that's not even touching upon the heavy James Bond theme song-inspired overtones that dominated the early marketing material. "We were inspired by some '60s and '70s spy movies for some music, mainly for some Visionaries' music suites. In a Visionary's area, the musical mood changes completely.''
Trémouiller is referring to Deathloop's primary targets, the Visionaries, each of which has a separate musical identity. Each one of the eight Visionaries the player is tasked with assassinating has their own musical theme, with variations for all four gameplay phases. This is 36 separate compositions for what boils down to more or less just the game's boss music. Each of these required Deathloop composer Tom Salta to quickly write a great deal of samples and dynamic fluctuations into his score. (Read more about the making of that score in our interview with Salta.)
"I think especially Aleksis Dorsey and Charlie Montague's variations draw from the musical identity of John Barry and Lalo Schifrin," Trémouiller added, citing one of Salta's film influences. "These great composers have helped democratize the mix of pop and jazz music to orchestral film music, but I think that's just one of the many, many facets of Deathloop's music."
Another facet, and the actual reason Deathloop has the most music of any Arkane game, is the diegetic music heard throughout Blackreef Island, where the rich and powerful have gone to eternally party the same day over and over. Naturally, this lends itself to a plethora of loudspeakers, radios, and parties blaring a mix of genres. This sort of music is everywhere on the island and it needed to sound at home in that universe while embodying a distinctly different flavor from what Salta's score brought to the table.
"This entire research helped to find the tone of the diegetic music, which is broadcasted in the universe itself and audible by its characters," said Trémouiller, "it represents the other big part of Deathloop's musical background made by Ross Tregenza and Erich Talaba."
Arkane went as far as giving one of the Visionaries a chance to sing their own theme song. Talaba wrote the in-universe songs for Ramblin' Frank Spicer, a Visionary with a past as a successful blues singer. Recorded in character, this is the type of world-building detail that gives Deathloop and its characters a unique identity compared to the rest of the relatively homogeneous AAA space.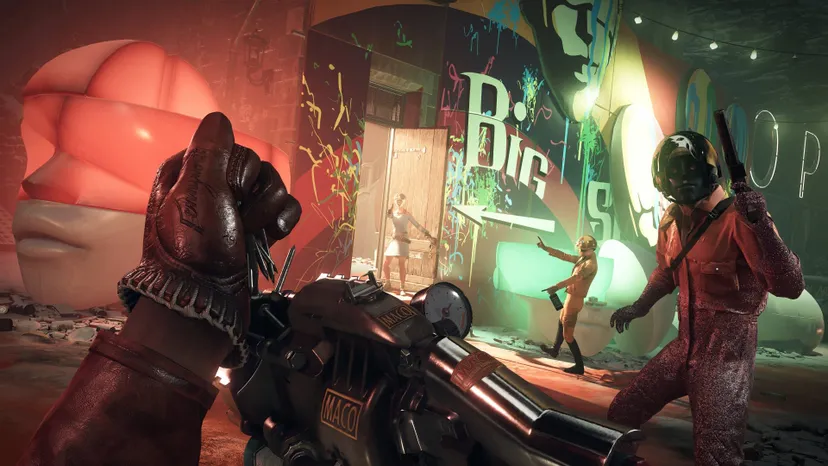 As a PlayStation exclusive (potentially Bethesda's last-ever thanks to Microsoft's acquisition of ZeniMax Media), it was important that Deathloop showcase the PlayStation 5. The sound design team at Arkane didn't just make use of the PlayStation 5's DualSense controller, they dedicated an entire position to figuring out its intricacies. Benjamin Darmon was the sound designer in charge of incorporating DualSense haptic features and the pad speaker design into Deathloop.
"[Darmon] spent a lot of time on it because Sony's controller offers many new possibilities," said Trémouiller, "I think we made the most of the controller's features: the sounds playing through the pad speaker like Julianna's radio calls; the specific sounds of guns, bullets, and ammo; and the huge work on subtle vibrations allowed by the DualSense's advanced technology, such as player's footsteps, impacts, the hacking device, the powers."
It's in nailing all these little touches that Arkane succeeds in making Deathloop's world feel — and sound — believable. Nevertheless, the challenges the DualSense presented this talented team goes to show how the responsibilities of sound designers — and game developers at large — is constantly shifting. The iteration is constant. New specializations become required overnight and are all too often abandoned after a console cycle. When it comes to features like the DualSense's vibration, most teams only have one chance to do something revolutionary before the tech either becomes obsolete or ubiquitous. For Arkane, this was the one shot to design something special for PlayStation so — as with the rest of Deathloop's sound design — they shot for the moon.