Case study: How developer Gismart achieved success in China, USA and Europe with the 25M downloaded Beat Maker Go mobile game
By Lana Meisak, VP of Business Development and Marketing at Gismart
Success in the casual mobile app market today is chiefly defined by the ability to generate a steady stream of new users, and to consistently deliver value to them, whilst monetizing products effectively.
These two key factors allow businesses to grow revenues and to outperform competitors. In a mere five years, Gismart has managed to create and effectively market a portfolio of music mobile products that have topped app stores around the world. To date, Gismart products have generated over 350 million downloads, and attracts hundreds of thousands of new users each day.
One of Gismart's biggest hits over the last two years has been the music-making mobile app Beat Maker Go. Since launching in December 2016 the app has been downloaded over 25 million times, with over 20% of users coming from the US, followed by China, the UK, Russia, France, and Canada-based users. With over 30,000 new users per day, Beat Maker Go continues to increase its user base with demonstrable growth. Its success inspired Gismart to create a series of beat-making products dedicated to different music genres, including a beat-making casual game.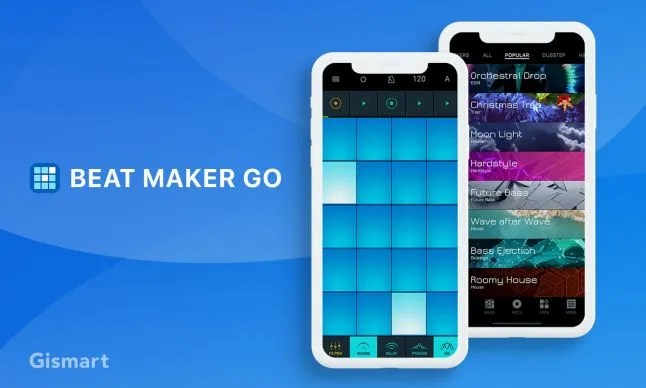 Early goals and product strategy
Beat Maker Go was initially conceived as an addition to Gismart's portfolio of musical instrument based games. With EDM culture going mainstream, with DJs and producers becoming the new "rockstars", target audiences began showing a great deal of interest in DJing-inspired products. Though, at the time, most available products on the market were quite complicated, overflowing with complex features that took away from the entertainment factor for the more casual, non-professional user.
The goal of Beat Maker Go was to create a balanced and simplified version of a drum pad, whilst targeting a wide audience of music lovers which enjoys dance music. The simplification of the core functionality and playing mechanics helped to position the app closer to casual products, thereby lowering the barrier of entry to allow anyone, regardless of their skill level, to play music instantly. For more advanced players and drum pad users, the app features the additional functionality of a variety audio effects that can be applied on each pad that gives more options to modify sounds and make the music piece more unique.
We closely monitored user feedback, which helped us to bring new features to the product, including voice recording functionality that allow users to read a rap or beatbox lyrics on top of beats played.
The initial music content strategy and in-house team of sound designers kick-started Beat Maker Go with a diverse sound pack library that featured different dance music genres, thereby offering a wide variety of music for users.
Milestones and adjustments
Beat Maker Go launched on iOS in December 2016. Initially adopting an ad-based monetization model, this helped us to introduce the app to the market with fewer barriers to entry, whilst monitoring user in-app behaviour and running AB tests across all marketing creatives. It allowed us to make calculated micro product and marketing adjustments, which ultimately led to substantial user base growth. By categorizing music content by genre and popularity helped us to better understand user preferences. Also, prioritization of the music content development strategy enabled us to focus on delivering music content that is most liked by the app's audiences.
In addition to these efforts listed above, Gismart actively cross promoted the new product across the Gismart app portfolio (which contained over ten apps and games back in 2016, and now featuring over 15) led to achieving 480,000 installs in the first three months.

With intention of offering a non-disruptive app experience, a rewarded video ad format was chosen as the only ad format inventory available in Beat Maker Go. The format has worked (and still does) very well. Users opt-in to unlock music content by watching a video, and this has helped increase the length of play session time, loyalty, retention, and has generated high user ratings and positive user feedback. The app quickly received an average user rating of over 4.6. Just after six months after the launch, Beat Maker Go made it into top three finalists for the 'Best Music App' category at the 2017 Appy Awards.
From mid 2017 we introduced premium content and premium features via a subscription service. We ensured a smooth transition for existing users, as this change would not affect their experience. By integrating a premium tier, this has allowed us to implement a dynamic marketing strategy and make bold changes to our user acquisition strategy, thereby boosting both audience and revenue growth.
From September 2017 through to December 2017 Beat Maker Go downloads increased by 500%, and on occasion, added around 70,000 new users per day. A mix of organic boosts from the app featuring paid campaigns resulted in Beat Maker Go entering the Top 50 US overall (by downloads) charts in January 2018. In the same month Beat Maker Go appeared in numerous top five most downloaded music apps in 12 countries including the USA, the UK, Canada, France, Germany, and Russia. It also entered into the top 10 grossing music apps in the USA.
For the following 12 months the app has maintained strong charting positions, demonstrating month-on-month growth for downloads and revenue.
Beat Maker Go stands in a unique position where it can provide engaging new content updates without needing to make significant changes to the functionality of the app. With Beat Maker Go becoming a leader in DJ-inspired entertainment apps, the app started generating interest from artists. With this in mind, we sought a new marketing strategy involving partnerships with renowned artists. Besides featuring artists' music in the app, Beat Maker Go could offer global exposure through marketing campaigns that have over 100 million ad impressions globally every month.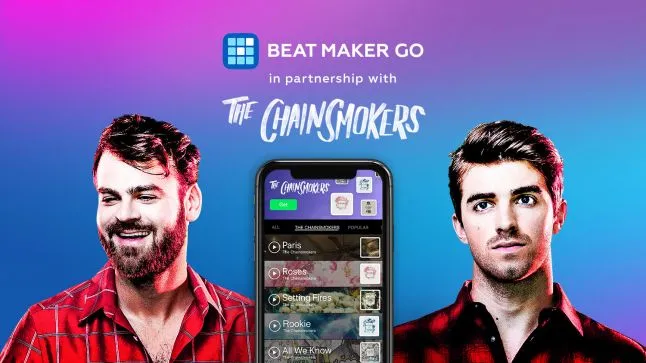 In November 2018, a major partnership was secured with American EDM duo The Chainsmokers was announced. The Chainsmokers were a perfect fit for the app, and throughout the partnership, we tested different in-game events including a contest. Upon partnering with The Chainsmokers and reaching out to new audiences, our MAU significantly increased and reached upwards of two million.
Moving forward with Beat Maker Go
The success of Beat Maker Go inspired us to create a series of beat making genre-focused apps. Hip Hop Beat Maker launched at the end of last year, and we have another beat making product in development, scheduled to be released in Q2 2019. We're also looking to work with more with talented artists and sound producers adding more value to Beat Maker Go, and helping artists promote their content through our beat-making app family to a global audience of dedicated users.

Conclusion
If you have aspirations to reach the top of app charts, just having a great product isn't quite enough. This is particularly true for growing casual mobile products where competition is fierce. The key to app growth is having the ability to secure continuous large volume user growth and monetizing users effectively. The challenge boils down to having the correct resources and expertise to acquire the right type of users on a large scale with a margin.