If we talk about job seeker and job recruiter we will find one thing common and that is they both want the best. Job seeker might want the best job in the world whereas recruiter might want the best employee in the world. While marketing department does lots of PR and related stuff to communicate that their company is amongst the best place to work. This might influence some to go ahead and apply in that company but does recruiter sitting on other side really check each and every resume. Is there 100% scanning of each resume? I am writing this article based on some jaw dropping findings that I have got to know based on simple test that I have done while applying for jobs around the world. But before I share my finding I would like to first share brief background about what I did and why I did.
There are numerous articles that I can refer saying to get noticed you should do something which is clutter breaking whether it's around PR or launching a media campaign or creating a new game. I have always believed same thumb rule is applicable when we are applying for jobs. I believe resume mostly acts like a marketing pamphlet which should be designed or organized in such a way that after seeing it recruiter should immediately give you a call back. So far I have applied this principle and I have been partially successful. Some of my cover letter reference you can see in images below.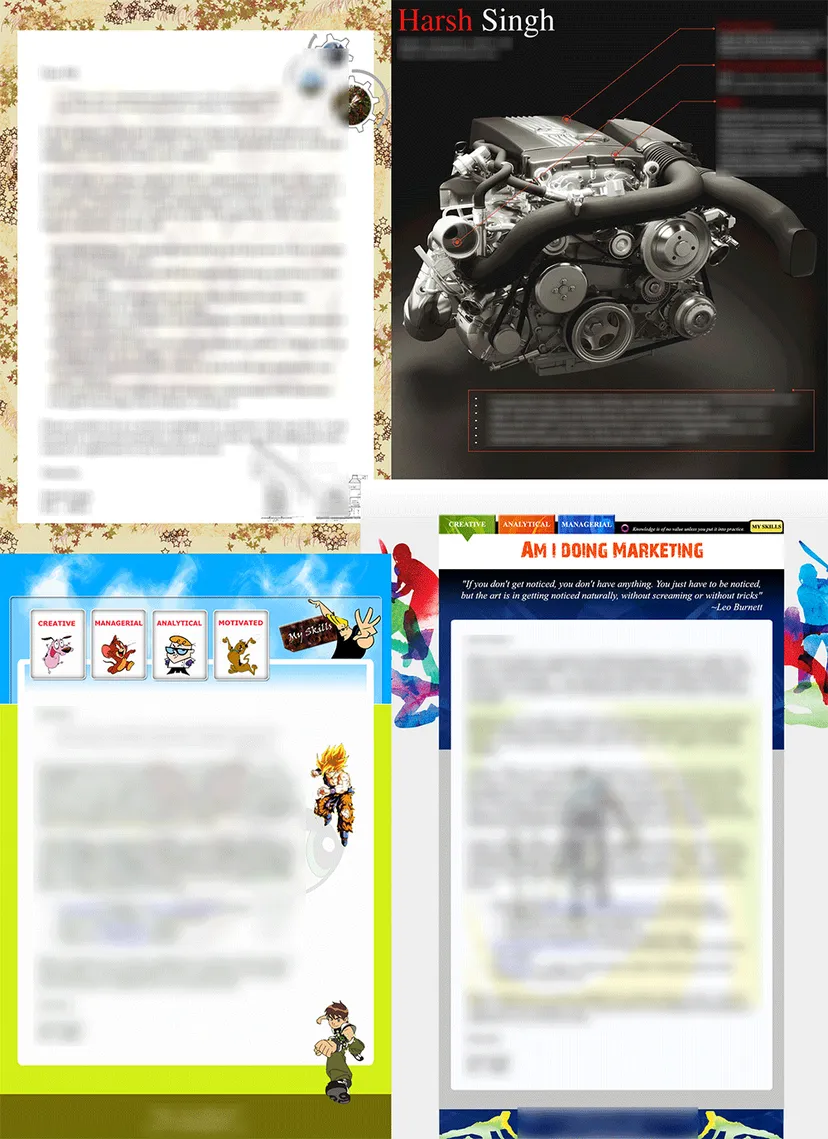 This time, I tried to take it one step ahead. I decided to use my indie game development skill and create a game for recruiters so that they can play it and have fun while they are going through my resume. I thought it is going to be unique and will act like catalyst to break the ice. Before I went about creating a game, I decided create a plan around it so that whatever game I make should serve the purpose and should be focused on one goal and that is to impress the recruiter and get in their eyes. To do so I did some planning exercise. It's not even planning it's just few set of question which I asked to myself which helped me planned this project in a better way. Question which I asked to myself and how it shaped my project are as under:
Who is going to play this game and what type of game I should make for them?
Obvious answer to who will be playing this game is recruiter. But the real question is what type of game I should make for them. There might be some old fashion guys out there who would rather prefer resume to be in standard template or there might be some who might ignore my efforts for attaching a game with resume. So it was more important to create a game which is acceptable by every set of segment. So I decided to pick a gameplay which has lower entry barrier. The first game which came into my mind was the Angry Birds and since I had worked in box2d so I decided to use Angry Birds game play. What's more to keep the entry barrier as low as possible, I decided to build entire story around this game only.
Next question which came into my mind was what will be the story line?
By this time I was very clear that I am going to use Angry Birds as base of my game but then I wanted to talk to recruiter during game play and bring in some points which prompt the recruiter to hire me. Honestly I didn't know the answer. For 2 days I thought of different permutation and combination of various stories which can be made around this but it was the 3rd day when I closed on my game idea named Birds Vs Zombies. I decided to feature two of the most successful game into one i.e. Angry Birds and Plants Vs Zombies. Here is the brief note about the game:
Just as recruiter open the resume and indulge in talk with Dave (name is changed to Harsh within the game), soon they notice that the evil zombies have stolen the birds' eggs. While the birds are out to get them back but after few levels zombies decided to return them on one condition and that is if recruiter decides to hire Harsh. The game eventually ends in a dilemma whether recruiter decides to hire Harsh or let birds keeping flinging at the zombies' strongholds.

How long the game should be?
Next question which came to my mind was how long the game should be. 1 level, 2 levels, 3 levels or may be 1 min, 2 mins, 5 mins of game play. Honestly I didn't have answer to this question because it totally depend on how much people like the game concept. If people love it then I believe they will not have problem playing it for hours but if they don't love it even one level is big enough. I finally decided to make it short and get to the point as soon as possible. So I kept the script short and created only 4 levels that to really easy. Before each level I have introduce a script which speak to recruiter on my behalf. Here is the link / video of entire game play game (since most of assets used in the game are not my own so I have created a video for you all).
How can I improve my game? How can I track who all played my games and how many times?
One of the important parameter which I wanted to measure was that if someone is playing the game, at which stage / level there is maximum exit rate and how many actually played it till the end. Since the base number of player paying this game will be very small (equal to number of companies I have applied), I thought it would be good if I track these parameter so that if there is any need of tweaking the game play, I should do it immediately. So I decided to integrate google analytics into my game. I also created some goals in GA so that I can have clear funnel visualization.
Where will they be able to play this game?
Next question was where I should host this game? A simple answer was I can't host this game as this game is using property from other games. The only answer I had was to embed this game within the resume and I believe this was best answer. Why to even request person to click and go to some other page when I had option to show them with the documents. But as I started submitting my resume, I figure out most of the companies were not accepting ".docm" extension, so I create another version of my resume in PDF format. Limitation to pdf format was that I couldn't track GA codes. So in companies where I have sent my resume in PDF format there was no way I could track when they opened my resume.
Result
Coming to result, I decided to send resume in phase manner as mentioned below:
| | | |
| --- | --- | --- |
| Phases | Plan | Status |
| 1st phase | Target all companies who have posted their job requirement on Gamasutra and on linkedin | Done |
| 2nd Phase | Directly go to some of my favourite developer web page and apply in jobs which were currently open | Partially done |
| 3rd Phase | Go to job site and apply from there | NA |
| 4th Phase | Drop my resume to companies who doesn't have job opening but in which I would love to work | NA |
So far I have applied in 15 companies. This excludes companies in which I applied through linkedIn (linkedIn doesn't allow to attach attachment above 200k file so I have applied with standard template and with no game inbuilt) and companies who didn't accept my ".docm" (though I did submitted my PDF version which had game with in it). Some of the big names in these 15 companies list are that of Popcap, EA , ,Rovio, etc. Firstly I didn't expected to get call from all as I still don't know whether game I created will be loved my them or not. Personally I loved it and I thought I will get at least one call but surprisingly forget call, I didn't recorded a single game play in my GA form these 15 companies list. In fact from few companies I have got sorry mails.
Now I am wondering how is it possible that without registering single session of game play which means zero views of my resume I am getting a sorry mail. More importantly from rest 13 companies also I haven't registered a single game play session. Question really is that are these people scanning each and every resume? There are numerous videos, presentation I can refer which has inspired me (and may be many others) to first go and apply in these companies but these result can open a big debate on whether companies are scanning each resume or not and can question their credibility. Though I still believe there can be multiple reasons for not registering a single game play:
1 week is really short period of time for them to scan each profile considering volume of application they might be receiving
Person who opened my resume didn't enabled macro content (swf file) as a result I wasn't able to track game plays
Recruiters are already in talks with other suitable candidates as a result my resume is on hold
But I guess these cases can't come up in each company. We have to wait and watch. I am going to start applying in rest of the companies and I hope to get better response this time.