Top 10 Best 2D Game Asset sites (Updated 2021)
What are game assets? It is just a game developer term for what others may call call "game content' or "game art". This includes game icons, character sprites, textures, game maps, audio files, all of the parts of the game made by artists, designers, instead of programmers.
2D games are making a big come back with the proliferation of mobile games, html 5 and major support of big publishers. Producing them now have been much easier than before with tools like Unity and help of online 2D Game Asset stores. Below is a list of top 10 2D games asset store you can find online, some commercial and some free.
1. Unity Asset Store (commercial)
Biggest commercial game assets site. No you don't have to use the Unity engine to use games assets offered on unity asset store, you can simply download a free copy of unity and download assets through unity asset store online. Game assets will be imported into unity, and the files will be saved into your unity project folder. You can use the saved game assets in any 2D game engine.
Many people may not know unity is a very successful 2D game engine, in the hands of professional game developers. Amazing variety of highly successful 2D games have been created such as Rovio's smash hit, Bad Piggies. The integrated asset store offers large range of 2D assets designed to make well use of unity's 2D physics engine.
https://www.assetstore.unity3d.com/
2. CraftPix.net Game Assets (free & commercial)
A large collection of 2D and 3D game assets. These are characters, icons, backgrounds, tilesets, interfaces and full-fledged game kits. Here you can find pixel art, vector files, 3D Low Poly and high resolution images. Collections will be useful for many developers as they cover many genres. There is a section with free assets that are not inferior to premium sets. All this on one site Craftpix.net!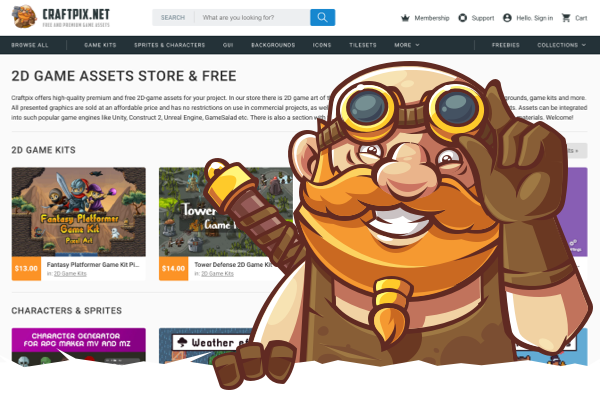 3. Super Game Asset (commercial)
Best for RPG Games. If you are creating your own RPG or isometric games, Super Games Asset store has the highest quality 2D games assets you can buy online. They offer awesome RPG game icons (these are probably the best you can purchase directly online), 2D sprites, character animation sprites, and huge hand painted RPG game maps in isometric view. Majority of game assets here are visually consistent.
https://www.supergameasset.com/
4. Graphicriver - Game Assets (commercial)
Game assets by stock largest image provider. Graphicriver is world most popular stock image resource, with the proliferation casual games on mobile of they have recently started a specific category just for game assets, and it is all 2D. This is a trustable source for quality game resources as all assets will be review by envato internally before getting listed on the site. Plus you have community review on the sources as well. It is a constantly growing source with great support from envato.
http://graphicriver.net/category/game-assets
5. Scirra Store (commercial)
Scirra is the developer of construct 2 a popular HTML5 2D game editor, they now have their own game asset store. You don't have to use them in construct 2 it is perfectly okay to use in any 2D editor really. The game assets are categorized in graphics, sound, music and even game templates which can help you start a new game quickly in construct 2.
6. Game Art Partners (commercial)
Plenty for 2D platform games. This site has plenty of 2D game assets for you. All assets are very cartoon styled and including large collection of characters with animations, monsters, weapons, effects and user interface kits well suited for platform games.
7. Open Game Art (free)
The definitive place for open source game. This place is most likely the biggest online community for free licenced game assets. There is a large selection of game assets all submitted under GNU or Creative Commons licences, you can find anything from sprites to icons. It is a great place to start if you are a beginner or just require prototyping game assets. Not all visual styles are consistent though, so you'll need to find and match.
8. Kenney Game Assets (free)
This is another good source for prototyping a game, there is over 20,000+ game assets on his site. It includes various user interface assets, common 2D platform game assets and sprites. Best of all most assets are vector graphics, so it is resolution independent and can be used on any device's screen. Most assets are free to download separately or you can give a small $9 donation for download the whole 20,000 asset pack.
9. Game-Icons.net (free)
best free icon only site, game-icons.net offer a really comprehensive set of icons, in fact over 2000 different variations of monochromatic icons. I say monochromatic because all of the icons here are in black and white but still very generic enough to be used in just about any game. It's a great source to search everything from actions icons, health, potion, character skills, weapons, items. Best of all it's all in vector format.
10. Reiner's Tilesets (free)
Best free tileset site. The game assets on this site is well suited for games with isometric view, Reiner have sprites for animals, plants, buildings, weapons, visual effects and just about every general object to populate a RPG world. The style are more realistic, along the lines of diablo 2. It is a great place to start game development and test out RPG game engines as all assets are free.
http://www.reinerstilesets.de/en/