"Our success comes from our innovations. Our sustainability comes from our ability to reproduce them."
The role AI and machine learning play in game development is changing, and Ubisoft is eager to explore the possibilities that evolving tech introduces.
Speaking during DICE Summit 2019 today, Yves Jacquier, Ubisoft's executive director of production studios services, explored the future the company sees for AI in game development and shared some of its own applications of the technology.
Jacquier says that the very "nature of machine learning brings uncommon challenges," such as the speed at which the tech changes, the resources (like data, machine learning expertise, and usage) needed to work with machine learning, and unconventional regulations that crop up with emerging technology surrounding things like data ownership and privacy concerns.
There's also, with any evolving technology, a gap in interest between the academics and the companies that seek to apply the tech to their own work. Jacquier illustrated this lull in a simple graph during his talk, outlining that the academic world has the most love for new technology like AI during the theoretical research and development stages, but that love wanes as it approaches the prototyping stage.
Developers like Ubisoft, on the other hand, tend to become interested at that prototyping stage and become more enamored with the new technology on through the development of a final product. He says that this leaves a gap, "The Gap of Wasted Ideas," that Ubisoft bridges with its La Forge research and prototyping space.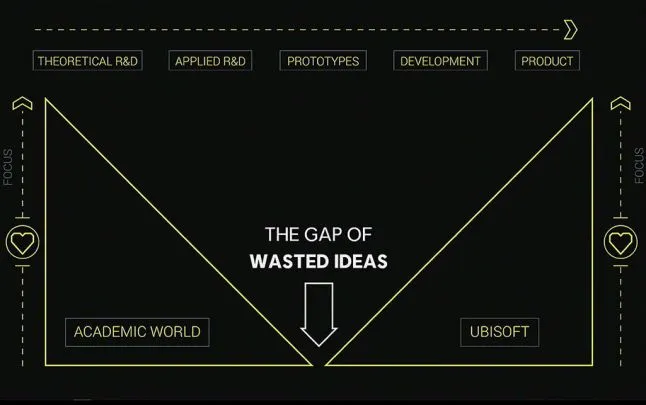 From crowd AI and believable traffic patterns to machine learning-driven systems that help programmers spot bugs as they submit code, Jacquier says that Ubisoft's work to integrate machine learning into its development process has led to a number of helpful changes across multiple disciplines.
For example, he showed off a machine learning-powered system that helps animators craft more organic walk cycles with significantly less legwork. He also showed a system that automatically matched lip movements of in-game characters to words being spoken based on a text document transcript, something that he says will someday be possible in real-time.
These same technologies, he says, have applications outside of game development as well. The animation system, for instance, could be used to diagnose issues that cause limps by using machine learning to compare a motion capture of a patient with a database of symptoms caused by different afflictions.
On the programming side, the AI that Ubisoft implemented last year to detect bugs in code, now called Clever Commit, now has a 70 percent success rate for predicting that a code submission contains bugs.
Jacquier also took the time to lightly announce a partnership between Ubisoft and Mozilla that sees each company dedicate five of their experts to work together on Clever Commit, with the shared objective of building better software.