Splitgate began its journey into open beta in 2019, but it was a streamer-driven surge in 2021 that transformed the game from indie arena shooter into online multiplayer juggernaut. Since then, the game has had over 10 million downloads and secured a $100 million investment to evolve its development.
After all that time, you might assume that the game had left Beta and fully launched, but it actually hasn't. Developer 1047 Games has kept adding new maps, new game modes, and a new leveling system, but that doesn't mean the game is ready for "prime time" just yet.
What does a live service game (especially one from a smaller team) need to do before formally hitting that "launch" button? Ian Proulx, CEO and co-founder of 1047 Games, was willing to share some nuts-and-bolts details of how developers can make the most of the live service model.
Proulx sorted the company's goals into four categories: making the game feature-complete, making it a "triple-A product," building servers that can handle "infinite scale," and assembling a team that can continuously produce content.
Overhauling maps instead of adding new ones
In Splitgate's most recent update, 1047 updated one of the maps that shipped in the game's first season: an underground ruin called "Abyss." "You could argue that from a live service product perspective, you would want to be adding new maps, not overhauling existing ones," Proulx pointed out. But he said that making this "trade-off" was one of the steps the team need to hit the "triple-A product" level it's targeting.
What does "triple-A" mean to Proulx? He described it as game elements like maps, guns, and user interface as being "polished" but also as also having a "unique look." Many features in Splitgate were developed by a smaller team, who use shortcuts and efficient production methods to get the game off the ground. As the company has scaled up, he said that it's taken time to look at existing content and ask "where can we improve?"
Abyss was the first map to get the overhauling treatment because from a gameplay perspective, "it's a fan favorite," Proulx explained. That meant the team could focus on doing an upgrade to the art and visuals of the map, knowing that the flow and design mostly held up.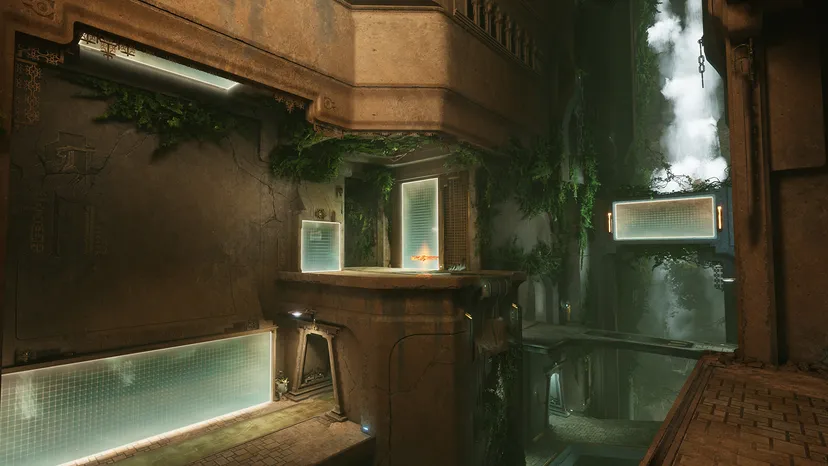 He did say that the team dove into the map's "pain points" as well, all with the goal of improving an arena that "people love playing on all the time."
Tackling these challenges in developing Splitgate covers both that notion of "triple-A polish" and trying to make sure the game is feature complete. But if you can make a game that people love playing all the time, you still need to be ready for when they come crashing down your door.
"Prepare for success."
As mentioned above, Splitgate's rise to 10 million downloads came in a summer surprise player growth. After the beta launched on consoles on July 13, 2021, 2 million players checked out the game in just two weeks.
It's a good problem to have for a small developer, but still a problem. "You have to be prepared for success," Proulx said when reflecting on that moment. "Much more success than you anticipated." He explained that initially, 1047 Games pegged Splitgate's growth using Among Us' multiplayer growth as guidance.
"It was very small, then it went from like, 300 players, to 3,000, to 7,000, to 70,000, to 400,000" he explained. "So they had five or six months to from zero to 100. For us, that all happened in one month."
In that time period, 1047 was forced to implement a server queue in order to manage the total player load.
The success was humbling, but it also highlighted for Proulx that "you can never count a game out." Splitgate's explosive success came after two-and-a-half years of nurturing a very small playerbase that "was not showing signs of growth or signs of life."
Before the console launch, 1047 apparently had plenty of data showing that there was something to the product. Retention numbers were ticking upward, reviews were phenomenal, it was a product that was just waiting for the big spark to bring tons of players in.
Proulx wants another spark like that to happen one day, but he wants to make sure the company "has its ducks in a row" before that day comes.
Content for the content gods

Splitgate struggled in 2021 with one key live service component that its competitors didn't have to worry about: the pace of content updates. Games like Fortnite, Apex Legends, Call of Duty: Warzone, and more ship regular content updates ranging from small balance tweaks to cosmetics packs, maps, characters, and special events.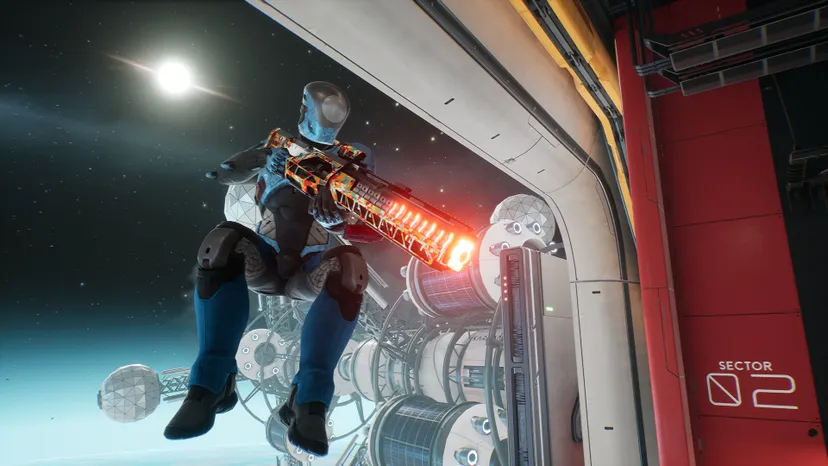 When describing the pace of additions to Splitgate, Proulx said that the team "isn't there yet." "We're getting a lot better," he observed. "But when we launched the console beta last July, we were a team of four engineers. Our top priority was putting out fires, not adding features."
At the time, 1047 was just 20 people. "20 amazing people," Proulx said. "But still 20 people trying to pump out content at the pace of a 1,000-person company."
As of our conversation, 1047 Games was up to 85 people, and Proulx said its goal is to get to 150 in order to meet the pace of content it wants to deliver. A season of Splitgate content currently last four months, Proulx wants to get it down to three months.
That velocity increase is important, Proulx says, because Splitgate doesn't benefit from some of the same gameplay traits as its battle royale competitors. "A battle royale is inherently not repetitive," he said, describing how players have a wider range of gameplay experiences when they enter a game in the battle royale genre.
But in arena shooters, games don't play that differently each time a player loads up a match. Sure, there are different game modes and maps, but as Proulx put it "it just means that all that stuff outside of the core gameplay is that much more important."
Where to after launch?
1047 Games is obviously hustling to get Splitgate out of beta, but what kinds of goals is the company eyeing as it moves past that point? There are plenty of options Proulx and his colleagues are considering, but he did say that developing the fiction of Splitgate is a high priority for the team.
A year ago, narrative was a "secondary" consideration for the 20-person team doing its best to focus on gameplay, but additional funding and player interest has driven the team to hire an in-house writer who's currently hashing out the worldbuilding with the game's art director.
"Everybody on the team is thinking this way," Proulx said. "How does this affect the art? The art style? The branding? The gameplay?" He hopes that as Splitgate goes forward, all of these elements continue to coalesce and make the game a more "cohesive package" for players.