Toolmaker and service provider Unity (which had a bit of a rough 2022 in terms of communicating with game developers) has released its 2023 Gaming Report; a now-annual deployment that often contains useful data combed from the thousands of developers making games using its tools.
This year, there's one major trend that hasn't appeared in reports from years past: according to Unity, indie developers working on the platform have shifted some of their business habits. They're releasing more games as a whole while while working fewer hours.
How are developers pulling that off? Attitudes against heavy crunch are definitely a factor, but Unity Create senior vice president and general manager Marc Whitten says there's another major business decision making this possible: indies are apparently targeting individual platforms when their game first launches, and not trying to get their game on all platforms right at launch.
More studios are making "one-year release plans"
According to Unity's data, 62 percent of indie developers and 58 percent of midsize studios are now making games "in less than a year," from start date on a project to ship date.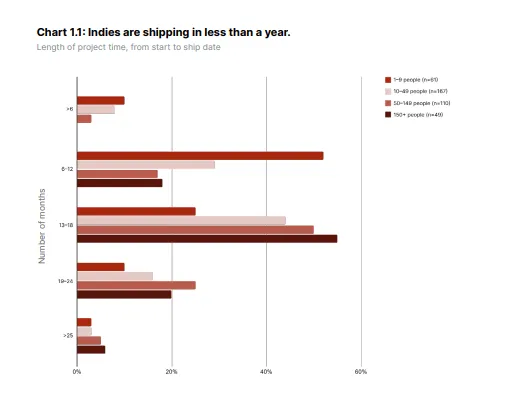 The company's data on "hours worked" is a little trickier to parse, since Unity uses the metric of "hours worked. Year-over-year, it's clear that mid-sized to middle market developers are reporting fewer hours worked in 2022 than in years past, with the company reporting a 1.2 percent decline of hours worked across "indie, mid-sized, and lower-midmarket" developers.
"Smaller studios have even more pressure to optimize resources and be as efficient as possible - especially in the face of our current macroeconomic conditions," Whitten observed. "That's why we're seeing many of them release games in under a year and usually launching on one platform."
It does appear that indie teams (consisting of 1-9 people) are reporting slightly more hours worked in 2022 than in years past, but it's not a significant increase. Unity's 1.2 percent decline is probably driven by reduced work hours among slightly larger developers.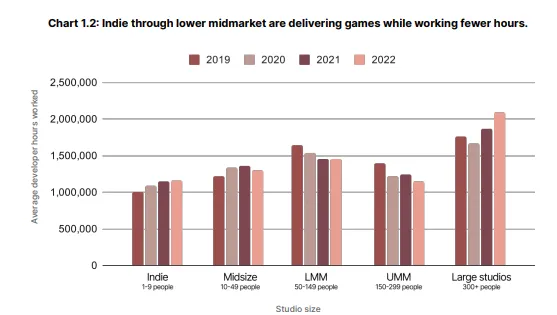 Unity talked up the use of pre-made assets like those found on the Unity Asset Store in its report, but there's also a key shipping strategy fueling those quick releases: nearly 90 percent of "small developers" reported that they're releasing their games on a single platform. 10 percent reported shipping on two platforms, and only .1 percent reported shipping on three platforms.
Additionally, 77 percent of indie studios (teams of 1-9 people) reported that they're choosing to ship games on desktop. Meanwhile mid-sized and larger studios expressed a higher preference for shipping on mobile devices.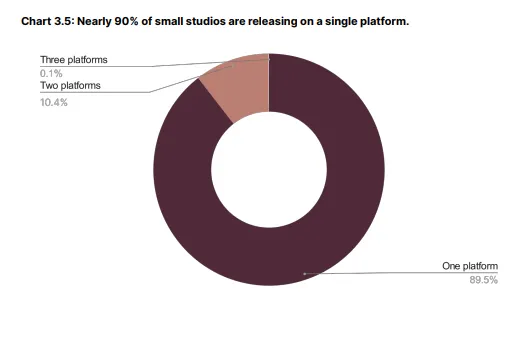 The speed and reduced timelines that smaller studios are operating on might be a sign of the impact that generative artificial intelligence tools (generative AI) might be about to have on the game development world. Some of the literal quotes from developers (like Soft Not Weak co-owner Réjon Taylor-Foster) discuss the need to complete weeks of work in a matter of hours.
Whitten said Unity is taking some of that energy into how it approaches generative AI tools in the coming year. "At Unity, our goal for AI is to help make devs wildly productive so game creation is less time-consuming and labor intensive and they can spend less time on mundane tasks and more on visual refinements, story and gameplay."
For more delicious data, including information on how games are attracting more players (but seeing a slight decline in "payers), you can find Unity's full report here.