How do you boot up a new triple-A studio -- and get a whole new team ready to create the latest sequel in a beloved franchise? That's been Rod Fergusson's job ever since he joined The Coalition, the studio behind the latest Gears of War.
Fergusson worked on all of the series' numbered installments at Epic Games; at The Coalition, he's taken on the role of studio director: "I have a director of production, and also a creative director, but what I'm bringing is the overall vision of what Gears is, was, is going to be, and driving that aspect of what Gears is going to be moving forward," he told Gamasutra recently in San Francisco.
The goal? Bring the franchise back "in an actual meaningful way." But how do you do that?
Turns out the idea he had was to turn a remake of the franchise's original game -- a so-called "Ultimate Edition" -- into a learning experience for the development team. In many ways, it's a true remake, not just an HD spit-shine: it features extensively redone graphics, new mo-cap, and new cinematics.
"When you look at this project for us, there are dual sides. There was this one side of it: 'What would he fans want us to do?' And there was this other side: 'As a new studio making Gears of War, how to best learn about that franchise than reverse engineer and dissect the original product, so that we can have a better understanding of it?'"
"One of the very first things I stood up and said is that you have to do it right before you do it different."
Fergusson describes the remake as "a teaching aid, in some respects" -- "'Oh, that's what they mean by cover distances,' and what they have to think about in terms of scripting, and all of those sorts of really low level aspects to what it means to make a Gears of War game."
"One of the very first things I stood up and said is that you have to do it right before you do it different."
How did the team arrive that what to focus on? "A lot of playing," says Fergusson, and discussion: "we went through, feature-by-feature, and talked about each thing."
These thoughts form a more general discussion, too, one he's been leading since the first day he arrived at the studio: "I stood up and talked about brand pillars and what the franchise means," Fergusson says. "But a lot of it was play through the franchise, play through the trilogy, and then it was let's focus on remaking Gears 1, and understanding what it took to do that, using the original simulation."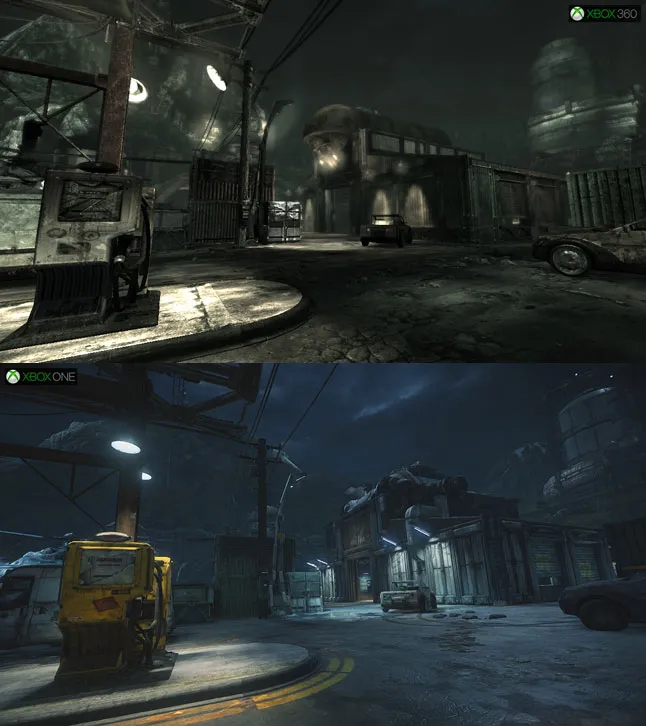 Comparison screenshot: The original above, Ultimate Edition below.
Says Fergusson, "The art direction changed to not be the completely desaturated game it was in the past, to be more contemporary."
"You can't stay and do the same formula over and over and over again."
But there's another challenge there, as the studio aims at developing Gears of War 4: "You can't stay and do the same formula over and over and over again," says Fergusson. "You have to find how you move forward in terms of a modern audience, and what the industry is looking at 10 years later."
When dealing with a beloved franchise, though, it's tricky: "I talk about it as sort of managing the betrayal of player expectations. If you don't betray their expectations, it's the same game and they've already played it before, and there's nothing new, so they don't really care. But if you betray their expectations too far, it's not the game they wanted, It's not more of that same experience that they wanted a little bit of. So you have to walk that line."
And when it comes to the series' fans, "if you show your respect to them, people will tag along for the ride." Fergusson has roped in some of the biggest fans as "sort of an advisory board to make sure we're making the right choices," in fact.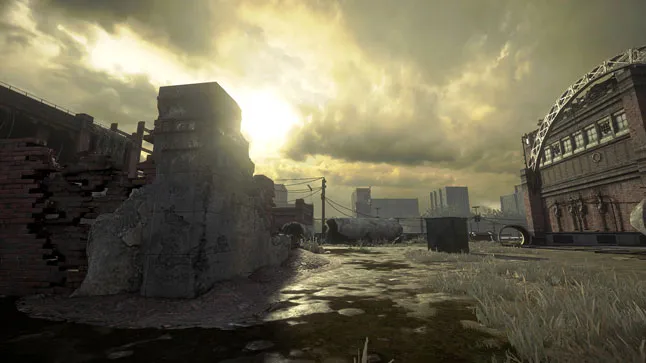 That philosophy also extends to what Fergusson tells his development team: "Rather than chasing some other game's audience, I made it really clear what we were going to do is what makes Gears, Gears."
The remake, then, "was meant as an onramp to the franchise coming back" both for the fan base and the development team.
"When I started in January [2014], we started from zero. We had nothing, in terms of what the next game was going to be. Going from nothing to a shipping game takes years," Fergusson says. "When we looked at what our choices were, we looked at what was the most impactful. And it felt like going back to the original and making it contemporary was the best way to do that."
"To be able to go and work on Gears of War, and have this playbook, a template by which you can say, 'I know what the rules are,' and learn them tangibly, put your hands on it, it was a great jump ahead for us."