Digital Foundry has posted an extensive technical breakdown of Microsoft's all-powerful Xbox One, Project Scorpio, over on Eurogamer.
It means we finally know what'll be powering the turbo-charged device, and should give you some idea as to how much bang you'll get for your buck when it finally hits shelves.
For starters, the system hits the six-teraflop target Microsoft was so eager to chatter about at last year's E3. What does that mean? More power from a custom GPU designed to optimize the performance of today's game engines.
That GPU us joined by 12GB of GDDR5 memory -- that's 4GB more than the original Xbox One boasts -- and a custom eight-core CPU clocked at 2.3GHz. A 2.5-inch, 1TB hard drive and a 4K ultra-HD Blu-ray optical drive are also being smuggled in to ensure Scorpio owners will have plenty of storage space, and the ability to play the latest 4K releases.
There's no word on what the console actually looks like, but Digital Foundry tells us those high-powered innards are housed in a "compact body with integrated power supply and, for a console, state-of-the-art cooling."
As for how the device actually performs, Digital Foundry seem suitably impressed by what Microsoft showed, waxing lyrical about a Forza Motorsport demo that was running at native 4K and 60 frames per second on Xbox One equivalent settings.
You can see how the Scorpio stacks up against the Xbox One and PlayStation 4 Pro by checking out the comparison chart below - lovingly created by the folks over at Eurogamer and Digital Foundry.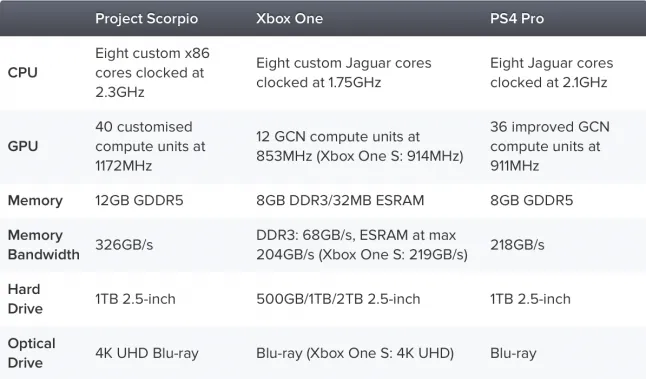 We'll have more to publish on the topic right here on Gamasutra next week, so make sure you come back then. But for the time being, be sure to check out Digital Foundry's full breakdown for in-depth design commentary from the Scorpio dev team.