One of the games I got to play at Tokyo Game Show this year was Shadow Shooter, an AR archery experience that uses a real bow with a projector mounted to its front as a controller.
"It's a horror shooting game," says the game's creator Masasuke Yasumoto. "I call the standalone AR device Electric Bow 3D. It transforms any room into a game space. Played in the dark, it's as though you have a flashlight illuminating only the direction in which the bow is pointing. The player's goal is to find and attack enemies closing in on them from all 360 degrees of direction."
As someone who enjoys archery, being able to use my rusty bowmanship skills to take down target after target in rapid succession was incredibly satisfying.
Yasumoto is a professor at the Kanagawa Institute of Technology, where he works in the Informatics, Information Media department and specializes in interactive art. Before taking up that position in April of last year, he worked at the Tokyo Institute of Technology. He first began developing games while pursuing a doctorate in Film Studies at the Tokyo Institute of the Arts.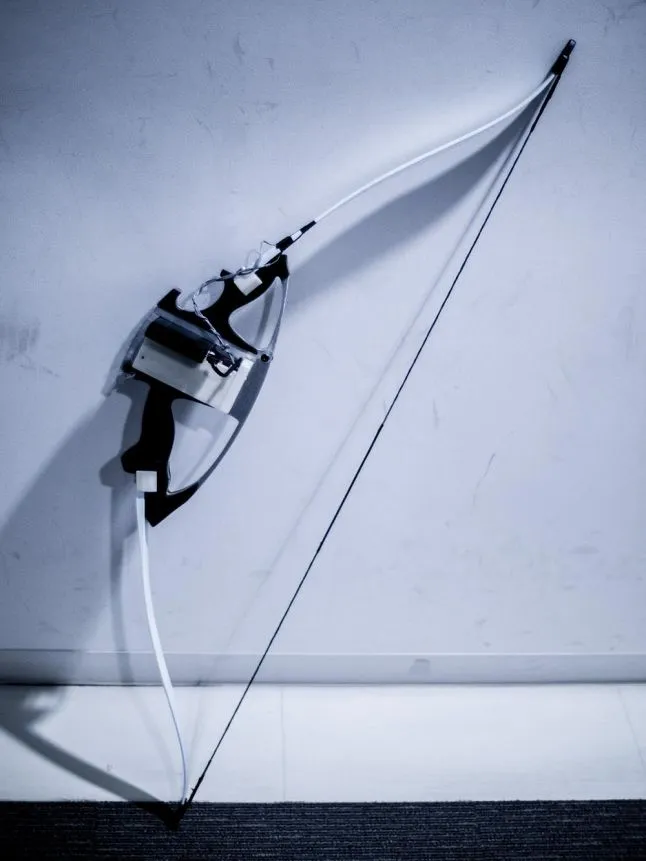 The Electric Bow 3D controller used for Shadow Shooter is actually Yasumoto's second controller using a real bow. The first, which he called the Electric Bow Interface, used a Japanese bow with sensors attached which transmitted information to an external PC. The game made to go with it, The Light Shooter, was projected onto a standard screen.
"It was a simple game that used a projector to put white dots and lines on a black background using a single screen with biological motion as input," says Yasumoto. "The Electric Bow Interface was capable of working with a full range of motion, but the single screen forcing the player to look only forward was incredibly frustrating. So I developed a new interface that allowed for projection in all directions and Shadow Shooter, a new game to go with it."
The Light Shooter was shown at Tokyo Game Show and Sense of Wonder Night in 2012, but Yasumoto was already thinking ahead to how he could improve the experience. He began construction of the Electric Bow 3D in 2013, and by the time he had the first prototype working in 2014, Shadow Shooter was in development to go with it.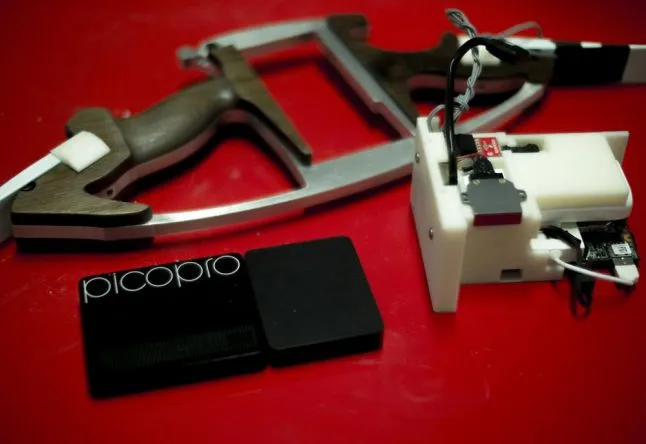 "Many of the parts are goods on the market, but the electric circuits on the strain gauges for telling how far back the bowstring has been pulled are custom made," says Yasumoto. "All of the electronics are also embedded in the bow's grip, so the aluminum and walnut had to be shaved down. The parts needed to affix the electronics to the grip were created using a 3d printer."
Releasing a bowstring with no arrow nocked sends a bigger shock through the handle, which was one of the biggest challenges Yasumoto faced in development. "I had a lot of problems with the shock impacting the internal electronics of the sensors and causing them to break or give incorrect readings," he says. Another big challenge he mentions is that the computer embedded in the grip had more trouble with framerate and graphics shaders than he anticipated. Even so, he enjoyed the process of designing and modifying the controller, making it more appealing to use and look at.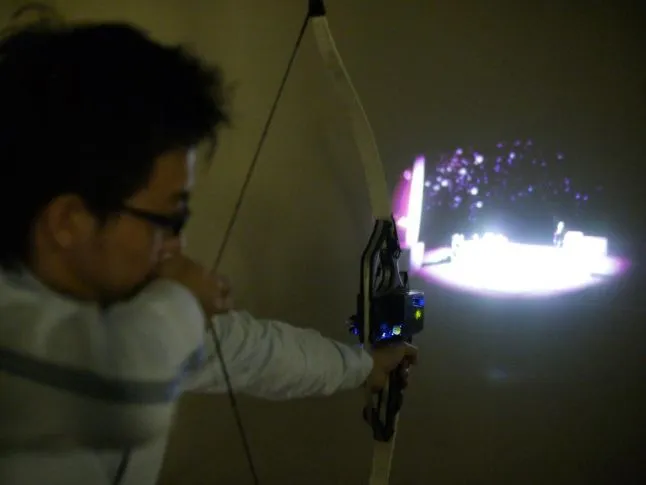 "By far the most common feedback is that it's like really shooting a bow," Yasumoto says. "Unfortunately, there have been times where I had to show it in a brightly lit area instead of in the dark, and when that happens people say they'd love to try it in the dark. And then some people are surprised by the feel and weight of the bow, saying things like, 'I didn't know bows were so heavy,' or expressing surprise at the shock [when the bow is fired].
Going forward, Yasumoto wants to make the game more immersive, and says it's actually come quite far since TGS. "Next I want to make it recognize player movement so they can do things like move freely around the room and duck behind cover," he says. "Allowing for multiple players and NPCs to mix together and engage in battles is another goal. Instead of head-mounted VR displays, I'd like to see more sports-like experiences, with players using the full power of their bodies in virtual worlds."
Note: This interview was originally conducted in Japanese.