Virtual Worlds 2007, the first conference devoted to understanding the future of marketing and media, kicked off March 28 – 29 in New York City. The sold-out event brought together about 600 futurists, journalists, metaverse and marketing consultants, platform and content developers, as well as representatives of Fortune 500 companies.
The environment was similar to the first Serious Games Summit, D.C., a mixture of confusion and wonder. Those inexperienced with 3D social environments like Second Life struggled to learn about the potential in virtual worlds while others heralded its future impact, noting that the millennium generation had effortlessly transitioned into digital avatars.
Along with allusions to Neal Stephenson's book, Snow Crash and The Matrix, debates raged about appropriate metrics for return on investment, whether marketers should target the avatar, the alter ego, or the person behind the avatar, and the educational aspects of virtual worlds.
In addition to many panels, case studies on the Sundance Film Channel, the Centers for Disease Control, and Pontiac showed how different companies used virtual worlds to promote their brand. Jeffrey Yapp, EVP of MTV Networks, along with Matt Bostwick and Steve Youngwood, provided Wednesday's keynote while Colin Parris, VP of Digital Convergence, delivered the keynote on Thursday.
Keynote – Viacom's MTV Networks and Nickelodeon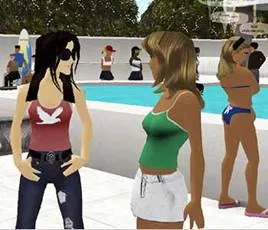 MTV Networks' Virtual Laguna Beach
MTV Networks' Executive Vice President Jeffrey Yapp leads the business development team for MTV Networks Music/Logo Group, extending the MTV, VH1, CMT and Logo brands into new platforms.
During the keynote, Yapp discussed the company's strategy to allow viewers to "live the programming" and become stars in virtual worlds like Virtual Laguna Beach, Virtual Hills, and the upcoming Virtual Pimp My Ride.
Matt Bostwick, Senior Vice President for Franchise Development at MTV Music Group, further elaborated on what MTV called '4DTV,' the combination of a 3D social environment and TV. The virtual worlds are cross-promoted on the TV shows, with VJ's seamlessly moving from real life to their respective avatars in the digital world.
The mainstream audience, 80% female and corresponding with the TV shows' demographic, has embraced MTV's virtual worlds. 64% of users come back multiple times to view new content, chat, buy virtual items, play games, and socialize. Companies like Cingular, Pepsi, and Secret have gotten this audience to interact with their brands.
For example, around 6000 avatars bought over 11,000 cans of virtual Pepsi from Pepsi soda machines in Virtual Laguna Beach. Cingular has a branded telephone in-world and Secret built a special Secret Confessional Room. Bostwick stressed that 4DTV would play a critical role in encouraging mainstream audiences to visit virtual worlds. In the future, all three properties, Virtual Laguna Beach, Virtual Hills, and Virtual Pimp My Ride, will be connected by virtual superhighway.
---
A nine-year Nickelodeon veteran, Steve Youngwood is the Executive Vice President of Digital Media at Nickelodeon and MTVN Kids and Family Group, representing the 'non-hot tub' wing of MTV Networks.
In his role, the executive oversees MTVN Kids and Family Group brands' expansion across current and future digital platforms, as well as manages the brand's online initiatives. During his keynote address, Youngwood advised that virtual worlds should be a social, user-driven experience with professionally created content.
While they do not have to be 3D, they do need a governing order and logic to feel 'real' and ideally, they should be user-friendly enough for anyone to pick up and play.
Launched January 30, 2007, Nickelodeon's virtual world, Nicktropolis, where kids can go visit SpongeBob, watch videos, create avatars, and play games, follows such guidelines. It currently has 2.5 million registered unique visitors. Future plans include viewing parties, scavenger hunts, and in-world gaming, all activities intended to give deeper, more fulfilling experiences.
Steve Youngwood On Nicktropolis' Origins & Future Goals
What prompted Nickelodeon to create Nicktropolis?
We acquired one of the stickiest sites out there in 2005 - Neopets. Neopets has a proven successful business model. We thought we could do the same with a site that would be branded Nickelodeon, and allow kids the opportunity to have a personalized experience, gaming, community and video all in one place.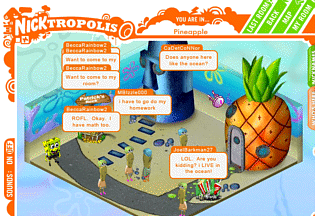 Nickelodeon's Nicktropolis
Of all the activities available on Nicktropolis, which ones appeal to your audience the most?
Gaming by far is the most appeal to kids. More than 85% are gaming online. We have seen, through our new game of the week each week on Nick.com, the numbers shoot up in terms of usage, so we wanted to make that a prevalent feature in Nicktropolis.
Nicktropolis, and the original world Neopets, is pretty much a gaming experience altogether, but incorporates other facets of the Internet experience that kids enjoy.
Are there plans to monetize Nicktropolis or is its function mostly to promote Nickelodeon's other offerings?
Yes, there are absolutely plans to monetize Nicktropolis. We are working with our partners to figure out the most appropriate way to insert advertising into the site that will not take away from the user experience yet still provide marketers the most value.
And as a bonus, with the video capabilities, gaming and community, the site is a terrific way to promote the brand and our various properties.
---
Keynote – Colin J. Parris, VP, Digital Convergence, IBM Research
Whereas MTV Networks' keynote focused on consumer engagement in virtual worlds and how advertisers might benefit, Colin Parris was more interested in business uses for virtual worlds.
Citing open source communities as an example of collaboration across borders, he found that virtual worlds likewise foster an environment of large-scale collaboration, thus leading to more innovation. Accelerating this collaboration would have a large impact on society and business.
In addition, immersion in an experience-rich environment could lead to faster learning outcomes for individuals and teams. Complex data could be visualized within a virtual world and depicted in real-world verisimilitude. Not only could virtual worlds aid in remote learning, but perhaps they could increase productivity, revenue, and profit.
But to reach this new horizon, more advances are needed. Parris called upon the community to improve the user experience (with easier-to-use interfaces, more robust systems, improved graphics, and better tools), manage trust and identity issues in regards to privacy, security, and griefing, and to integrate virtual worlds together and to the web to foster widespread adoption and innovation. In this way, more business and societal applications would be likely to be developed.
Panel: Integrated Marketing – Merging Virtual Activities with Real World Activities
As was shown in a case study on Centers for Disease Control (CDC) in Whyville and Second Life, virtual world activities can correspond with real-world actions. The CDC sought to educate children about the benefits of getting a flu shot.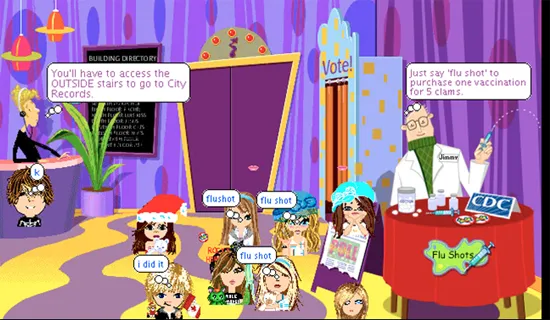 Whyville Users Getting Inoculated For The Virtual Bug
In Whyville, random avatars were infected with a bug that turned some chat words into *achoo*'s. The bug was easily spread through virtual contact and the avatars soon learned that they needed to get a virtual flu shot to get rid of it.
Likewise, the American Cancer Society hoped to get a real-world message across in 2005 when it held its first Relay for Life on Second Life. Randall Moss, Manager of Futuring and Innovation Center, who ran the effort at the time, admitted he wasn't sure it would work. The race was devised by volunteers and had $0 overhead.
Yet, it raised 4200 in Linden dollars and had growing enthusiasm. In 2006, a Special Edition Pink Dominus Shadow car was created by volunteers for the winner of the race. Compared to 2005, when nothing was expected, 2007 has a fundraising goal of $75K and the race is expected to cross 30 regions, the equivalent of 480 acres.
---
One of the more interesting examples of cross-world promotion is Virtual Magic Kingdom (VMK). VMK, originally conceived as part Disneyland's 50th anniversary celebration, was found to be so successful that nearly two years and over two million characters later, it remains a popular destination for teens and tweens.
Each avatar receives a guest room and the kids have proven to be very creative. They have baseball leagues even though there's no way to swing a bat in-world! Roger Holzberg, VP/Creative Director of Walt Disney Parks and Resorts, warns that one has to be open to brand mixing when kids are allowed to build their own rooms with any virtual items they desire.
These items can be gotten in-world, but the most valuable items are from outside VMK. One pair of virtual green flip-flops eventually sold on eBay for $1020. Through various quests, the activities on VMK integrate with those in the theme parks.
Roger Holzberg Reaches Out With Virtual Magic Kingdom
What was the impetus for creating Virtual Magic Kingdom?
Virtual Magic Kingdom (VMK) came out of a desire to extend our brand relevancy into the teen/tween market. Traditionally, the Disney brand begins to fall off for boys at about 9 or 10 years old and girls a bit older. Those older kids tend to be attracted to our diverse and exciting theme park products once they know what's available to them, but until VMK we had no real channel to talk to them. Tweens don't really watch TV commercials or read print ads; their channel of choice is the internet.
Now we have them playing in our brand, playing in a world that they think is cool, for over 80 minutes per day on average. As a parent of two teenagers, I like to say "teens and tweens don't usually determine where a family takes a vacation, but they definitely determine where a family does not take one," and that's where VMK comes in. The majority of our players tell us that due to playing VMK, they are more likely to go to a Disney theme park.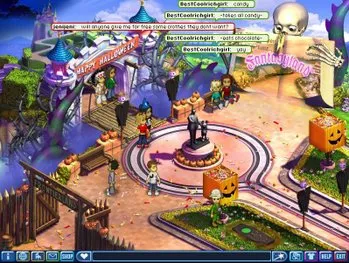 Disney's Virtual Magic Kingdom
How does Disney merge virtual activities with real-world activities?
For us, VMK is a larger play cycle than just an online game. Guests can play VMK for free online, then get excited about our theme parks. Once they're at Disneyland or Disney World, we can give them free rewards to use when they go home to the game, where they can show off their exclusive virtual items only available at the parks. Our goal is to drive guests from our virtual world to our real theme parks and back again.
We have a number of different types of quests, some of which are completely online, some completely in-park, and some that bridge the two. The highest conversion rates are on our web 1uests, which begin in the game and extend out into other websites; our completion rate on many of these exceeds 90%.
We also have quests that can be printed at home then played and redeemed in our theme parks, as well as quests that are completely in-park. As a reward for completing quests in-park, we give guests real-world trading cards with codes to redeem for VMK virtual rewards.
We keep the content and format of these varied, from single-attraction quests that entertain guests while they're in-queue to quests that span entire lands and even multiple theme parks. Families typically play more than one quest at a time, with the whole family participating in answering questions.
What was VMK's strategy to reach the tween market?
Our senior brand leaders at Disney allowed us to be "market" vs. "marketing" driven - and really let us build the world for our targeted audience. Tweens told us they didn't want the "Fab 5" (Mickey, Minnie, etc.) characters in VMK, so they aren't there; they told us "no parades", so there are none.
We launched with a threshold of entertainment and games, diverse interactive versions of classic attractions like Pirates (as a multi-player battle game), Jungle Cruise (a photo safari) and Haunted Mansion (a ghost catching game), then gave players the ability to build out their own rooms, spaces, and rides with props and items bought (with free credits) or acquired through quests or promotions.
Conclusion
All warned that virtual worlds were just beginning, but that with research coming from groups like the First Opinions Panel in Second Life, the first focus group of Second Life avatars, marketers would soon understand strategies for linking their brands to interactive experiences.
In the meantime, 3D social environments like Virtual Laguna Beach continue to encourage more and more users to become daily visitors or residents. As these virtual worlds become more prevalent, perhaps then would there be more business applications. For the speakers, the vision of the future seemed bright and the audience, for its part, seemed intrigued.