[This unedited press release is made available courtesy of Game Developer and its partnership with notable game PR-related resource Games Press]
Berlin et Séoul, le 12 novembre 2021 – Summoners War: Lost Centuria s'offre une nouvelle mise à jour ! Le RPG mobile compétitif introduit un nouveau personnage, Mu Shu, mais aussi de nombreux équilibrages pour les monstres, sorts et pierres de compétences. Com2uS profite de l'occasion pour donner les résultats du Lost Centuria World Championship, le tournoi mondial qui s'est achevé le 7 novembre dernier par la victoire du coréen Happy sur le français MonkeyDLuffy.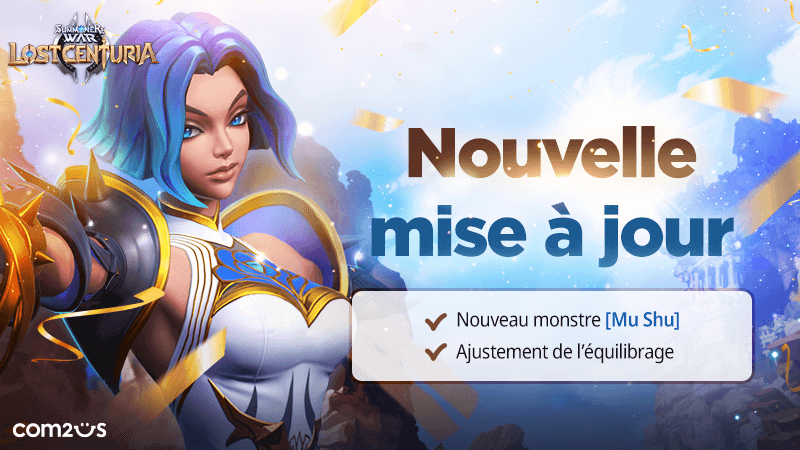 Nouvelle mise à jour
Mu Shu fait son apparition dans cette nouvelle update : ce Héros d'attribut Eau charge l'ennemi en première ligne avec La vie en Rose, une ruée qui bloque ses effets bénéfiques. En plus des dégâts considérables qu'elle inflige, cette attaque répartit les effets nocifs sur l'ensemble de l'équipe ennemie à la mort de sa cible. Côté équilibrage, les principaux bénéficiaires de la mise à jour sont Poseidon et ses tsunamis, Soha la voleuse d'esprit et le Teddy Spell de Nicki, qui affecte l'ensemble des lignes arrières de l'adversaire.
Résultat du Lost Centuria World Championship
Ce grand tournoi s'est achevé le 7 novembre sur la victoire sans appel du coréen Happy, 4 à 0 contre le français MonkeyDLuffy qui faisait partie des 3 européens qualifiés pour les quarts de finale. Happy remporte les 20 000 dollars promis au meilleur invocateur, tandis que le vice-champion du monde repart avec une récompense de 5000 dollars. L'ensemble du tournoi s'est déroulé en ligne compte tenu de la pandémie de Covid-19 : il a été retransmis en direct sur la chaîne Youtube officielle du jeu dans pas moins de sept langues différentes. Revivez cet événement d'envergure dans son intégralité à cette adresse.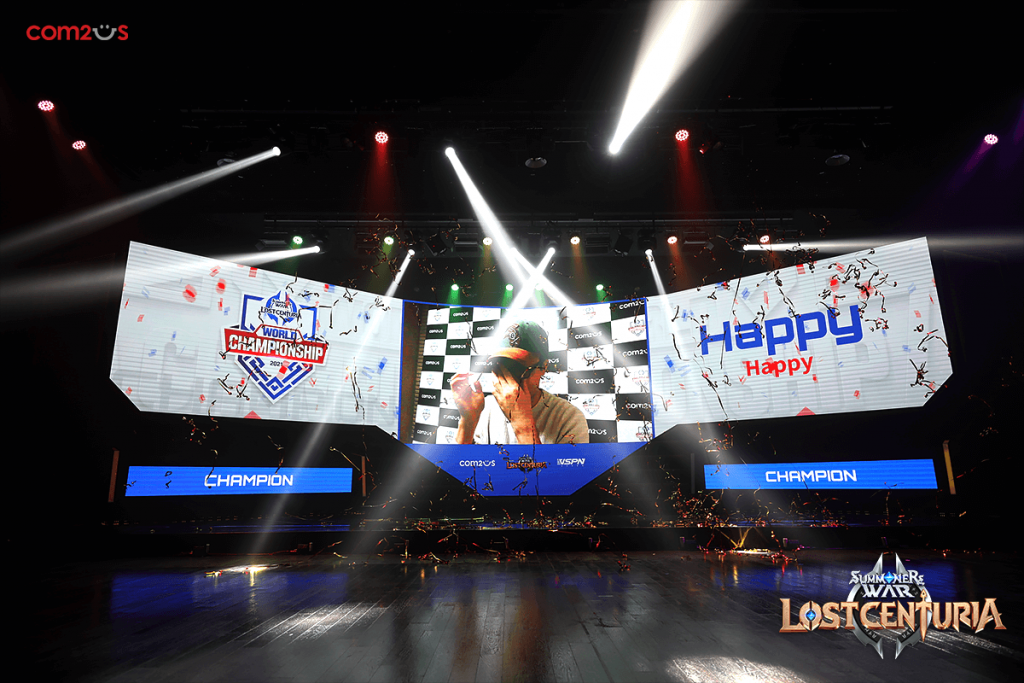 Toutes les informations sur Summoners War: Lost Centuria sont sur Instagram, Facebook et YouTube.