In our latest in-depth Gamasutra feature, Microsoft Game Studios user research expert Bruce Phillips
looks at a simple but vital problem
- why people stop playing games, and what feedback we can give them to encourage them to continue. Phillips notes that, despite common attempts to balance difficulty for a wide range of audiences, players will still experience failure -- and negative feedback doesn't just lose players, it creates detractors. How serious is the quitting issue? In the following table, percent completion is found by dividing each player's Gamerscore by the total possible Gamerscore for the title; those numbers are then averaged. The table below shows the average Gamerscore completion for each of the top 13 Xbox Live games for 2008. The data was drawn from about 14,000 players that Microsoft surveys regularly. As you can see, even the games with the highest achievement completion rates (
Fable II
and
Call of Duty 4
) had players who, on average, attained less than half the possible Gamerscore. Phillips comments that this particular cross-section of Xbox 360 players tends to be more hardcore than the average player, and he would expect the actual completion rates for the entire population to be lower than the numbers recorded here.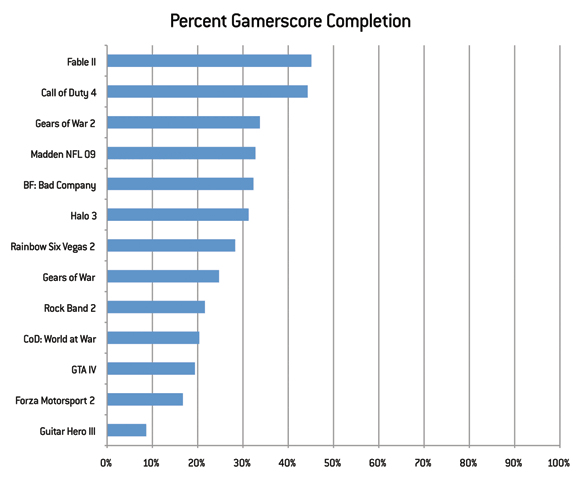 Of course, the Gamerscore tells only part of the story. Players could finish a game and do little else, resulting in a low Gamerscore but high completion rates. However, most games award achievement points for completing the single-player campaign. In this next table provided by Microsoft, the bar graphs show how many players earned a campaign completion achievement -- in other words, finished the game -- for the titles listed.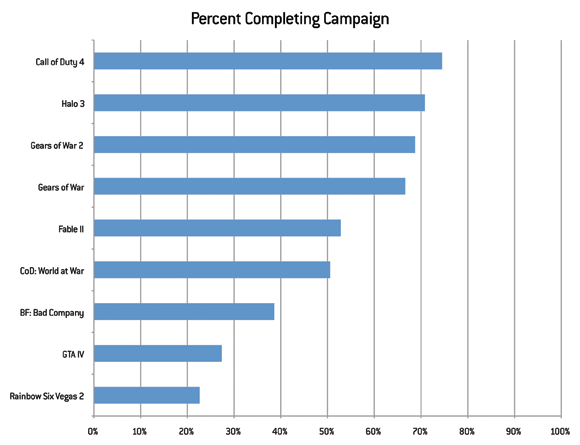 This shows how many players finished a sample of the games listed in the first table as determined by whether they earned a campaign completion achievement (on any difficulty). For even the most popular games on Xbox Live last year, about 30 percent of our cross-section of players didn't play to the end. Players don't finish games for many reasons, Phillips notes, but no matter what explanations arise, it's also likely that a significant number of players stopped out of frustration. What leads some people to persevere after experiencing failure and others to give up? Why do some people anticipate eventual success where others only see continued failure? The
full Gamasutra feature
from Phillips explores the issue in much more depth, and offers design-oriented ideas to help address it.