Edmonton-based game developer Beamdog has grown identifiable in the last few years by its dedicated efforts to port '90s role-playing games like PlaneScape: Torment and Baldur's Gate to modern platforms. Not only has it worked on updated versions of classic games from companies like BioWare, it was founded by and employs a number of ex-BioWare developers on its games, giving the studio a reputation for being a bastion of old-school roleplaying games.
This week, that changes. The company has announced that it's working on MythForce, and original game set in a fantasy world with a "Saturday morning cartoon" aesthetic. But while the game's visual sensibilities are a little retro, its ambitions show that the company has been evolving with the modern world of game development as well.
If you've played co-op PvE games in the last few years like Back 4 Blood, Warhammer: Vermintide, or Deep Rock Galactic, you might be surprised to hear that Beamdog wants to work in the same space. In MythForce, players pick one of several unique characters and set off on a first-person dungeon crawl through procedurally-generated environments. Each run offers different loot, different encounters, and gives players the chance to experiment with different builds and strategies.
It's releasing in Early Access on the Epic Games Store with only a single dungeon, but at GDC 2022 the team showed us that they've built a very solid foundation for the game's development. Chief operating officer Kael Nicholson and game director Luke Rideout told us MythForce is made for players who use games to socialize with each other. Whether it's parents and kids, or far-flung friend groups who can only meet online one night a week, MythForce has a specific market in mind.
Watching Beamdog make this kind of shift is a fascinating moment in watching a studio grow, not only because it's an evolution in genre, but because it shows how modern game sensibilities matter to veteran developers. Nicholson and Rideout had plenty to offer on the company's journey, and give context for why the team jumped into this genre.
Making an "in-between game."
With backgrounds at many single-player game studios, you'd think Beamdog's debut into an original IP would be a CRPG like the Baldur's Gate series it's so familiar with. But Nicholson and Rideout explained that while the studio has a love for the genre, it wasn't the kind of game they wanted to play on their own.
Classic CRPGs are deep, solo experiences that have been overshadowed by stiff competition and are more difficult to make time for when you have a family and full-time job. Nicholson explained that the Beamdog team has plenty of young parents, like CTO Cameron "Cam" Tofer, who wanted games to play with their kids that weren't Roblox.
So even though MythForce has a bit of retro-minded sensibility in its DNA (Nicholson referenced '90s hack-and-slash first-person dungeon-crawling games as an inspiration), the idea of drop-in, drop-out multiplayer strongly appealed to the team.
The Saturday morning cartoon aesthetic was inspired by the many elder millennials on the team who grew up as fans of He-Man and Thundercats, but there was still an aim to make sure its cartoony look could appeal to modern kids too. Rideout and Nicholson mentioned scrapping "capitalist kitsch" ideas like having the hero characters be toys on a shelf, or ad breaks between dungeons.
"We didn't want to be too 'inside baseball,'" Nicholson admitted. "We didn't want to exclude the kids from the fantasy."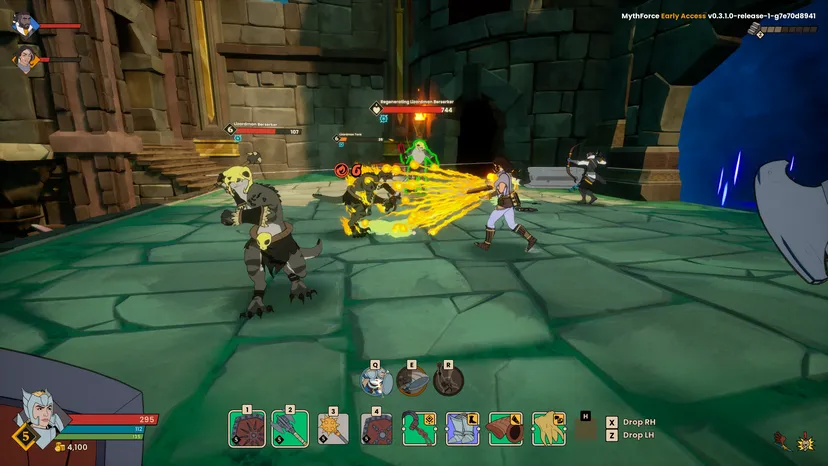 We did quiz Nicholson and Rideout about the possibility that the 1980s might be a bit overrepresented in games and media right now. "A lot of media that references the 1980s...end up being parody or satire," Rideout said "or they'll really update it to be super modern sensibilities, like the new She-Ra show on Netflix."
"We're trying to take the best parts of things that are worth the nostalgia of the 1980s. It's been about gathering, and capturing that aesthetic and trying to be as reverent as possible."
Nicholson made one interesting comment that seemed to strike out how specific a business model the team was working for. He said that the team wanted to make something of an "in-between game." "The kind of game you play when you're not playing Elden Ring," he joked.
He made a comment that MythForce is supposed to be the kind of game that players keep "permanently installed" on their machines for casual pickup games with their friends. He pitched the idea of tuning the game for players who could do 20-40 minute sessions, make a little progress, then turn around and change their kids' diapers.
Learning to integrate community feedback
As an Early Access game, Beamdog is making the promise to players that by playing the game early, they'll have a chance to hone the game's experience and tell the company want they want to play more of.
But when your game is a bit of a genre pastiche, and the goal is to let players do casual drop-out sessions, what strategy should developers take in leveraging that community feedback?
Nicholson did say that the team wants to expand the story and worldbuilding with in-game and out-of-game elements, but brand manager Maria Louie was able to speak specifically about Beamdog's live development plans. "The visuals...[are] very different, they're unique," she explained. She sees MythForce as a game that appeals to a broad audience, and the audience feedback process can be what makes players into returning, dedicated customers.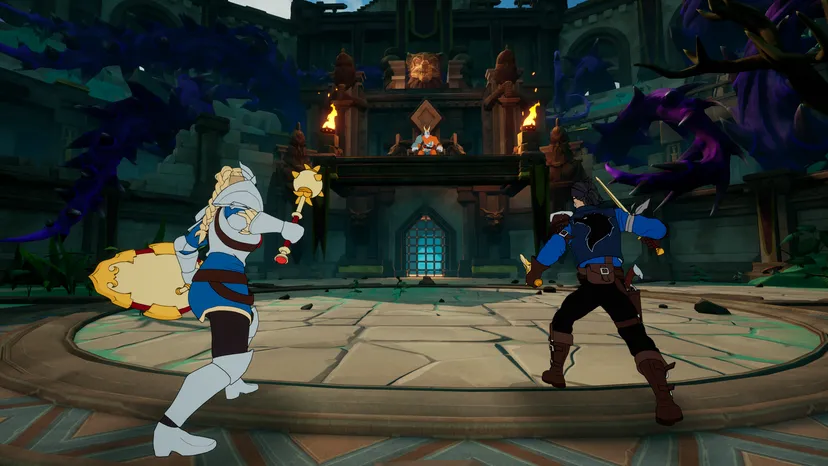 "We want to build some loyalty, build communication pipelines, and make sure that we're able to service that [feedback] a little bit too," she said, rattling off questions the team wants to ask players like "what weapons do you love?" and "what do you want to see for your next character?"
Community development is fresh territory for Beamdog, and Nicholson explained the team still has a "core path" it wants to follow through development. "We're going to have to filter feedback in an intelligent way," he said. "Some of it's going to be pain points that aren't problems, but are indicative of other problems," he pointed out.
It's new territory for Beamdog, but it's exciting to see the studio make that kind of leap. With MythForce's Early Access journey soon underway, it'll be neat to see where the studio goes from here, and what pivots it will have to make along the way.