[
GamerBytes editor Ryan Langley examines July 2010's PlayStation Network debuts and continuing successes, including charts and leaderboard data, to find out which digital PSN titles for PlayStation 3 and PSP are faring well as 2010 progresses.
] While the Xbox Live Arcade began its Summer of Arcade and we
analyzed the impressive results
, the PlayStation Network kept it a little low-key by comparison. Along the way, we had some quality PSN releases like
DeathSpank, Monkey Island 2
and
Earthworm Jim
, but the PlayStation Store's line-up wasn't driven by exclusive titles in the same way Microsoft's was during July 2010. So, although we're lacking a little data, we're looking at the recent Leaderboard stats for some of these titles, checking out what was on sale, and analyzing how older titles have been selling over the past month.
Spanking Good Time
Of the five new PSN releases during July 2010, we were only able to follow two of them:
DeathSpank
and
Earthworm Jim HD
.
Monkey Island 2: LeChuck's Revenge
has Leaderboards, but only shows the Top 1,000 players, which which is perhaps a little pointless for our purposes. The two games we could follow were Interplay's re-release of Shiny's
Earthworm Jim HD
and Hothead's
DeathSpank
.
DeathSpank
was released halfway through the month, and debuted alongside the Xbox Live Arcade version. Over on XBLA, the game added 62,638 players during the month. and the PSN version received 52,185 in the same time frame. This is great news -- over 100,000 people bought the game in just two weeks, which seems like good initial success for Hothead Games.
Earthworm Jim HD
on the other hand was quite low, but it was also only released in Europe at the time. During that time, 6,512 people played the game. (It was delayed a week in America into August. So we should expect to see it again next month in the 'new release' charts.)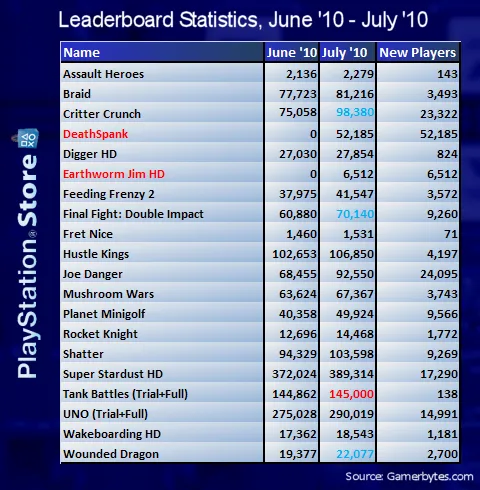 [NOTE: Red in 'Name' is a new release, blue in 'July '10' is game on sale or free on PlayStation+, red in 'July '10' has reached its numerical limit on Leaderboards.]
June 2010's two notable debut titles of
Joe Danger
and
Planet Minigolf
have both continued to do quite well in their second month, with the acclaimed
Joe Danger
nearly grabbing 100,000 players in total. Unfortunately we will no longer be able to follow
Tank Battles
by Gameloft -- we seem to have hit the limit of players for a level, so it won't go above 145,000 -- including trials and full games. Also I'd like to throw out my congratulations to Sidhe Interactive, who according to their Leaderboards have hit over 100,000 players for
Shatter
.
Deals, Sales and PlayStation Plus
Some updates to older titles this month as well --
Final Fight: Double Impact
picked up nearly 10,000 new players after being made half price for a little while in Europe.
Critter Crunch
saw a hefty 23,322 new players -- but this will be due to it becoming the new free title on the PlayStation Plus plan in the United States. The previous month only added 2,000 new players, so this gives us a little insight as to how well the PS+ service is doing.
Next Month
It's currently a strong month for PSN in August --
Scott Pilgrim, Shank
and
Castle Crashers
hit the store. Due to Leaderboard contraints, we're not sure how many of them we can follow, but we'll do our best.