[How have downloadable PS1 titles fared in Sony's PS3 PlayStation Store? Gamasutra's Matt Matthews reached out to Sony and came away with an exclusive top ten of titles to date, with some surprising results.]
Among the software that Sony offers on the U.S. PlayStation Store for the PlayStation 3 are about 30 titles which originally appeared on Sony's first PlayStation console. These games are generally playable on both the PlayStation 3 and PlayStation Portable and range in price from $6 to $10. All of PS1 titles on the PlayStation Store to date have been published by Sony Computer Entertainment America (SCEA). Even games like
Castlevania: Symphony of the Night
, originally published by Konami, were published on the Store by SCEA. With Capcom expressing interest in bringing more of its PS1 catalog to the PlayStation Store, I thought it would be helpful to see which classic games have sold well so far. Sony graciously provided me with the top selling PS1 games since the PlayStation Store launched in 2006, as follows: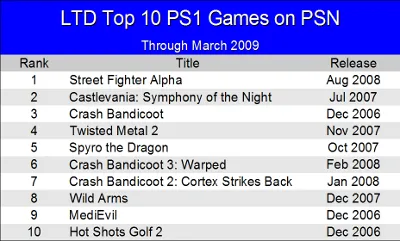 Having seen this list, it becomes a bit more clear why Capcom is eager to get more of its games on the Store. Even though its
Street Fighter Alpha
has only been available for only seven months, it is already the best-selling PS1 game on the service. The second and third Crash Bandicoot games are the only other games from 2008 which made the top 10, but each has has been available for nearly twice as long as SFA. Another popular third-party title,
Castlevania: Symphony of the Night
, took the #2 spot in the top 10. The lesser-known
Castlevania Chronicles
, originally by Konami but published on the PlayStation Store by SCEA in December 2008, did not make this top 10. Fans have long hoped that Konami would release the seminal
Metal Gear Solid
as a download on the store, but Konami has been content to release it only in its home territory of Japan. All other titles in the top 10 are games originally published by Sony. Some notable third-party titles available on the PlayStation Store that didn't make it into the top 10 are
Tekken 2
(originally published by Namco) and
Rayman
(originally published by UbiSoft). So far in 2009, no PS1 games have been released on the PlayStation Store, although there have been assurances from Sony that more are coming.