[
As part of our exclusive monthly look at August's NPD numbers, Gamasutra analyst Matt Matthews looks at this year's decline in the industry-bellwether Madden NFL franchise, its performance on different platforms, and what the results mean in a down economy.
] Each August Electronic Arts and its EA Sports division release another update to its dominant American football franchise,
Madden NFL
. While the industry is in the grip of a downturn, it's natural to look at standards like
Madden
to measure which way the wind is blowing. As indicated in
an internal EA memo
, sales of
Madden NFL 10
are down this year compared to last year's
Madden NFL 09
. In particular,
Madden NFL 09
moved 2.3 million units in August 2008 while only 1.9 million units of
Madden NFL 10
were sold in the same period this year. That's a drop of about 18 percent. It's helpful to break down how
Madden
sales differed from 2008 to 2009. First, practically every system saw a drop in unit sales for the first month. Unit sales of the Xbox 360 version dropped only 7 percent, while the Wii version fell by 42 percent, and the PlayStation 2 version by 62 percent. Sales of the PSP version were down, while EA declined to publish a Nintendo DS version at all this year. Against this set of declines the PlayStation 3 version grew a very modest 3 percent.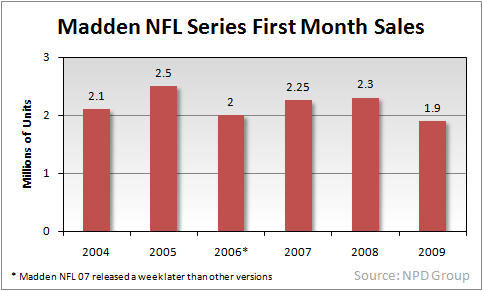 For the platform manufacturers the news was mixed. Unit sales for the Xbox 360 version were down, but Microsoft's first-month share of
Madden NFL 10
sales has now exceeded that of its key rival, Sony. While the PS3 posted the only sales growth among the various platforms, sales on its PlayStation 2 collapsed and those owners did not appear to be upgrading en masse to the newer Sony platform. As for Nintendo,
Madden
enthusiasm appears to have collapsed on its Wii, although history has shown that the Wii version may sell in higher volume through the remainder of the year than will other versions.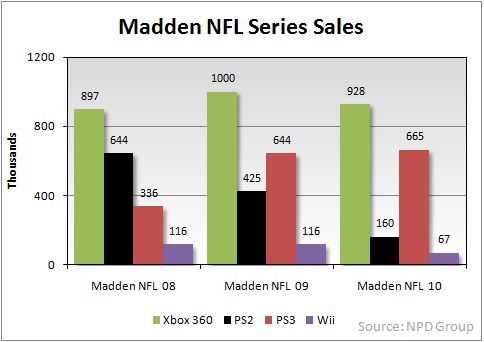 The key question here is whether
Madden NFL 10
suffered inordinately weak sales this year compared to its potential in a down industry. While there may be some franchise fatigue –
Madden NFL 10
is now over two decades old – the 18 percent drop in first-month sales doesn't seem out of line to us, especially after several months of weaker software unit sales. Moreover, we think it is particularly important that sales of the PlayStation 2 version have collapsed so utterly and yet there has been no corresponding surge on other platforms. That suggests to us the possibility that former PlayStation 2 owners are still waiting for an opportunity to upgrade and are holding off on buying Madden until acquiring that new platform. The price war between the PlayStation 3 and Xbox 360 could have a profound effect on Madden NFL 10 sales through the rest of the year. As late adopters pick up their new system, so too may EA see sales of their football franchise rebound later this year.