---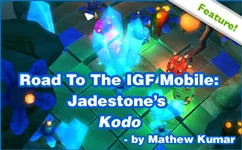 As part of Games On Deck's "Road to the IGF Mobile" feature, we talk to Jadestone' Tommy Palm about
Kodo
, an IGF Mobile 2008 Achievement in Art and Technical Achievement finalist.
Kodo
is an action game where each player controls a small creature (called a Kodo) with a single button.
Games On Deck: What kind of background do you have in the game industry or in making games?
Tommy Palm: Jadestone has been around since 1999 and the first title being created was Championship Manager Online which is still up and running. We started with mobile games early, back in 2002 with the online game World in War. Since then we have created a few, but quite big, games for the mobile platform with team sizes up to 10 - 15 persons approximately one per year.
GOD: What motivated you to make your game?
BS: We wanted to make a custom made 3D mobile game that was utilizing the power of the mobile platform in the best possible way without being crippled by the limited controls. Far too many mobile games are made with similar control mechanism as in other better equipped platforms. Mobile phones are currently one-hand devices and that must be taken into consideration when designing software. This is especially true when combing 3D graphics with a 4-way joystick.
Kodo was a earlier project that, I felt, received far too little budget compared to its potential. (Often the case for small privately funded game companies) So we decided to give the proven game play mechanics another shot.
GOD: Where did you draw inspiration from in its design and implementation?
BS: The design of the original game play mechanics of Kodo is inspired by one of the mini games in Warioware; the 2 player vacuum cleaning and the fun factor of LAN gaming. It suddenly came to us that playing on the same device at the same time must be the ultimate social activity. The original Kodo game has a theoretical limit of 26 players on the same device. On E3 in 2006 we were 8 players on a single phone at the same time. We were hoping someone would challenge that but we are still undefeated at "Most numbers of players on the same device".
GOD: What sort of development tools have you been using in the production of your game?
BS: The tools we use are Eclipse, 3D Studio Max, Photoshop and Motion builder, plus we do prototyping in Java.
GOD: What do you think the most interesting element of the game is?
BS: It is not often you can see what the future will look like but in this case our game represent the visual quality of mobile games a year or two from now.
---
GOD: How long have you been developing your game, and what has the process been like?
BS: Our game is still far from finished and is currently only one level. But we spent six calendar month and something like 1.3 man years on it so far. With a heavy overweight on programming since the technology (OpenGL ES 2.0) is so immature still.
GOD: If you had to rewind to the start of the project, is there anything that you'd do differently?
BS: We would like to have had more money to spent on content. The art guys have only had a couple of weeks in total to make concept, illustrations, 3D-models, user interface and animations.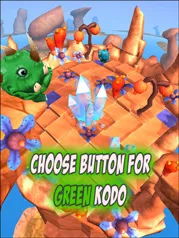 Kodo
GOD: What are your thoughts on the state of independent game development in the mobile industry, and are any other independent mobile games out now that you admire?
BS: There is a whole lot of good stuff but it is hard to find the pearls. One of my absolute favorites is Dweller.
GOD: You have 30 seconds left to live and you must tell the mobile game business something very important. What is it?
BS: Remember; only one-hand so keep it simple... Argh... *gargle* ...