Oquonie marks the collaboration between independent developer Devine Lu Linvega (Ledoliel) and illustrator Rekka Bell, and it is especially intriguing in the way it blends the familiar (environments full of cute animal-people) with the disquieting. The art, in particular, is very striking -- hence the Excellence in Visual Art nod it picked up for this year's show.
In this interview, we speak to Linvega and Bell about the creation of the game and its world -- how it got its roots in match-3 puzzles, a conventional genre for mobile if ever there was one, and what creating art for games offers that creating art for books does not.
What is your background in making games?
Devine Lu Linvega: I've always toyed with the idea of gamifying things around me, while Oquonie is game-like, most of my other works are utilities and websites. My earlier games were collaborative projects; I was brought into the game dev sphere by Renaud Bedard with whom I did my first game jams.
What development tools did you use?
DLL: All of my mobile projects were created into engines that I have built in Objective C or Swift, within the X Code IDE, including Oquonie. My online universe Paradise was created with Ruby and Node.js. I enjoy building my own tools as much as possible, and not use game frameworks. I'm hoping not to have to use Objective C again, now that Swift is growing more stable.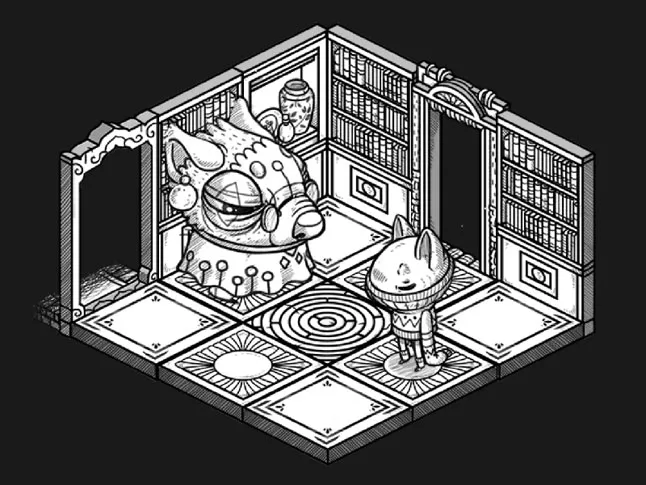 How long have you and your team been working on the game?
DLL: We started the game in the middle of 2013, and released it in the first quarter of 2014, so about 8 months of development. We then added a free content DLC around the middle of 2014, and we just added a new content patch for IGF. The whole development of the game was done when we had spare time and remotely through out travels. We did a big chunk of the game while in Tokyo and Thailand.
How did you come up with the concept?
DLL: After the release of my point 'n' click project Hiversaires, I started to look into what my options were for mobile and figured that a match-3 type game should not be too hard to build -- trying to keep our development scope within six months. And so Oquonie grew from a sort of match-3 puzzle game.
Rekka Bell: The idea of "rooms" and strange spaces was inspired by a Junji Ito story called "Town Without Streets." It's a story about a town where all the houses are connected -- to get to another house you need to walk through someone else's. Everyone wears masks to keep what little privacy they have left. I guess this idea inspired the "transformations" in the game, except it became about putting on different skins instead of different masks.
How did the collaboration between you and Rekka come together? What kind of feeling were you trying to evoke?
DLL: Rekka had worked as a game artist back when we lived in Montreal and we meant to collab on one eventually. It was my first time programming a game that was to be illustrated by someone else. We jammed on character and world designs, but Rekka had total freedom on the visual look of the game. The world of Oquonie is meant to be a sort of bizzaroid escape, a psychedelic Narnia, where there is no English and very little pointers as to what you need to do to proceed.
What did you learn from working on your first iOS game? How does it compare to other media you've worked in?
RB: I learned a lot of different things, got to play around with a lot of new tools, and was taught how to organize myself better in a project. Most of all I learned that that there would always be people who would want to play your game, no matter how silly, weird, or niche it might be.
With that in mind i just decided to focus on having fun. Didn't want to pressure myself, worrying about whether or not the game would be successful. It really wasn't about that with Oquonie; we just wanted to have a good time and invite people in our strange little world.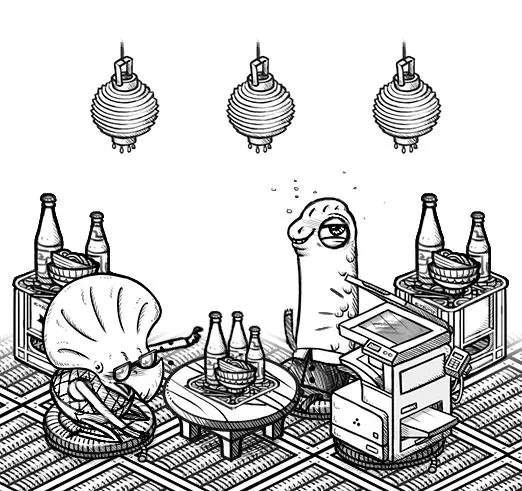 I also learned the importance of communicating with players and other game-makers. I started to spend more time chatting on Twitter and sharing progress shots of the game. Doing that helped to get it out there, helped us find a lot of like-minded people too.
I feel games, unlike books, offer a more complete experience -- one that is more engaging and that you're more likely to remember. I like the idea of creating little micro-environments that you can walk around in and explore at your own pace, with little hints of story here and there for people to find.
You can't control the experience the person will have playing your game, especially one as weird as Oquonie. The best part for me was seeing how people interpret it, what they get out of it. I still like illustrating books, but to me, games are a more personal way of communicating feelings and ideas.
Have you played any of the other IGF finalists? Any games you've particularly enjoyed?
DLL: Donut County and Memory of a Broken Dimension are two games that are especially interesting and inspiring for me, made by some of my favorite game designers.