---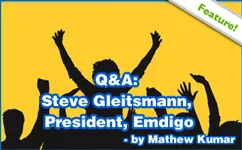 Emdigo are a mobile developer with a strong history, a powerful content platform and access to popular brands such as LEGO, Marvel and the NFL. However, rather than develop mobile games, they've currently chosen to concentrate on interactive 3D wallpapers. Games On Deck talks to president Steve Gleitsmann about that decision and where next for Emdigo.
Games On Deck: Tell us about Emdigo.

Steve Gleitsmann: Emdigo is approximately 3 years old and our founding team members all worked together at Intrinsic Graphics, the creator of the Alchemy middleware platform for console video games. We realized that the efficient production of any type of advanced content for the upcoming mobile phone generation with dedicated graphics processors would be an enormous challenge without the right technology in place. We initially focused on the creation of 3D graphics based user interfaces, working with industry heavyweights such as ATI (now part of AMD) and Sony Computer Entertainment. After working for some time with our partners in Japan, we realized that there already appeared to be a tremendous amount of interest in 3D based downloadable content, even though the mobile handset hardware did not seem to have the necessary capabilities. That realization made us get out of the interface business and into advanced downloadable content, using our experience with 3D graphics as a differentiator.

GOD: Tell us about Emdigo's content platform.
SG: One of the key lessons we have learned in our previous business is that the creation of advanced, media rich content on a large scale mandates advanced content production methods. The creation of a console game is no longer just about the engine, it is all about the integration of that engine with higher level content acquisition and transformation tools. Today, most major game productions in the console space are built around complete "production pipelines" that provide the necessary infrastructure for a streamlined content creation process. This may sound like overkill for today's mobile applications, but if you look at the complexity of the upcoming phone generation, you will realize that PlayStation-type content on a phone is not that far away. When we started Emdigo, we knew that content on mobile phones will eventually reach a level of complexity similar to that on game consoles, and we have seen a lot of game console people fail because they did not realize this in time. To some degree, our platform is the equivalent to Henry Ford's assembly line. Our content platform standardizes both content and its creation processes to make sure it runs on all of our supported phones while being completely reusable even on phones that don't even exist today.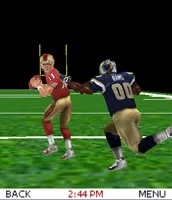 NFL Team Tailgate
We create all our content assets with the usual tools: Maya, Photoshop, Cameras, audio mixer etc. These assets are then submitted into our asset management system strictly based on "emdigo playbook" standards. Our content designers can select and combine any of these assets from within our browser-based assembly tools into content product packages (such as a new NFL player animation for NFL Team Tailgate or an editorial for Style Kick). Once the product packages are approved for release, they are moved to our staging portal where they are automatically reformatted for all of our supported handsets. There is no individual porting necessary. Once the individual, handset specific packages are generated, they are submitted to our live-portal which communicates with the handset clients that consumers install on their phones.

GOD: How does this work in conjunction with your 3D engine?
SG: Our 3D engine is just a small part of our handset client software. Our handset client supports multiple media types - including 3D - but most importantly, it provides the handset specific framework for managing downloaded content assets, all our application logic, and eventually for content playback. Once the handset client is installed on your phone, it starts communicating with our content servers that provide content updates and track user preferences.
---
GOD: What kind of content do you provide with the platform?

SG: We can provide any type of rich content via our platform, including video, music, flash, text feeds, images and of course 3D. We can also track user navigation behavior, preferences and a number of other metrics that help to improve our offering and the users' experience. In the future, users may even have the capability to purchase physical good from directly within our applications.

GOD: How did you come to license Lego and Marvel properties?

SG: We are interested in brands that have a lot of recognition and great appeal that can be translated well into the mobile realm. Some of the properties however cost a lot of money. Most major brand holders always require upfront payments. Emdigo is a small company so we are seeking out partners that already have rights to properties that we would like to use. We are working with Hands-On Mobile as they hold the rights to LEGO and Marvel. Another example is our partnership with THQ Wireless that holds the mobile rights to the NFL or Sanrio. It's a win-win situation where everybody benefits from the extra revenue, especially since our products don't compete with traditional mobile offerings.

GOD: What's special about 3D action screens? Why not just create games?

SG: ActionScreens are just our market entry. We wanted to provide a product that fits into a genre that people already know and use. There are mobile wallpapers and screensavers, why not make them 3D? There are already lots of companies in the industry competing for mindshare with mobile games, and while I think that there are still too many mediocre titles on carrier decks, there are also some that really shine. In the lifestyle and personalization category however, most content is, simply put, horrible. Our platform can certainly be used for the creation of games, but that is not our initial focus. Right now, we focus on episodic lifestyle content that delivers useful information (such as our NFL Team Tailgate or Style Kick products) while maintaining a high level of visual appeal and great usability.

GOD: Why provide 3D mobile content?

SG: Right now, 3D differentiates - but as I said before, Emdigo is not about 3D, we are about advanced non-gaming applications that are episodic, engaging and visually appealing at the same time. We use 3D as much as 2D, sound and our upcoming products even includes video. 3D is a part of the media mix that can help to provide a better user experience.

GOD: Isn't it limiting your audience to provide content which has a technological barrier of entry?

SG: We are running on more than 30 handsets on Verizon alone, so I would not quite call that a limited audience... I understand that there are a lot of content developers talking about the insufficient capabilities on today's common handsets. If you know what you are doing, you can provide compelling content right now. The question is at what effort and expense - and that's where our platform approach becomes fundamental. In my opinion, content companies that can't leverage today's handsets to provide this kind of content will have even more problems to do this cost efficiently on advanced handsets.

GOD: What challenges does Emdigo face as a small developer in the mobile industry?

SG: Unless you raise $100 million, it is difficult to scale your business in mobile. I am amazed that there are still individual developers that think if they build a cool mobile game, carriers will sell it and make them a lot of money. Mobile is about mindshare, and you can't get this if you don't differentiate. You can differentiate by spending a lot of money in marketing or by providing something that is just fundamentally different than what everyone else has. Our current product NFL Team Tailgate is top-deck on Verizon Wireless and Alltel, and I can guarantee you that we did not achieve this by spending a lot of marketing money. In the end, we are not quite your typical developer. We are more of a technology house that has decided to produce and sell its own content...

GOD: Does Emdigo have any interest in licensing its content platform or 3D engine to other developers?

SG: This may happen in the future, especially to enable territorial partners. We will definitely provide a subset of our platform to end-users so they can assemble their own phone content. That will happen within the next 6 months. Once we get into licensing, don't think of it as traditional SDK or engine licensing. What we would provide is access to a turn-key, managed platform.
GOD: What does the future hold for Emdigo?
SG: We are certainly getting a lot of attention right now, especially with respect to some of the products that are not yet released. One of our most important goals is to provide content that has the potential to grow the entire mobile content user base. Marrying visual appeal with useful information and simplicity is a good way to start.