---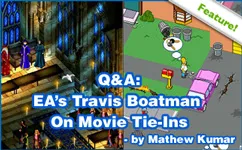 Film licenses are some of the most visible titles available on mobile, offering big, obvious names for consumers and carriers. Games On Deck talks to EA's Vice President of Worldwide Studios Travis Boatman about their recent movie licenses and the effect on original content.
Games On Deck: Creating mobile games based on popular Hollywood films seems to be a trend these days. Can you explain why EA is taking this approach?
Travis Boatman: Creating mobile games based on popular Hollywood films provides an entertaining experience for players and also helps us expand that audience of mobile gamers. Fans of franchises like Harry Potter and The Simpsons often look for ways to extend their experiences beyond books or movies on their mobile devices - be it ringtones, wallpapers and even mobile games. In fact, with Harry Potter and the Order of the Phoenix which was released last month, we worked with Wartner Bros. Digital Distribution to offer consumers the choice to download ringtones, ringbacktones and wallpapers as well as the game.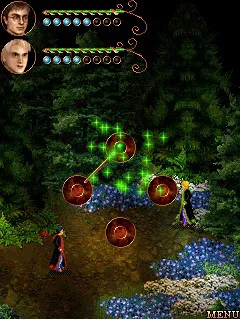 Harry Potter and the Order of the Phoenix
GOD: Do you tend to ship movie-related titles with additional mobile features, like wallpaper and ringtones?
TB: While this offering varies for each carrier, we do support images and ringtones for launches mobile products when it's relevant.
GOD: Do these separate purchases not damage sales of your game? Or do they enhance them? How?
TB: We believe that the additional downloads of images and ringtones enhance the overall mobile offering by servicing different needs of our consumers.
GOD: Tell me more about EA Mobile's most recent movie-related titles.
TB: In addition to Harry Potter, we recently released was The Simpsons: Minutes to Meltdown, tied in with this summer's movie release. This was the first-ever mobile game for the Simpsons and it's a hit with the franchise's fanatics and casual gaming fans alike.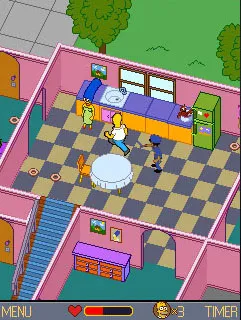 The Simpsons: Minutes To Meltdown
GOD: How have they performed in the market?
TB: We're very happy with the performance of our movie titles, but I can't go into specific sales metrics.
---
GOD: Have you found using licenses helps you get better placement on carrier decks?
TB: Well, there are a host of reasons why licenses resonate with mobile consumers.
GOD: But doesn't the prevalence of movie tie-in titles damage the chances for other, less well known EA titles to get good placement on carrier decks? How do you balance that?
TB: No, we believe that the "right" movie and television IP can make sense for the mobile business and can provide great entertainment and consumer value. We balance that by carefully selecting our partners and working with them to provide a robust offering to our consumers, which includes not only movie titles, but puzzle games, casual sports and EA wholly owned IP as well.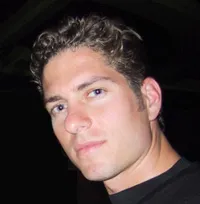 Travis Boatman
GOD: How does EA select the "right" kind of movie license?
TB: While not all Hollywood films translate well into a mobile products, we believe there are certain IP that transcend the movie experience. World class brands like Harry Potter and The Simpsons are those types of properties. There is such a wealth of character, story, gameplay, and market appeal in these properties that they were a perfect fit for the mobile space.
GOD: Do you have an interest in creating more original IP for mobile?
TB: We're always looking for new IP that we feel will create a fun and engaging game for consumer, wherever it may come from. For example, we partnered with Id Software and Fountainhead Entertainment to bring mobile specific IP to the market in the award winning Orcs & Elves. This product was so well received, that it's is now making its way from the mobile business into the console space with a Nintendo DS launch this Fall.
GOD: What do you see as the future of movie license titles for EA, and the industry?
TB: While I think that movie and TV licenses will always be attractive to mobile publishers and developers alike due to their inherent awareness and marketability, EA will continue to focus on those properties that resonate with our market, transcend the media itself, and provide a quality entertainment experience for our consumers.