---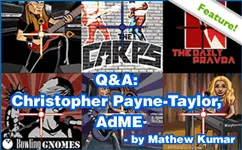 AdME stands for "Advertising-driven Mobile Entertainment" and the company has just launched
GuitarStar
, a music-driven mobile game akin to
Guitar Hero
. Games On Deck talks to AdME director of marketing Christopher Payne-Taylor about the company's plans for the title as a platform for emerging bands and established brands.
Games On Deck: Tell us about AdME.
Christopher Payne-Taylor: AdME started out as the development and marketing arm for a project called mdME (music-driven Mobile Entertainment) initiated two years ago by SONiVOX, a leading sound design/development company. Spun off earlier this year, AdME is now a separate company that is developing and marketing these products as both games in and of themselves as well as promotional platforms for recording artists and consumer brands. AdME's first mobile entertainment product, GuitarStar, was just released on the AT&T Wireless network and we are presently in negotiations with a broad array publishers, carriers, brand manufacturers and recording labels to distribute GuitarStar worldwide.
GOD: What is "advertising driven mobile content"?
CPT: Advertising-driven mobile content is material that is centered or "wrapped" around a recording artist or consumer brand. For instance, GuitarStar comes with a standard AdME character called Stevie Gibbs. However, other GuitarStar packages are available based on emerging artists in our current stable. Now, record labels are interested in doing the same thing with their key artists. Moreover, a number of leading advertising agencies are interested in adapting the AdME platform to promote their clients' consumer brands. So it may not be long before we see, for example, a Dunkin' Donuts GuitarStar package with a large, hollowed-out guitar player wailing away on a new "Dunkin's Rockin'" campaign theme song.
GOD: Why did you decide to enter this market?
CPT: We actually started as a technology developer with audio synthesis and "beat matching" technologies that now underlie all AdME mobile products. Early on, we built a few gaming applications just to demonstrate these technologies. But after some test marketing, it appeared they were good enough to be sold as "games" in their own right, so we did some core branding and marketing work ... et voila! We had GuitarStar and another dance-oriented product called DanceLord, which functions somewhat like a mobile Dance Dance Revolution. But the real breakthrough came when we realized these were both not just mobile games in and of themselves, but platforms capable of serving as a whole new kind of promotional platform in the emerging mobile space.
There are two kinds of advertising related mobile content. One is advertising solution, where a banner or other type of ad is served from within a mobile app. The other is a branded solution, where the artist or brand is completely "wrapped," meaning that the brand "owns" the application. We chose to cast our lot with the latter because of awareness that, in the advertising industry, there are two concepts beginning to take precedence over all else: branding and engagement. The first "advertising" solution is limited on both counts. AdME, on the other hand, provides an ideal "branded" environment for the delivery of both.
GOD: Tell us about GuitarStar in more detail.
CPT: GuitarStar is a mobile entertainment application in the mold of Guitar Hero. Based on its proprietary "beat-matching" technology, GuitarStar is the first mobile game fully capable of synchronizing visual movements with the beat of the underlying musical soundtrack in order to significantly amplify the player's level of gaming engagement. This enables players to virtually "play by feel" rather than taking their cues solely from what they see, as they attempt to capture guitar picks flying across the mobile screen. In addition to AdME characters, Stevie Gibbs and Violet Rayne, a number of real-world emerging bands are currently available, with more well-known, mainstream acts poised to follow.

GuitarStar
GOD: How does the "beat-matching" gameplay work on mobile?
CPT: To maintain the level of audio and visual synchronization necessary for an acceptable level of gameplay, AdME has employed an interactive music library implemented as a middleware layer on top of a phone's audio drivers. This handles the complexity of managing multiple audio streams and sound content. It also facilitates the creation of audio content and gameplay information with standard software tools that can then be translated into "beat-matched" files which automatically compensate for the audio differences on each individual handset.
---
GOD: How does the title help emerging bands?
CPT: There is no end to the Internet-based avenues for emerging bands to promote themselves. Thus, the problem is not getting out there, but how to cut through enough of the clutter to make it actually matter. With a fully-branded GuitarStar solution, artists get a lot more than a page or entry on a site. They are provided a tool not only showcase their latest song, but directly engage potential consumers on a wholly interactive level. It's the difference between broadcast television versus any of the more interactive, online means of communication. Consumers of AdME entertainment applications are not just catatonic cushion crushers; they're real, live, actively-engaged players.
GOD: How do consumers get tracks from new bands? Is it a subscription service?
CPT: At this point, they download the GuitarStar application from the AT&T deck, and receive several emerging artists in that initial download pack. From there, they can download additional content directly into the application. Other options are scheduled to be available shortly, including discreet downloads of selected artists featuring 3-6 songs.
GOD: Is the title distributed any other ways?
CPT: GuitarStar is distributed in three ways: through a carrier, a publisher, or as an off-deck solution from a specific artist or brand site. Shortly, AdME products will be available through all three channels. Right now, though, our initial offering is through the AT&T Wireless network.
GOD: What challenges does AdME face as a small developer in the mobile industry?
CPT: Probably the biggest challenge for us at this early stage is visibility. We are rapidly gaining traction throughout the gaming, music and advertising industries. However, there is still quite a way to go because we know what this potentially represents for all three. The gaming industry (particularly mobile) struggles with a sense of achieving maturity, music with declining revenues and advertising with the ability to facilitate genuine engagement. So, as we connect with segments of each of these, everyone we talk to gets what we can do for them. But there's a lot more people we need to reach before reaching critical awareness mass.
GOD: Does AdME have anything else in development?
CPT: New AdME games such as DanceLord, featuring animated or photorealistic characters mobile users can use their cellular keypads to choreograph, are scheduled for release in the next several months. Driven by the same "beat-matching" technology as GuitarStar, discussions are underway about distribution of these applications in Europe through one of the world's largest game distributors, as well as through a mobile gaming affiliate of Playboy Enterprises.
GOD: What does the future hold for AdME?
CPT: We are uniquely positioned at the intersection of mobile gaming and advertising, offering the most comprehensive branded entertainment solution for the promotion of artists or consumer products currently available. Inhabiting this choice piece of real estate, we feel like we've bought into a very good neighborhood, indeed, and our presence there will not only continue creating value for us as the mobile entertainment community grows, but everyone else around.