---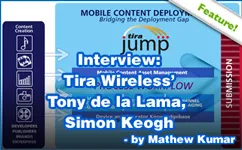 Mobile porting technology provider Tira Wireless recently announced Tira Jump 2007, the latest version of their flagship product suite, including a new feature, "Jumplets." Games On Deck talks to Tony de la Lama, SVP Product Management and Marketing and Simon Keogh, director of Product Management, about the company's history and their future.
Games On Deck: Tell us about Tira Wireless.

Tony de la Lama:
Tira Wireless is a provider of technology and services. We bridge the gap between mobile content development and deployment to ensure content providers can bring their titles to market quickly and cost effectively. Our heritage goes back 4/5 years ago, when we were a publisher of a number of very successful mobile titles - including an NHL mobile game - but we realised there was a tremendous amount of value that we could provide to customers using the information that we had acquired on how to very quickly deploy applications to mobile phones. We decided to take that information and knowledge, as well as the tooling and infrastructure that we'd developed, and created the Tira Jump platform.
GOD: Tell us about Tira Wireless' philosophy.

TL: This image explains where we fit in the mobile value chain.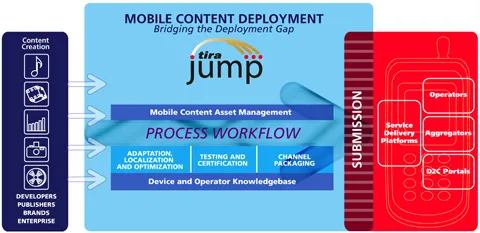 You can see that on the left side are content creators who are trying to bring applications to market. In the mobile market space there is tremendous complexity and many hurdles that must be overcome to get a mobile application to the operators, aggregators and portals shown on the right hand side of the image.
There is such a varied and very complex range and number of devices across different carriers (we currently have over 1,900 devices in our inventory, and we have over 8,000 thousand unique handset/carrier combinations), but we have extracted this information and developed a knowledge base which we provide to our customers through the Jump platform.
The Jump platform is designed to accelerate the time it takes developers and publishers of mobile content to get new titles to market. From the 50,000 ft level, it is a process and workflow solution that helps manage assets. Recognizing the complexity of mobile content asset management, developers and publishers need to start with a deployment plan and an understanding of how they want to take their application through the process of being ported and adapted to various devices, as well as tested, certified and ultimately packaged and delivered. Jump also offers a variety of tools that are very useful for bringing teams together along the value chain and through the workflow.
GOD: So what's different about your latest product, Tira Jump 2007?
TL: We've found that as we move on, there are more useful ways to speed the process of deploying and porting mobile applications, and Jump 2007 is really a major shift in the way that we bring that value to our customers.
What we've done is we've taken all the actions that speed mobile application porting and all of the experiential knowledge we've derived over time, and we've put this information into what we call a component model. That new component model provides significant productivity breakthroughs in J2ME content development and deployment by enabling code re-use
There are also many organisations working on projects writing the same code over and over again between different teams because there's no real way to communicate this code between them. This new component model is called a "Jumplet."
A Jumplet is an encapsulation of code, actions, or entire sub-systems. This is a concept currently generating a lot of buzz in the mobile software development industry because it allows customers to reuse the types of code that were useful in the past and leverage them across their entire organization.
We've also introduced collaboration and interoperability features that enable content providers to leverage and extend the value of development teams and existing systems. Jump 2007 includes a shared and searchable component repository that enables developers to submit, version and retrieve components, including tagged and ranked Jumplets, from the Developer Desktop client. All developers on the team have access to the repository to increase collaboration and consistency.
As I mentioned, we've also created an infrastructure for collaboration, to allow this kind of information to be shared between different developers and engineers. For example, think about a development team working on creating a login screen. And then consider another team working on a slightly different login screen. The Jump infrastructure would allow teams to search for, say, "login dialogue boxes" or "login screen" and the repository could come up with some different Jumplets that have that information tagged to them, and the developers could download it, look at it and say, "that's really good, I don't need to re-develop it." Or they could even say, "That's good, but there's some slight changes I'd like to make, so I'll make some changes, add it to the Jumplet, and return it to the repository." The changes can be made, uploaded with an explanation, and the Jumplet now has a version history that other people can use.
We're very keen on the fact that reusable code requires an infrastructure that really allows people to share.
Also, there's something that we do which is very interesting - once you decide where your source application is going to go, what devices it's going to go on and with which carriers - when you're ready to take that "jump" as it were, we are able to suggest Jumplets that will make that transition easier for your particular configuration. The "pushing" of Jumplets is a very useful aspect for customers, as they may not know that there are Jumplets out there that can solve problems that they may encounter
We've talked to customers and recognize that they also have their own tools and processes that work for them in-house. Having our infrastructure work with them is very important to us. So we've found that opening up our platform and allowing other technologies to plug into our platform is really a huge benefit to our customers. It allows for much deeper adoption of our platform into their infrastructure.
Simon Keogh (Director Product Management): One thing that has certainly changed is that in early iterations of Jump the starting point was an unobfuscated Jad/Jar Midlet, but since last year/the beginning of this year we've made the move to working straight from J2ME source code. So that is the starting point now.
---
GOD: What difference does that make for developers?
SK: It provides more flexibility and granularity when developers are making modifications. A lot of our customers wanted the flexibility to go back to their source code, and with Jump 2007, we're now able to provide that to them.
GOD: So would you say that your aim is to make Tira Jump the product suite that mobile companies use to do almost everything in their development cycle?
TL: Yes. We believe that Java ME is a great platform for creating applications, and so we've focused ourselves on that environment and to optimise our products for it. We do support BREW, but we believe that a combination of our platform which gives you a really solid workflow, asset management and good control of your processes to make sure you understand at what stage everything is at, ensures you get on deck faster. Obviously, this is really important to our customers. The 2007 Jump release helps to smooth everything on the development side, allowing the developer now port their titles themselves. That's pretty exciting.
GOD: What kind of differences have you found with porting BREW titles between handsets?
TL: BREW is obviously a different platform. It's C++ code and it's actually a great platform as well. So what we've done is we've created a plug-in for the Microsoft Visual Studio platform and we provide developers with all the same value, workflow and process management. If you look at it from the perspective of developer, who's actually doing the adaptations or development of the game, and then the other side, the project manager, who is working on the workflow aspect, those two are working in concert. It may be unusual, but in some situations one company might have both BREW and Java development going on, and now they can use the same Jump platform.
GOD: Are Qualcomm actively involved with you?
TL: We have a very good relationship with Qualcomm. We also have a dedicated business development team which has established a good working relationship with them. BREW is a very good platform, a very good ecosystem for this customer.
GOD: How have your emulators improved for the new platform?
SK: One of the things that we've done is provided a framework for developers to add their own emulators into the environment. The number of emulators has certainly increased quite significantly since the last iteration of the product. We have built in emulators for most of the leading devices that are available, plus there's also a whole series of generic emulators which can be leveraged as well. Really what the emulators and emulator support does is provide the developers with preliminary feedback to make sure they're on the right track. Certainly when you go to deploy content you're going to want to do physical device testing as well as evaluate the downloading and loading of the content on that specific device.
GOD: Tell us about your recent expansion.
TL: Tira Wireless now has about 230 employees worldwide. In Europe, our London office is primarily a sales office, and the Ukraine office is primarily in support of our services organization. In North America, our Toronto office has grown and moved to a new location, and we've opened a new location in California where I'm based now.
GOD: Has your client base expanded similarly?
TL: We've had some good expansion in our customer base. We now have over 100 customers.
GOD: So what's the future outlook for Tira Wireless?
TL: We feel that Jump is targeted very well towards developers and porting engineers and we're really focused on that. Looking forward, we really want to build up a community around the product, because we do feel that the experience that people have working together is certainly much greater than working individually. People that have the ability to understand and create in a group setting inspire additional creativity. We believe that our platform's ability to bring people together and share new ideas and new innovations is really important for us, for them, and for the mobile content development industry.
SK: I think looking forward as well, we want to continue to work more closely with operators and really understand their needs, and look for ways to get our customers on deck faster, and to stay on deck longer.