Despite the high price tag, lack of new games, lack of backward compatibility, and only being available to order direct from one store, Sony has proven naysayers wrong when the company recently announced PlayStation VR2 had sold 600,000 units within six weeks of its launch in February 2023, surpassing sales of its predecessor by 8% in the same period.
While the criticism of few first-party titles, save Horizon Call of the Mountain, remains a sticking point, exclusives are nonetheless coming from third party developers, and Synapse may just be the shot in the arm it's looking for when the cyberpunk telekinetic shooter launches on July 4.
Developed by nDreams, the studio's decade-long expertise in VR certainly puts it in a solid position to make the best VR2 experience it can for Sony. "With PS5 doing so well, [Sony's] first party studios have got to support PS5 a lot as well, so there's only so much attention they can divert away from that because that's still the biggest part of the business," says nDreams CEO Patrick O'Luanaigh. "But everyone we see has a ton of enthusiasm for PSVR2, and I think it's growing even more as it comes out on sale through other stores."
The UK-based developer and publisher is uniquely placed to understand the PlayStation brand, having already been a longstanding partner prior to the company's pivot to PR when nDreams was the largest publisher on the short-lived but fondly remembered PlayStation Home, including successes like alternate reality game Xi. What's more, head of nDreams Studio James Shepherd had himself previously worked at Sony since the PS1 era with credits including MediEvil 2 and entries in the Killzone series.
"It's like coming home to the family," says Shepherd. "It's every developer's dream to be in the launch window of a new piece of hardware with a new IP. It's always great to be there when the prototypes are being done and trying to make games that are a really great expression of the hardware."
Why nDreams chose to make Synapse
Although nDreams made the action game Fracked for the first PSVR, that game debuted in the headset's twilight days. Rather than porting it to VR2 like other developers have been doing with their first-gen VR titles, the studio opted to start afresh with a game that fully takes advantage of the new hardware's unique features. Shepherd describes the process as not just making a new VR game but one that fits the brief of making a real showcase for VR2.
"This is a system seller; a bit like Wipeout did so many times on the original PlayStation, you're trying to be the experiential living embodiment of the hardware, like I've bought a PlayStation, you come around to my house, and I want to show you how brilliant it is, so I want an experience that showcases all of that," he explains. "Then you know then you're going to be looking to showcase not just the hardware features but almost the brand experience."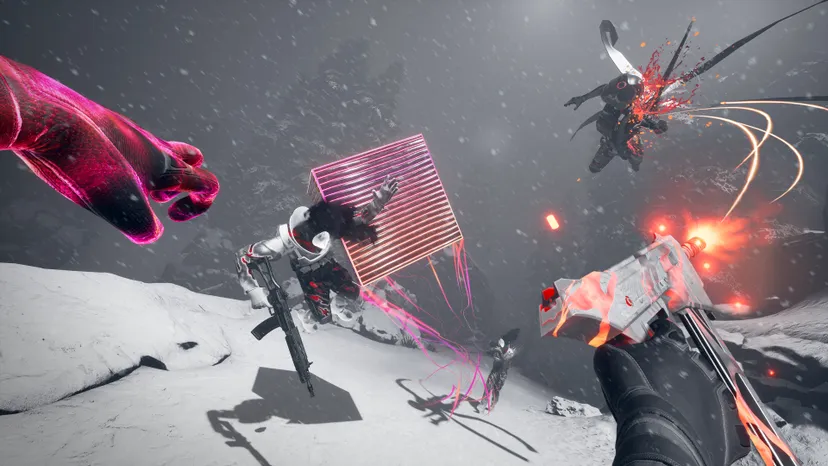 Synapse certainly embodies the PlayStation brand to some extent, from a story that features the voice talents of David Hayter and Jennifer Hale, who last worked together in PS1 classic Metal Gear Solid, to the way its monochromatic aesthetic created by art director Alina Fedasyenka mirrors the black and white minimalism of the PS5 console, with splashes of color used to signal important information in a fast-paced game.
"The art style came out of showcasing the PlayStation, its beauty, its brand, and showcasing the gameplay," Shepherd says.
VR first
As a pure VR game developer who has had its hands on every headset that's come to market since, nDreams is no stranger to working to each platform's limitations, but it's also been privy to getting an early look at the hardware to understand how best to leverage its features. "That was the most fun bit for us, looking at all the stuff we couldn't do on other headsets, like the eye-tracking, the headset rumble and the amazing feedback and haptics in the controllers," O'Luanaigh adds.
"Making an exclusive game means you can make it the best it can possibly be and not think about making it work on every single headset, so we've been able to do a really good job."
Although telekinesis was a core mechanic early on from the vertical slice onwards, it's elevated with eye-tracking so that the player needs to only look at an object, then squeeze the trigger to pick it up and then use the Sense controller's motion to move it around or smash it into enemies and the environment. "We already had prototypes where you could do [telekinesis] without eye tracking, but once we put it in, everyone loved it, it just seemed like magic," Shepherd says.
Besides the tactile and intuitive 1:1 use of telekinesis, the game also builds on elements from past nDreams titles. It originally began as a spiritual successor to Fracked, so it reuses a cover mechanic where grabbing onto any part of an obstacle in front of the player becomes cover that they can lean in and out from. Dual-wielding shooting and telekinesis isn't too dissimilar to the studio's multi-tasking shooter Shooty Fruity.
Should VR games be photorealistic or stylized?
Does that mean Synapse is the elusive blockbuster system seller that will make the VR2 the definitive headset for this VR generation? It's not necessarily reflected in the $35 price tag, which is almost half that of Horizon Call of the Mountain. Those expecting the power of the PS5 means we're going to get more high-fidelity photorealism may come away disappointed. Nonetheless, the developers argue the aesthetic choice makes perfect sense for both the premise and gameplay's readability.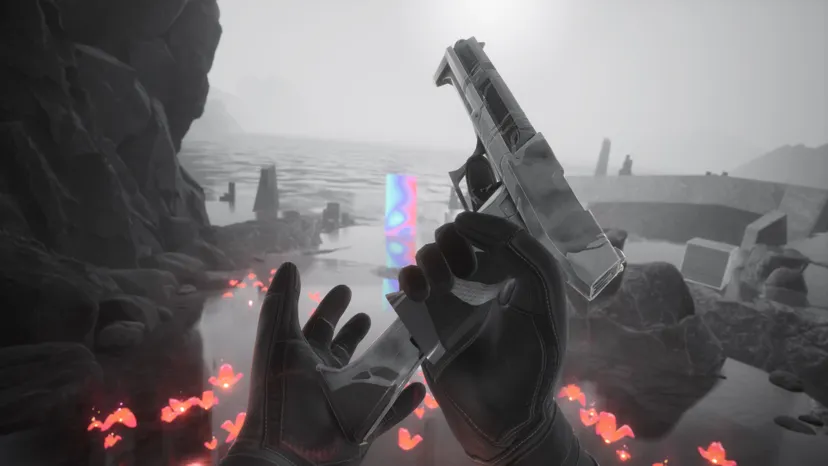 "It'd be a real shame if most VR games were realistic, because it's really fun to take people to completely new worlds, and in Synapse you're inside somebody's head," explains O'Luanaigh. "Absolutely, you can do stunning stuff on VR2, as Horizon demonstrates, but there's something nice about seeing screenshots and videos of our game and just knowing instinctively what it is."
"There were barriers to entry, but VR as an overall market is growing," says Shepherd. "As we move forward, and technology improves, those barriers disappear. It's about a million times easier to set up VR2 than VR1. There's also cost, and people are cost-sensitive right now, those barriers will also come down. So it's not just about a system seller, it's about the system selling itself in terms of ease of use in people's lives."
Regardless of VR2's long-term future, Synapse can at least be assured it's got the VR spotlight this summer.