Sony has agreed to license the design of the PlayStation VR headset to Lenovo for its Mirage Solo VR headset, a move that, for Lenovo, likely serves to stave off copyright infringement accusations since its already-released Mirage Solo bears quite a resemblance to the PlayStation VR.
The PlayStation VR, which released in late 2016, notably has a unique way of keeping itself adhered to a player's face. Rather than run a headband across the top of a player's head, the headset features a padded partition that rests upon the wearer's forehead and an adjustable band that circles the skull and can be tightened or loosened to adjust fit.
Lenovo's Mirage Solo, a Google Daydream-powered standalone VR headset that shipped just this summer, features nearly the same design and silhouette of the PlayStation VR headset, a similarity that seemingly did not go unnoticed.
Though the specific terms of the agreement weren't shared in the press release announcing the licensing arrangement, the deal gives Lenovo a license to use "SIE's patented PlayStation VR industrial design" for the Mirage Solo for a period of two years.
"The industrial design for PSVR has been widely acclaimed, and that was the result of years of hard work by PlayStation engineers," said Sony Interactive Entertainment's chief legal officer Riley Russell in a statement. "This agreement with Lenovo is a testament to the quality of PS VR's design, as well as SIE's commitment to creating great virtual reality experiences and helping the VR industry expand."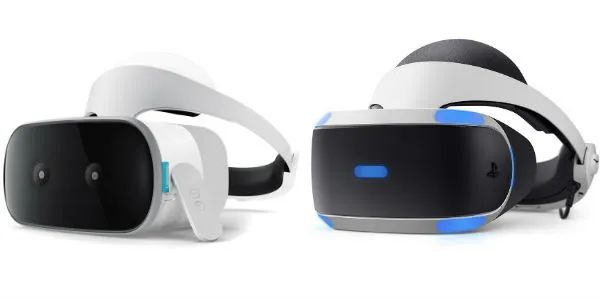 Lenovo's Mirage Solo (left) and Sony's PlayStation VR (right)