2023 marks a major milestone for UK-based developer nDreams, which has been working solely in virtual reality development for a decade. It's equally an important year for the platform, which has already seen the launch of PlayStation VR2, where the studio has just released its new exclusive title Synapse, while Meta Quest 3 is still to come in the fall.
That decade of VR expertise also puts the developer and publisher in the best position to take advantage of this growing market, having also scaled up its operations to a headcount from 65 to 230 people, while CEO Patrick O'Luanaigh estimates that could reach 300 by the end of the year.
"We are the biggest VR game developer and publisher in the world outside of Meta and Sony," he says, a modest claim once you consider that the two platform holders are not purely focused on VR.
nDreams' VR bonafides go back to the early days of Oculus
It's taken a long time to get to where nDreams is now. The studio's journey began back in 2006 when Patrick founded the company with his wife and nDreams' Chief People Officer (CPO) Tamsin O'Luanaigh, leaving behind their respectively comfortable jobs at Eidos and IBM to set up in a tiny office in Farnborough, just across the road from where nDreams Studio is based today. Work began modestly, although the company was already exploring new types of experiences, beginning with alternate reality games like Xi on PlayStation Home.
As the company slowly grew, it was also in a good position to recruit talent, being located less than 10 miles away from the UK's prime games industry hub in Guildford. But 2013 proved to be the company's turning point with the discovery of VR.
"We got a chance to see the very first Oculus, we met Palmer Luckey and saw the very first DK1. Sony also showed us the Morpheus headset which became PSVR, and I basically just fell in love with VR," Patrick explains. "We felt it wasn't a gimmick, and that this was going to be something really special. If we can get in early we can understand it, we can get to know the platform holders, we can learn what made a good VR game and what didn't. So we decided to go all in."
And all in nDreams went, as can be seen from the Farnborough office's front reception decorated with a wall of just about every headset that has been released in the past decade, including the basic Google Cardboard. Even with the early limitations, the company looked at the potential of each to better understand the medium, developing small fun titles that served as learning experiences.
"That's the great thing, we're always learning, we're always getting better," Patrick adds. "I think you can see that if you go back to our very first games, you can see this progression I'm really proud of and the hardware's getting better and more powerful in time as well. The fact that we can do some of the cool stuff with PSVR2 that just wasn't possible with Move controllers on VR1 has been great."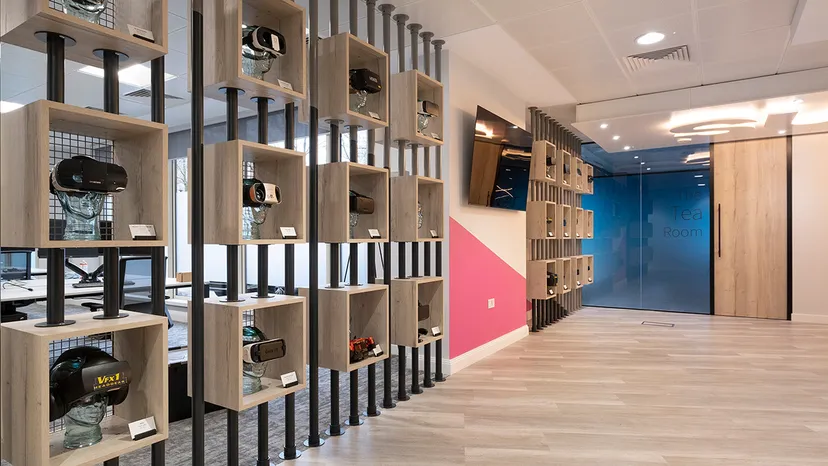 These learnings have helped establish nDreams' five core pillars to what makes a good VR game: aspirational roleplay, tactile 1:1 mechanics that allow for high-agency interaction, the empowerment of wielding a unique weapon or tool, emotional amplification heightened by the sense of immersion, and being teleported to desirable locations impossible in real life.
Will mixed reality headsets like Apple Vision Pro affect nDream's future?
Getting to this point has not been without its challenges, especially with the slower-than-expected growth of VR when consumer headsets first launched in 2016, with Patrick describing the first generation of VR development as being like a journey through the desert. Yet while other big players such as CCP had waded into VR only to swiftly exit, nDreams has stuck the course and been prolific with its releases, even if many have been shorter titles.
"It has [taken] tenacity, and it's not been easy," Patrick continues. "There's definitely always been opportunities to say, maybe we should go non-VR or go to B2B apps, but no, we love games, and we love VR, and we've always believed in it."
That is not to say nDreams is ruling out other avenues, especially as several major platform holders are shifting focus away from full immersive VR to mixed reality. While the Apple Vision Pro is positioned as an augmented reality headset without an explicit mention of VR, though Patrick does believe it does have the hardware to still allow for full VR experiences that fit the studio's core pillars. "To my mind, VR and [augmented reality] are on the same spectrum, but AR is also roughly four years behind VR in its maturity. It seems likely that in the future, there will be an increasing convergence as headsets capable of delivering both VR and AR experiences to a high standard become available."
So even as a pure VR developer, nDreams has been diversifying. In 2021, it launched its third-party publishing arm in a bid to help other VR developers realize their vision with marketing, development and funding support. The first fruits of this was cozy city builder Little Cities from Purple Yonder (incidentally another husband-and-wife team), while it's also working with FuturLab to publish PowerWash Simulator VR later this year.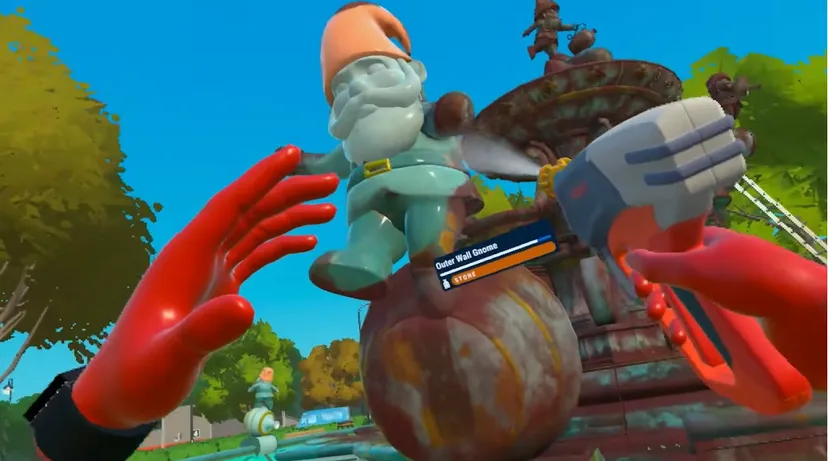 "Any game that comes into third-party publishing, we will give development feedback in terms of playtesting, they have access to the creative directors in the studio," explains VP of publishing David Corless. "Little Cities came to us fully formed, but they needed help with their onboarding, so we were able to work with them and internally playtest it with the creative director. PowerWash is a very good game that works perfectly in VR, but they also come to us asking how to translate some aspects."
"It's very collaborative; clearly, it's their IP and they're the experts, but they do very much lean on us when it comes to VR, and say 'Look, we're not the VR experts, you are. What should we do?'"
There has also been the launch of two additional remote studios, Orbital, which is focusing on developing live-service and free-to-play VR games, while Elevation is focusing on developing a triple-A VR game. But the real pivotal moment of the company's growth came in 2022 when it received a $35 million investment fund from Aonic Group, which has allowed it to scale up even more, including the acquisition of Brighton-based studio Near Light, with its AR expertise making it especially equipped to shape the convergence of VR and AR Patrick had spoken of.
The Meta Quest 2 has proven to be a VR "oasis"
It's no coincidence that this growth has occurred alongside the release and success of Quest 2, which as an affordable all-in-one wireless headsets remains one of the most accessible VR platforms available to consumers.
"There's absolutely no denying Meta Quest headsets have played a massive role in the growth of the VR market, and by extension our own growth," says Corless. "For a VR platform to be neck-and-neck with the latest generation of Xbox hardware in sales, both on just over 20 million units sold, is something that would've been hard to imagine before the Quest came along. The investment from Aonic in nDreams was the rocket fuel that allowed us to scale up in this way, but that wouldn't have happened without our investments into development, publishing, and VR specialism in the years prior."
"After going through the desert, we're now seeing this beautiful oasis, which is kind of where we are now, and we're enjoying it," adds Patrick.
But even as VR along with AR is still projected as a growing market, a slowing economy worldwide has still resulted in significant job losses, and while that includes the tech sector as a whole, it's notable that Microsoft's layoffs have effectively brought its HoloLens and mixed reality division to a halt, while Meta has laid off more than 10,000 people in both technical roles and business groups.
It raises the question whether nDreams' huge growth in the most recent years can also just as quickly lead to redundancies if it finds itself back in the desert.
"For our part, we've been really careful to try and grow responsibly and build the business sustainably," says Tamsin. "Game development and running a business is hard and in an emerging market this is challenging, but transparency with your employees is the most significant thing you can do to alleviate fear and help keep the team on the journey with you."
Indeed, nDreams' ongoing growth and its investment from Aonic has put the company in a position to recruit talent who have been affected by redundancies at other studios.
"Everything has scaled up significantly, but we still take the same approach to growing our teams sustainably and responsibly," she adds. "We don't always get every decision completely right but we learn and grow and evolve and we ask our teams to help find solutions with us. Our number one priority is the security of our team members, and we're set up to be as resilient as possible to setbacks without having to resort to layoffs."
nDreams is still supporting remote work
Of all the talk of growth, a mark of success for nDreams also comes in ensuring its teams are able to do their best work in the best conditions. Like many employers, the pandemic had enforced remote working but also gave the company the opportunity to reassess working practices.
"We completely revamped our HQ to build around collaboration; if people aren't working in the studio every day, it's even more important for them to feel the benefit of this collaborative space when they are here," Tamsin explains, who introduced the company's 'Flex+' hybrid working policy that applies to group employees, nDreams Studio in Farnborough and Near Light in Brighton. "The central aim is to empower our team to balance their work and home lives through flexibility around work locations and times. Rather than a blanket approach to hybrid work, each team member's mix of in-office and remote working is balanced according to their individual needs and priorities."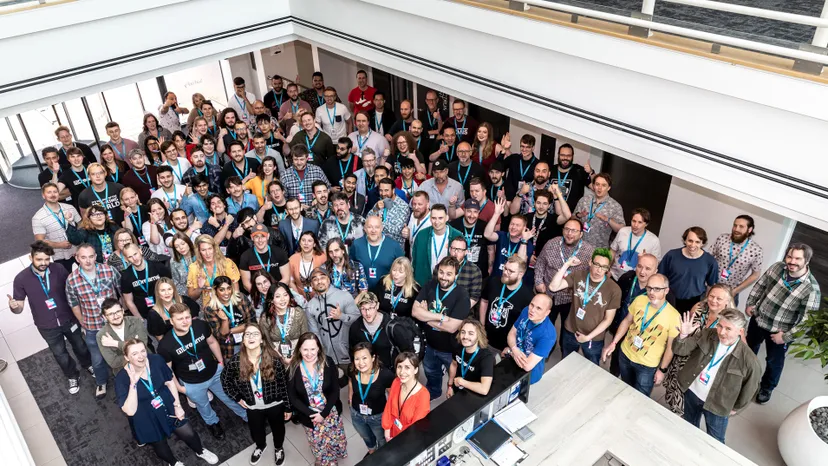 That degree of flexibility certainly contrasts with more corporations (including Meta) asking for employees to return to the office. Overall, Tamsin says the company is feeling the benefits of its policy where being able to maintain a desired work/life balance in turn keeps employees happier and more motivated. That flexibility has also meant the company has been able to attract an even wider pool of geographically diverse candidates, while also attracting returning employees, or 'boomerang hires'.
Whether employees head into office or work remotely, the studio still gets everyone together in-person, which had started as a welcome back gathering to the refurbished studio post-lockdown in 2021 but is going on to become an annual fixture called the nDreams Festival.
"We wanted to take a moment to celebrate the entire team coming together after all their great work throughout the year, whether long-term colleagues and friends, or those who'd never met outside of video calls," says Tamsin. "Initiatives like the Festival are important in a hybrid model because they bring everyone together and keep us all connected to collective goals, even when our individual day-to-day setups can vary a lot."
It's certainly a busy time for the company, with each studio focusing on different areas to diversify the potential of VR, while nDreams Studio is also working on anotherly hotly anticipated license, the upcoming Ghostbusters: Rise of the Ghost Lord. Perhaps most intriguing is the mystery triple-A title that its Elevation studio is working on, though it's likely still many years away, given that the studio is currently remote-only with future plans to open a UK-based HQ for in-person collaboration.
It's arguably its most ambitious project, and given the time and cost of triple-A development, it will need to ensure it can run on a headset that can also have a large enough audience. It seems almost counter-intuitive when triple-A VR games like Half-Life Alyx have so far been the exception rather than the rule.
"The combination of triple-A pedigree and the required passion and specialism to make a VR-first experience does not exist in many teams, but that's growing as more turn their considerable talents to this medium," says Corless. "We're only 10 years into VR really, where's the technology going to be in another 10 years' time? Our aim is always to keep riding that and to be at the forefront of it. So it'll always be challenging because we're the ones discovering and making a lot of the decisions."