If you're a game developer working on Steam, you're probably familiar with the popularity of Steam Input, which has helped players utilize a wide variety of controllers from the Xbox One gamepad to dance pads on various games on Steam.
What Valve wants you to know, however, is that a surprising number of unconventional controller types (Particularly the Switch Pro and PS4 controllers) are proving more and more popular on Steam, and it's going to affect the way development on Steam Input continues in the near future.
In a new blog post, a Valve representative has laid out some useful statistics regarding controller gaming on PC, with data points that support the growth of both PS4 and Switch Pro controllers among its users.
According to the data, 20 percent of controller-users on Steam own and use a PS4 controller, and the Switch Pro controller has rapidly shot up in popularity, in part thanks to an update from Valve to integrate the controller in Steam UI.
According to Valve, these two data points indicate that both devices could see more usage if developers (and the Steam Input team itself) better integrate them into Steam versions of games.
For instance, Valve theorizes that PS4 controller usage is still relatively lower despite the high ownership data point because most in-game interfaces reference Xbox-styled buttons instead of the shapes used on the PS4 gamepad (see the chart below).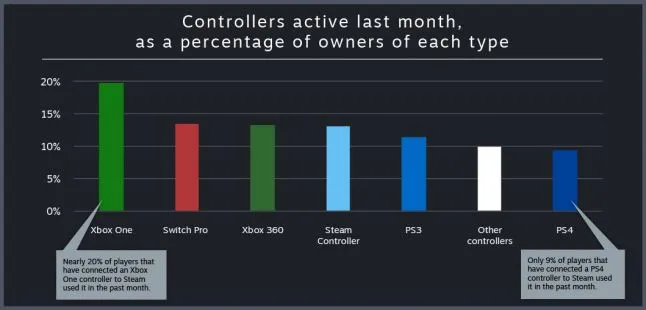 With this blog post, Valve isn't immediately announcing any new features to support more controller types, but they do hint at the end that future Steam Input updates may lay more groundwork to better incorporate additional controllers, as well as unexpected inputs that may become popular in the future.