1. Moving Beyond Alchemy
"…it was clear to the alchemists that "something" was generally being conserved in chemical processes, even in the most dramatic changes of physical state and appearance; that is, that substances contained some "principles" that could be hidden under many outer forms, and revealed by proper manipulation."
I recently happened across a description of alchemy, that delightful pseudo-science of the last millennium that evolved into modern chemistry. For a moment I thought that the authors were instead describing the current state of the art in game design.
Every time I sit down with a finely crafted title such as Tetris or Super Mario Brothers, I catch hints of a concise and clearly defined structure behind the gameplay. It is my belief that a highly mechanical and predictable heart, built on the foundation of basic human psychology, beats at the core of every single successful game.
What would happen if we codified those systems and turned them into a practical technique for designing games?
In A Time Before Science
"Throughout the history of the discipline, alchemists struggled to understand the nature of these principles, and find some order and sense in the results of their chemical experiments—which were often undermined by impure or poorly characterized reagents, the lack of quantitative measurements, and confusing and inconsistent nomenclature."
Historically, the process of understanding games has been limited by numerous factors ranging from messy experimental practices, spiritual reliance on untested theories of play, and confused terminology. We are still alchemists of our trade, mixing two parts impure story with one part polluted game play with three parts market voodoo.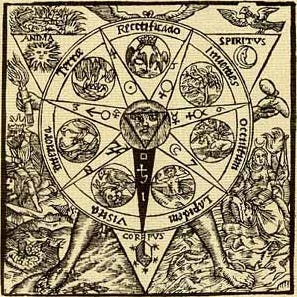 As an industry, we need to beyond the mystical hand waving that defines modern game design. It is now possible to craft, test and refine practical models of game design built from observable patterns of play. We can describe what the player does and how the game reacts. Recently, we've begun to crack open why players react to certain stimuli and are able to create models that predict pleasure and frustration.
This essay will describe into one such model.
Fundamental Science Forms The Future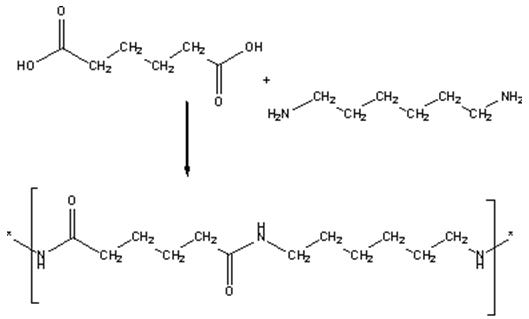 Diagram 2: Condensation polymerization of Nylon,
(a substance not available to alchemists)
The bigger hope is to move our alchemical craft towards the founding of a science of game design. We currently build games through habit, guesswork and slavish devotion to pre-existing form. Building a testable model of game mechanics opens up new opportunities for game balancing, original game design and the broader application of game design to other fields.
The advent of basic chemistry gave us tools to build a new world of technologies far beyond that imagined by our alchemist forefathers. Plastics, engines, fabrics, power sources revolutionized our lives. It is a worthy effort to crack the fundamental scientific principles behind the creation of games.
---
2. The Foundations Of A Model Of Game Design
Where chemistry separated itself from alchemy by building testable models of physical atoms, a science of game design concerns itself with testable models of human psychology.
Many of the attempts to define games have focused on the mechanistic elements of the game, such as the primitive actions that the system allows the player to perform or the tokens that the player manipulates. The approach has been to treat games as self contained logical system.
Mechanics and aesthetics are certainly important pieces of any model of game design, but in the end, such analysis provides little insight into what makes a game enjoyable. You end up with a set of fragmented pieces that tell you almost nothing about the meaningful interactions between the game as a simulation and the player as an active and evolving participant. Games are not mathematical systems. They are systems that always have a human being, full of desires, excitement and immense cleverness, sitting smack dab in the center. To accurately describe games, we need a working psychological model of the player.
Player Model
Our player model is simple: The player is entity that is driven, consciously or subconsciously, to learn new skills high in perceived value. They gain pleasure from successfully acquiring skills.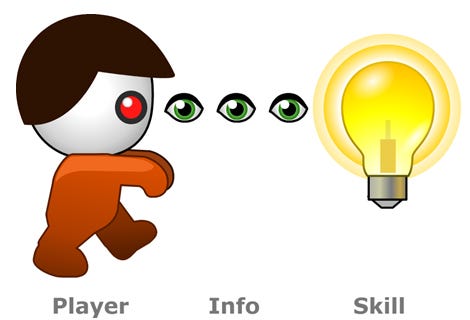 Diagram 3: The player follows clues to the acquisition of a new skill
Let's dig into three key concepts in our player model.
· Skills
· Driven to learn
· Perceived value
Skill
A skill is a behavior that the player uses to manipulate the world. Some skills are conceptual, such as navigating a map while others are quite physical, such as pounding in a nail with a hammer.
Driven To Learn
Play is instinctual. In low stimulation environments where we are not actively pursuing activities related to food and shelter, people will begin playing by default. Strong feedback mechanisms in the form boredom or frustration prod us into action. Given a spare moment, we throw ourselves into playing with blocks or dolls as children and more intricate hobbies as adults. It is a sign of our need for meaningful stimulation that solitary confinement remains a vicious punishment for the most hardened criminals.1
The flip side is that we are rewarded for learning. The sensation that gamers term 'fun' is derived from the act of mastering knowledge, skills and tools. When you learn something new, when you understand it so fully you can use that knowledge to manipulate your environment for the better, you experience joy.
There is a reasonable amount of neuroscience available to support this claim. Edward A Vessel, a cognitive neuroscientist at the NYU Center for Neural Science writes:
"These "aha" moments, when a concept or message is fully interpreted and understood, lead to a flood of chemicals in the brain and body that we experience as pleasurable. It feels good to "get" it. The deeper the concept is, the better it feels when we are finally able to wrap our head around it."
Upon the click of comprehension, a natural opiate called endomorphin, a messaging chemical in the brain similar in structure to morphine, is released. As humans, we are wired to crave new information constantly. In some sense, what you and I term curiosity can be interpreted as our brain looking for its next fix of deliciously fascinating information.
As game designers, we deal with the fun, boredom and frustration on a regular basis. It is good to recognize that these are biological phenomena, not some mystical or mysterious sensation. For more thoughts on the topic, I encourage you to have a quick read through Raph Koster's book "A Theory of Fun for Game Design"
---
Perceived Value
Players pursue skills with high perceived value over skills with low perceived value
Play is, perhaps counter intuitively, a deeply pragmatic activity. Our impulses to engage in play are instinctual, selected for by evolution because it provides us with the safe opportunity to learn behaviors that improve our lot in life without the threat of life threatening failure. We play because we are built to expect the eventual harvesting of utility from our apparently useless actions. We stop playing when we fail to find that utility.
The perception of value is more important than an objective measurement value. Humans are not creatures of pure logic. We know people exhibit consistent biases in how they weight their actions. For example, they'll often undertake bizarre risks because they are unable to properly evaluate statistical odds. We've also realized that people have substancial limits on how much information they can take into account when making any one decision. Many decisions are made based off highly predictable 'gut' reactions that have their own subconscious rules.
Chapter 3: Skill Atoms
With our player model in hand, we can describe how the player interacts with the game.
The basic ingredients of a game are, if not standardized, at least well described in a variety of books and rambling by designers across the past decade or two. I've taken the basic ingredients of tokens, verbs, rules, aesthetics, etc and remixed them into a self contained atomic feedback loop called a skill atom. Each unit describes how the player gains a new skill.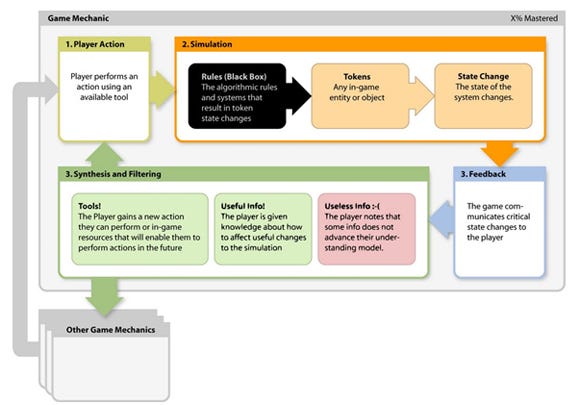 Diagram 4: The player follows clues to the acquisition of a new skill
A skill atom feedback loop is composed of four main elements:
-Action:The player performs an action. For a skill atom encounter by a new player, the action might involve pressing a button. More advanced atoms might instead require the player execute a batched set of actions such as navigating a complex maze.
- Simulation: Based off the action, an ongoing simulation is updated. A door might open.
- Feedback:The game provides some form of feedback to the player to let them know how the simulation has changed state. This feedback can be auditory, visual, or tactile. It can be visceral in the form of an exploding corpse or it can be symbolic in the form of a block of text.
- Modeling: As the final step, the player absorbs the feedback and updates their mental models on the success of their action. If they feel that they have made progress, they feel pleasure. If they master a new skill or other tool, they experience an even greater burst of joy. If they feel that their action has been in vain, they feel boredom or frustration.
A shorthand diagram that I find useful for recording atoms is as follows: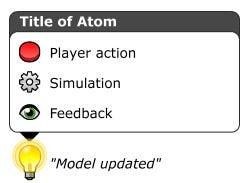 Diagram 5: Our canonical skill atom
For example, let's dissect the act of jumping in Mario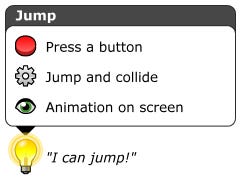 Diagram 6: The skill atom of the player learning how to make Mario jump
· Action: An inexperienced player pushes a button.
· Simulation: The simulation notes the action and starts the avatar of Mario on the screen moving in an arc.
· Feedback: The screen shows the user an animation of Mario jumping.
· Modeling: The user forms a mental model that pressing the button results in jumping.
Implicit in this model is that the atom is often looped through multiple times before the user understand what it teach. The first pass may only clue the user that something vaguely interesting happened. The user then presses the button again to test their theory and Mario once again bounces up into the air. At this point, the player smiles since they realize they've acquired an interesting skill that may be of use later on.
---
This Thing We Call Play
"Man is a Tool-using Animal. . . . Nowhere do you find him without Tools; without Tools he is nothing, with Tools he is all." – 19th century essayist Thomas Carlyle
Upon the acquisition of a shiny new skill from a skill atom, players experiment with it. They try it out in different environments and see if it does anything useful. This semi-random exploration is the classic 'play' activity that we see children perform. For example, when a new player masters how to jump, you'll notice they'll almost immediately start happily hopping about the level. On the surface, it is a silly frivolous activity. In reality, we are observing humanities instinctual process of learning in action.
In the course of experimenting, the player will occasionally stumble across something in the environment that gives them interesting information that might lead to the mastery of a new skill. At this point, you'll see the behavior of the player become more deliberate. A mental model begins coalescing in their minds. In our jumping example, the player starts bumping against a platform. They may even reach the top of a platform. It is very common that skills acquisition requires multiple passes through the new skill atom before mastery is achieved.
Eventually, the player uses an existing skill to grok another skill. They experience a wash of pleasure and start the process all over again.
Chaining Of Game Mechanics
We can visually represent how players learn by linking our basic skill atoms together to create a directed graph of atoms called a skill chain.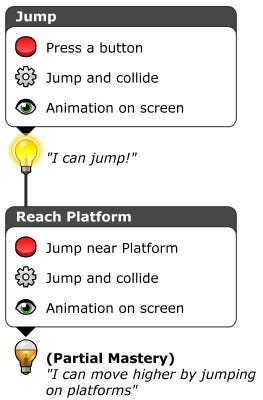 Diagram 7: Two linked atoms
The skill from one atom feeds into the actions of another atom further down the chain. By linking more and more atoms in, you build a network that describes the entire game. Every expected skill, every successful action, every predicted outcome of a simulation, every bit of required feedback can be included in a simple, yet functional fashion.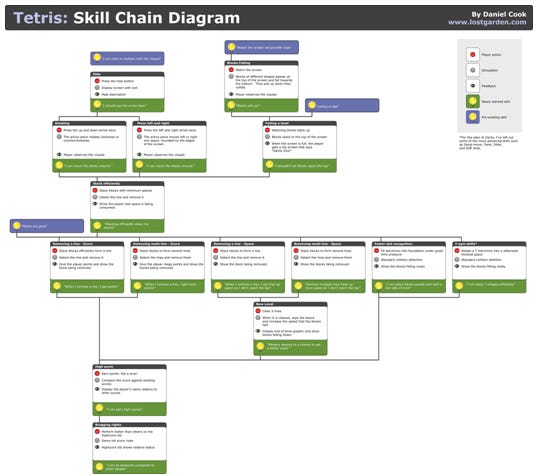 Diagram 8: Sample skill chain for Tetris
(Click here for the full sized PDF)
A skill chain is a general notation that can be used to model pretty much any game imaginable. Your design can be broken down into dozens of simple atoms that link together to form a clear and easily readable map of how the game plays. The skill chain, with its ability to describe the player experience instead the mere mechanics of the game, provides a far richer description of the meaningful moments that occur during gameplay.
How Players Interact WithA Skill Chain
Players will travel from atom to atom like Pac-Man following a trail of dots towards the power pellet. They move from one skill to the next even when they have only a vague concept of the ultimate destination. Chomping up those dots is good.
One of our peculiarly human limitations comes into play at this point. Players are unable to predict the value of a new skill more than a couple atoms down the chain. As long as there a new skill with potential value within our prediction horizon, players will pursue it. There may be no long term payoff other than the pleasure of the experience, but we don't care. As long as the short term rewards keep coming, we assume that there will be some final benefit from our efforts.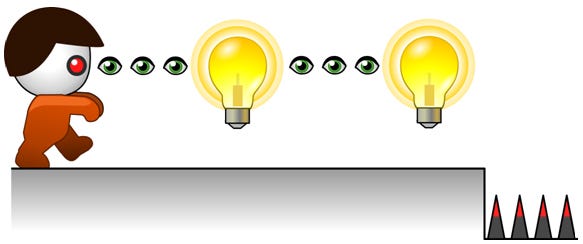 Diagram 9: Players have limited foresight
If you look at this from an evolutionary perspective, our behavior makes quite a bit of sense. Many useful skills take upwards of five to 10 years to master. During those early days of our education, the basic playful activities such as gossiping about which girls have cooties seem rather silly. Later on however, our mastery of politics, science, or in the case of the cooties, mating rituals, yields a hugely positive impact on our well being.
The just-so story here is that playful folks that instinctually engaged in long term learning with no immediate benefit were the ones that mastered agriculture, hunting and language. These folks thrived. Those that did not died off.
However, our brains never evolved to deal with modern games. The existence of a set of skill atoms that are tuned just to entertain us and that never actually lead up to a real world skill is something new to the world. At their most puerile, games are a grand hack. The minute by minute experience fits all our biological heuristics and sounds all the right bells. So we keep on playing. And we wonder why so many games have such horrible endings.
---
4.Status Of Atoms In The Skill Chain
A skill chain provides some rather useful information about the state of the player as they engage the game. Imagine that the skill chain is the instrumented dashboard that lights up with the player's progress. At any point in time you can tell the following information
Mastered skills:

Skills that have been recently mastered.
Partially mastered skills: Skills that the player is toying with, but has not yet mastered.
Unexercised skills: Skills the player has yet to attempt.
Active skills: Skills that the player is actively using. (aka the Grind)
Burned out skills:

Skill atoms that the player has lost interest in exercising.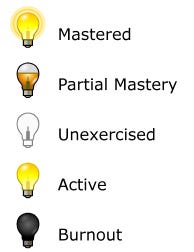 Diagram 10: Icons for skill status
We've talked a little bit about mastered and partially mastered skills. Unexercised skills are pretty self explanatory. If a player can't perform the actions necessary to understand a skill, that atom will never be exercised or mastered. Mastery flows down the chain and if players are blocked early on, they'll never each the further atoms.
The two states that are worth a bit more explanation are active skills and burned out skills.
Active Skills
The player only experiences the joy of mastery for an atom only once. After the moment of mastery, a biological feedback system kicks in that dampens the pleasure response to exercising those same pathways again. What was once exciting becomes boring.
However, players will continue exercising an already mastered atom as a new tool for manipulating their world. A mastered atom is as good as a shiny new hammer hanging from a workman's belt. When a new opportunity comes up, typically in the form of an atom further down the skill chain, the player makes use of their new skill to advance their knowledge.
Players have enormous patience. They are willing to exercise a basic skill atom thousands of times in order to achieve mastery of a higher order atom. Players jump innumerable times in Super Mario Brothers in order to reach more powerful skillsets further down the chain.
A skill that has been mastered and is now simply being used to activate other icons is represented by the lit light icon.

Diagram 11: Active Icon
Burnout
Players don't always bridge the gap between one atom and the next. They master a new skill, they play with it but fail to find any interesting use for it. This is known as burnout.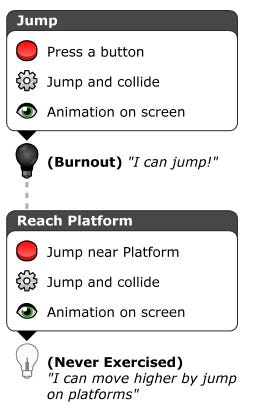 Diagram 12: Burned out icon
For example, suppose our player pressed the jump button. They performed the jump and we recorded their mastery of the skill. However, this particular player never figured out that how the jump might be useful. Perhaps they didn't jump near the platform and receive interesting feedback on the next atom. After a short period of experimentation with no interesting results, the player stopped pressing the jump button entirely.
When a player burns out on a particular atom, the consquences ripples up and down the chain.
---
Early Stage Burnout
In the example above, the Reach Platform atom will never be mastered. The foundational skills are not in place. In a deeply linked skill chain, a burnout early on can chop off huge sections of the player's potential experience. You can think of learning curves in terms of managing early stage burnout.
Later Stage Burnout
On the other hand, a burnout later on down the chain can devalue active skills.
For example, assume we have a single platform in our jumping game and there is really nothing on it. The player jumps on the platform, discovered no interesting new activities and so stops jumping on platforms. This, in turn, atrophies the Jump skill, because if the player doesn't need to jump on platforms, why would he bother jumping?
Burnout Is Our Gateway To Testability
Burnout is a very clear signal that our game design is failing to keep the players attention. As you watch burnout creeps across a game's skill chain, it is a signal that players will soon stop playing the game. They are becoming bored, frustrated and perhaps even angry.
Perhaps most importantly, we can measure when burnout occurs for an individual atom. This gives us, as game designers, unprecedented qualitative insight into how a particular design is performing with play testers. When you start tracking burnout along with the other skill states, you can visualize the problematic areas with great clarity and accuracy. The entire topic of measuring performance of a game through instrumentation of its skill chain is a rich topic for further exploration.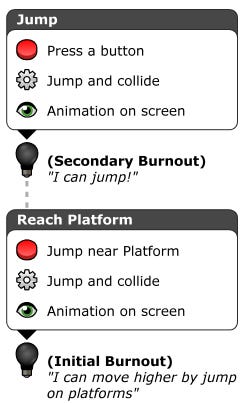 Diagram 13: Skill atrophy due to later stage burnout
5. Advanced Elements Of A Skill Chain
We've covered the basic elements of a skill chain and how to record that status of the player's progress. There are only a few more pieces we need so that you can start building your own skill chains.
Pre-existing skills:

How the skill chain is jump started.
Red Herrings:

How we represent story and other such useless, but pleasurable aspects of modern game design.
Pre-existing Skills
Players bring an initial set of skills to a game. These skills always form the starting nodes of a skill chain. Accurately predicting this skill set has a big impact on the player's enjoyment of the rest of the game.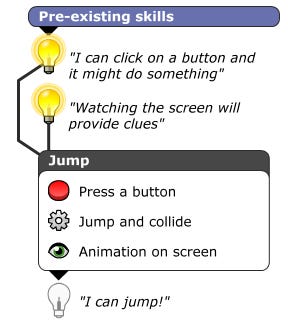 Diagram 14: How pre-existing skill feed into initial skill atoms
Lack Of The Correct Initial Skills
If the player lacks expected skills, they will be unable to engage the initial atoms in the game. In our example about jumping, imagine a player that didn't realize that you need to push the button on the joystick in order to do something. Such an example may seem ludicrous, but it is one faced by many non-gamers whenever they are faced with a freakishly complex modern controller. Many game designs automatically assume the ability to navigate a 3D space using two fiddly little analog stick and a plethora of obscure buttons. Users without this skill give up in frustration without ever seeing the vast majority of the content.