"We think a lot about what to show and not show," Simogo's Simon Flesser says. "I think just getting the feel and tone across is more important than describing exactly what the game is." The trailer for the popular mobile studio's latest game,
The Sailor's Dream
, is wonderfully evocative; gentle music plays as the sea, from the expanses of its geography to intimate beach architecture, unfolds. Snippets of text. It feels strong and gentle at the same time. The game promises a "challenge-free" experience, focused on storytelling instead. "Things like the reveal trailer... with a lot of text snippets, has actually quite a lot of thought behind it," says Flesser. "It's there to communicate that it's a game with a lot of little scenes that are part of a lot of story, that it is a game with quite a bit of text. That it's fractured." Simogo, the partnership between Flesser and his colleague Magnus Gordon Gardeback, has produced a remarkable five highly-polished games in three years from the colorful
Beat Sneak Bandit
to folkloric horror
Year Walk
,
making regular appearances among Independent Game Festival nominations
all the while. Last year,
DEVICE 6
-- a touchable story game that is
surreal, haunting and funny
in turns -- won an Excellence in Audio award for its unique sonic environment, and the striking music of collaborator Jonathan Eng. But Flesser says it also won the studio an audience of brand-new players, those eager to enjoy interactive entertainment without necessarily bringing along the traditional literacy.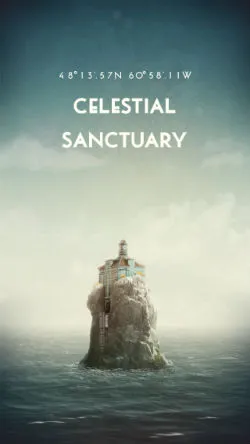 "Even without a focus on puzzles, I hope people who enjoyed our previous games will embrace [The Sailor's Dream]," says Flesser. "It does share that element that Year Walk and DEVICE 6 have, in that there is a larger story told with small pieces of information. But one thing we talked about when starting this project was how game-literate you have to be to enjoy a lot of games." "It was such a positive experience for us to hear from people who had never touched a game before, and played DEVICE 6 as their first game," he continues. "So we want The Sailor's Dream to be as welcoming as possible for people who haven't played games before." It all began with a song -- "somehow, it always seems to start with music," says Flesser. "There's just something very romantic about old sea shanties, and specifically the one called Lord Franklin struck a chord, and got the ball rolling." The song in the trailer was one Jonathan Eng showed Flesser years ago. "It's been on my mind, and I wanted us to make something that captures the feeling that song has," Flesser says. "I really wanted it included, and using it in the trailer feels sort of like a full circle." "We want to create something that feels romantic, very human, warm and quiet," he continues. "We don't see a lot of that in games... It's hard to describe and I think maybe bittersweet isn't quite right, but the closest. Things like One Flew Over The Cuckoo's Nest, which is a pretty sad, but has really happy and very human moments in it." "We want it to feel both relaxing, like diving into a tiny little world in which you can enjoy just interacting with, looking at and listening to things," Flesser continues. "But then there's also this element of exploring a quiet story, and tying it together in your head. So in that way it is like a dream, exploring a strange world, with tiny bits of reality breaking through in different ways." Both Year Walk and DEVICE 6 managed to capture the experience of walking, with just a touch of the player's finger -- snow creaks as Year Walk's unsettling world unfolds, and DEVICE 6 feels like a jaunt along sprawling pathways represented abstractly by words. "This time around, we want it to feel like you are floating, possibly flying, through the environments," Flesser says. "Structurally, there is an ocean and in the distance there are islands with structures that one can travel to, to explore. Within those structures there are abandoned objects, which hold memories," he explains. "There are also other elements in which the stories are told, both on the ocean and within the structures. We don't want to talk about it quite yet, but some of the things we're drawing inspiration from are folk music, musicals and radio. I think we want players to find out about the characters themselves!" It's exciting for Flesser, Gardeback and Eng to see new ideas take shape under their hands. "Personally, what excites me is that we're bringing in the talent and new elements that we haven't worked with before, and just getting new material from collaborators is very exciting to me," says Flesser. "I think we all feel that making something that feels unique is exciting too."