Last Friday Valve took the wraps off its much-ballyhooed music player:
Steam Music
, "coming soon" to a Steam Machine near you. The feature appears to add a new "Music" category alongside the "Games" category in your Steam library, allowing you to play music from a local drive while playing games. Steam should auto-populate the list with album data and artwork, and it seems like you'll be able to manage playlists and what's playing now via a new panel in the Steam in-game overlay. A limited beta of Steam Music will launch shortly for SteamOS and the Big Picture mode of the Steam desktop client. Valve predicts that a Steam Music interface for the vanilla desktop client will follow thereafter. As usual, you can express interest in being a part of the Steam Music beta program by joining the program's
Steam Group
, from which Valve claims it will randomly invite people into the beta.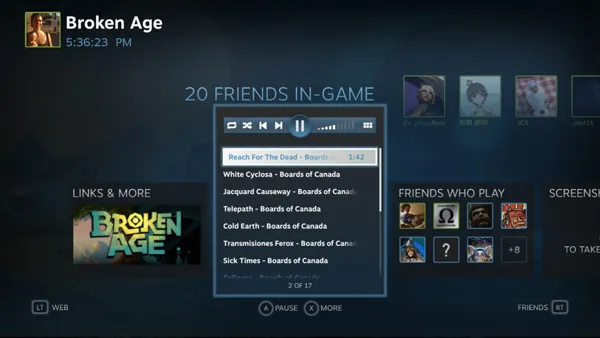 Valve has been talking about branching out into the multimedia business since it
announced SteamOS
last September, and the debut of the Steam Music player marks its first big move into the music space.