What do you say about a person who helped pioneer MMO gaming (Ultima Online), has recently created an exciting MMO game (Tabula Rasa), built a haunted house capable of terrifying even stoic adults (Britannia Manor), and is scheduled to make his first space flight in October, joining the team on the International Space Station? By anyone's standards, Richard Garriott lives large.
As the executive producer for the video game company NCsoft, he has added to his legacy in the gaming realm with the recent release of Tabula Rasa, which takes online players on an intergalactic journey of epic proportions. A certain number of these gamers, selected through a drawing, will partake of the space station voyage -- or at least a digital copy of their DNA will.
As part of Operation Immortality, the DNA sequences of a certain number of eternity-minded individuals will travel on a storage device to the space station. Who knows? If something tragic happens to the Earth over the next few years, these hand-selected souls may be reconstructed from their stored DNA information by some benevolent race of aliens passing by.
Richard clearly enjoys capturing the imagination and entertaining those around him. His early interest in magic is one indication. Another is one of his pet projects, Britannia Manor, outside of Austin, Texas. How many people on the planet get to build a personalized haunted house?
My earliest career inclination (at the age of ten) was to become a designer of amusement park fun houses. This was after a visit to the walkthrough Palace Fun House at Asbury Park (yes, the same Asbury Park immortalized by Bruce Springsteen on his first album). Richard's similar ambitions to delight and terrify people were fully realized, largely aided by millions of sales of the Ultima video game series, an accomplishment that catapulted him to millionaire status.
The substantial profits from his entrepreneurial ventures also contributed to the purchase of the roundtrip ticket, obtained through Space Adventures, to the International Space Station, tagged at $30 million. Corporate sponsorships and commercial ventures will help offset the costs.
No ordinary haunted house, the original Britannia Manor (which doubled as Richard's residence) sported hazards you might have to swim through, puzzles to open closed doors, secret hallways, costumed creatures offering talismans and clues to guide your journey, and an atmosphere so incredibly creepy that some adults called it the most frightening experience of their lives.
The entire event, in fact, was not that different from navigating the levels of a video game, except the costumed characters were real (as were the fire, water, and vexing challenges). Though the original Britannia Manor ceased operation when the high-tech boom went bust (1994), Britannia Manor MK III, recently constructed, offers new twists and thrills, including an observatory, underground passages, swiveling walls in the guest rooms that move beds between rooms at night, and locks that grip your arm when you try to open them. This man knows how to have fun.
Richard, the son of Skylab astronaut Owen Garriott, will be fulfilling a lifelong dream when he voyages aboard a Russian Soyuz rocket to the International Space Station. During the ten days living in low earth orbit (at an altitude of approximately 217 miles, completing 15.77 orbits a day), he will conduct experiments, including growing protein crystals which form perfectly under zero-gravity conditions.
With coaching from his father and extensive astronaut training in both Houston and Russia, the realities of the upcoming voyage are converging into sharp focus. Richard has been blogging on his experiences. The completion of his personalized space suit, from a June 27, 2008 blog entry, was something of a rite of passage.
"Big news to start my second week of June training came in the shape of a freshly tailored Sokol spacesuit," Richard wrote. "This is quite a departure from the heavily-used models with which we've been training until now, not least because it fits, is bright white...and has my name on it!"
"While at Energia HQ (the contractor responsible for making the spacesuits)," Richard continued, "I chatted with Oleg Fedorovich, who has made every Sokol suit since the beginning. Mine is Sokol #169. And I can officially attest to the quality of his workmanship, not least because they made me sit in the suit in my own seat liner for two hours...that is a long time to sit perfectly still, especially with spots here and there under pressure from the folds of an inflated spacesuit."
"However, if you're wearing one of these in an emergency, everything has to fit perfectly, so I consider those two hours time well spent to ensure pressure spots are as few as possible. While at Energia, I also tried on all my custom underlayers, including the flight suit, Farel survival suit, life preservers, and even the pair of girdle-like shorts and leggings that help keep blood in the upper half of your body post-flight."
---
Back in high school, Richard focused on programming computer games and didn't bother learning a foreign language. Now, part of his training regimen is learning the Russian language (essential for the return trip on the Soyuz spacecraft with a Russian cosmonaut). "Other classes over the course of the week included more analysis of the ISS life-support systems," Richard said, "lectures about its water-recycling and storage systems, and a new self-imposed language tutoring session to help me get farther along in mastering Ruskie Yaziek!"
From the perspective of the gaming community, Richard's space voyage (where he will become only the sixth private individual to travel into space) offers another interesting twist. Operation Immortality (www.operationimmortality.com) will place into the space station an archival history of the human race and personalized messages from people around the world. And, as mentioned earlier, digitized DNA sequences from individuals selected from the Tabula Rasa gaming community will also be bundled into the archive. Whether designing an intricate intergalactic adventure game or training for a very real space trip to the boundaries of human experience, Richard Garriott lives a life that the rest of us can't help but admire.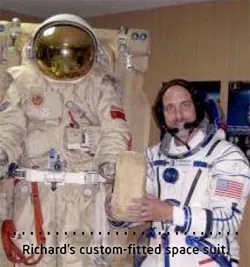 Richard graciously took time out from his demanding spaceflight training schedule to answer a few questions for us. Our probing questions and his thoughtful responses follow.
Much of your life seems focused on finding ways to open and expand people's imaginations (your interest in magic, the online fantasy worlds you help develop, Britannia Manor, your planned trip into space). What influences in your early life moved you in this direction?
My main influences in my early life were definitely my parents. My mother is an artist, my father is a scientist and former NASA astronaut. My entire childhood was imbued with the artistic through my mother, and the fantastic and scientific through my father. I suppose it gave me a very different view of "reality."
In my adolescence I discovered the JRR Tolkien novels. I was so enamored with this type of story telling, that I suppose the combination of this and the house I grew up in, plus my interest in computers at an early age, propelled me to start making games.
Do you feel that Tabula Rasa captures some of the experience of space exploration? Is there any chance you'll be able to play the game from the space station or will the security issues make that impossible?
I do think Tabula Rasa does capture the feeling of space exploration in that players are taken to alien worlds and discover all the ways those worlds are different, and the same, as Earth.
I really wanted to be able to play the game from the ISS [International Space Station], but unfortunately the security issues were too problematic. However, I will be connecting with the Tabula Rasa players from the ISS by relaying messages to them that will be broadcast in game, and we'll have a dialogue going from space!
Additionally, I will be taking the game code with me, so Tabula Rasa will probably be the first video game launched into outer space. And I'm bringing the players with me, as a part of Operation Immortality.
I'm taking a digital time capsule into space called the Immortality Drive that will include a history of humankind's greatest achievements, personal messages from people all over the world, Tabula Rasa player character data and -- for a few -- digitized DNA sequences of select Tabula Rasa players.
So while I'm not able to play the game from space (which I really think would have worked if not for the security issues it brings!), we are finding ways to share this experience with our player base in a fun and meaningful way.
---
With your father's experiences as an astronaut you've probably gained some insight into what it takes to train for a space mission. Has your training for the space station voyage been about what you expected or has it been surprising or revealing in some ways? What have you learned about yourself from the experience?
I started training on my own last year, hoping to make sure my body is physiologically ready for whatever comes my way.
Turns out that my own work out is more strenuous than the physical work outs that astronauts and cosmonauts are expected to do, so I was prepared there. However, the experiences of doing 9-G centrifuge runs simulating ballistic re-entries, and survival training in the Black Sea were very interesting.
This year has been a very mind expanding year. On the one hand, my respect and admiration for the astounding complexity and sheer quantity of activity it takes to put people in space is pretty awe inspiring. On the other hand, I was pleasantly surprised that my abbreviated educational background and self-taught math and science has in fact left me well prepared to participate in this diverse and challenging environment.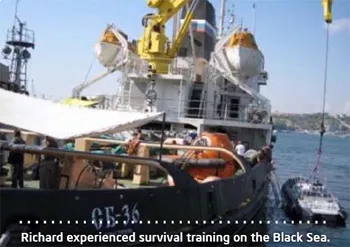 How is your mastery of the Russian language progressing? Do you think you'll be able to communicate effectively with the space station crew?
My Russian language skills are still minimal, but I'm focusing on the technical Russian that I need for the flight.
I think I will be able to perform satisfactorily, but I wish I was more conversational.
Do you see possible game-engine applications for space flight simulations and training exercises? Is NCsoft considering any projects along that line?
I am sure my experiences will find their way into future games, as you can see the overlap between my life and my games in the past. But how and where this inspiration will come, I won't be able to say until I get back!
Most individuals don't spend months training for a trip and millions of dollars for a flight. What will it take to make space travel commonplace? Do you see this happening in your lifetime?
While I do believe that in my lifetime space travel by private citizens will become more commonplace, I really want to stress that this particular trip for me is not tourism. It is a lifelong dream that I am taking very seriously and I hope that my trip does some good for humankind.
I am doing a number of scientific experiments when in orbit, as well as doing some educational programs, in addition to my Operation Immortality duties with Tabula Rasa. I just want to make that clear. Having said that, I strongly believe that my trip will show that there could be great value to allowing private citizens into space.
Safe voyage, Richard! May your space adventure be an incredible experience.
Thank you very much!
[EDITOR'S NOTE: This article's publishing has been made possible by Intel, as a platform and vendor-agnostic part of Intel's Visual Computing microsite.]