In 2009, Feist was nominated for the Excellence in Visual Art award at the Independent Games Festival. It may have lost out to Machinarium, but its art and animation was a treat. But soon after, it kind of ... disappeared.
It wasn't until a few weeks ago that Adrian Stutz and Florian Faller, who make up the development team Bits and Beasts, resurfaced, announcing that Feist was going to be released on July 23rd on Steam. It's a surprise, certainly, but a pleasant one; Feist is still as striking as it was over half a decade ago, and it has evolved with the engine it was built in, Unity, to become something more than just visually beautiful.
"We've been working on Feist continuously all this time, and it has mostly been only the two of us," Adrien Stutz tells me. "Since we've been developing it independently, we've been working on the side to finance the project."
Both Stutz and Faller were students when Feist was entered into the IGF. And to be fair to the game, it didn't entirely disappear after its nomination. "We were also part of the first Fantastic Fest Arcade in 2010, and Feist has been shown at exhibitions around the world in the following years."
But it wasn't until 2013 that Stutz and Faller were able to dedicate the majority of their time to developing Feist. They formed Bits and Beasts in Zurich that year, and knuckled down. "At the beginning of this year we had an early beta and started to prepare for Feist's release. We went back to GDC in March and showed Feist at GDC Play for the first time in over a year. We were also looking for a partner to help us publish the game, and were lucky to meet Rebekah and Adam Saltsman and find a home for Feist at their company, Finji."
As remarkable as Feist looks today, its distinct visual style of mysterious forests illustrated using silhouette and dynamic fore and backgrounds isn't quite as fresh as it was back in 2009. We've had Limbo, Badlands, and just this year, Ori and the Blind Forest, all of which have utilized a similar style. I ask Stutz if he's worried that some of the novelty has been lost in the interim.
"From the beginning, we tried to find an aesthetic that didn't look like computer graphics and instead more natural and organic, like a painted illustration." Stutz tells me. "This was important to support the gameplay, which we wanted to be dynamic and analogue. The whole gameplay is based on physics, and feels more organic than technical.'
"It turned into something very bold and more timeless, in the sense that it's not tied to the latest advancements in computer graphics, that has stayed fresh over Feist's development. But games are not an isolated space. They exist in a wider culture, where trends and fashion spill over between different subcultures. Feist's aesthetic was inspired by illustrations, graphic novels, children's books like Where the Wild Things Are, movies, and especially animated shorts and music videos, like from the onedotzero or Pictoplasma festivals.'
"The silhouette style by itself can be traced back to earlier games like Blade Warrior from 1991 or even to Chinese shadow puppetry from the Han dynasty. However, for the silhouettes, it was not inspiration but a very practical reason. We had to find a visual style that allowed us to put a lot of details on the edges of the game elements, like tufts of grass, wood fibres, plants or fur, which were crucial to our natural forest setting. Using silhouettes, we were able to create these fringed objects while also having actual volume, depth, and a subtle perspective shift.'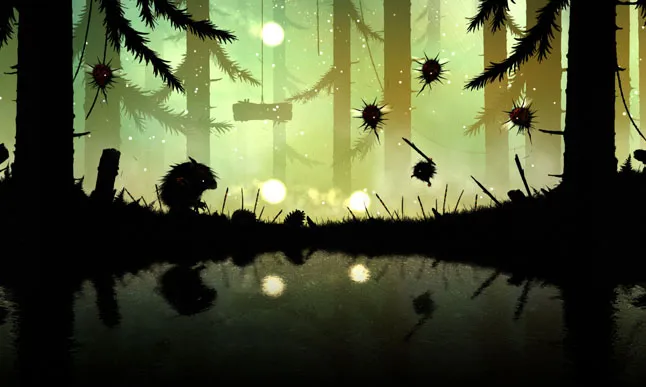 "Back when we started Feist there had been far fewer indie games in general, and, as a result, not as much visual diversity either. In this regard, Feist probably has more difficulty today, not because there are more games with a similar aesthetic, but because the quality of indie game has increased a lot and there's much more competition."
Similarly, when Stutz and Faller started work on Feist, they were in the first wave of Unity games, with the initial prototype being made in Unity 2.0. As the engine has evolved, so has Feist, although not always in complete harmony.
"Unity has upgraded a lot of its systems and added new ones, but in many cases we had already built something more specific ourselves and couldn't benefit from them." Explains Stutz. "But Unity has always made sure everything keeps working, so we weren't left behind and could cherry-pick the features that we could use. The initial release will be on Unity 4.6 though, as we didn't have enough time to squeeze in the physics upgrade in Unity 5 before the release. We're planning to upgrade sometime after release."
That said, the underlying framework of what Unity is and the flexibility it provides was a huge boon for development: "Over the years we've built a lot of custom tools and frameworks, for which the extensibility of Unity's editor was a huge advantage. We've put a lot into making 2D physics work properly; we built our own frameworks for animation and audio playback, and a system that allows us to construct AIs in the editor. It's built to allow creatures to execute different actions in parallel, which is essential to make them appear intelligent and dextrous. All the creatures were constructed from Sensors, Behaviors, Decisions and Actions, as well as organised in Modules and States. The Unity editor's fast iteration time and ability to tweak values while the game is running was also a big part of creating rich and energetic behavior."
Right now the team at Bits and Beasts is mostly focused on getting Feist out of the door, but the overarching sense you get from talking to Stutz is that they've taken their time, even if it has meant going dark for a while. The diligence with which Stutz and Faller have kept Feist up to date with Unity, coupled with the ease with which they've been able to move Feist from one version of Unity to the next, means that it should look and feel just as fresh and current as any other new release when it launches later this month.